This post contains affiliate links. We may earn money or products contained in this post. Please click my disclosure policy to learn more.
30 Autumn Art Activities
Autumn is my soul, it is everything to me. I can't wait for the crisp air and warm soothing colors. Im a total, sucker for fall fragrances and pumpkin lattes. I love snuggling up in a cozy blanket with a spooky movie. I also feel more inspired to create art during the lovely grey days of the season.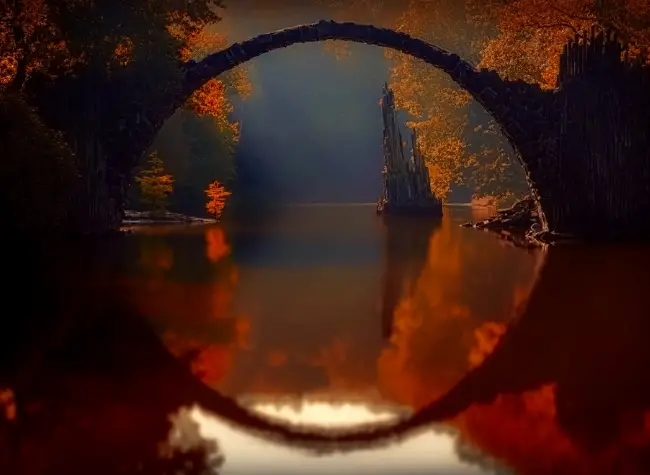 Some people mourn the sun and can feel a bit down when the weather gets cooler. Hopefully, if you are one pf those people these art activities can help you find some joy this season.
So, I made this list of 30 art activities for both the autumn lover and summer mourner. These art activities are inspired by all things autumn to help celebrate the season and spark your creative journey for the rest of the year. 
As artists we also go through seasons. Sometimes we are blooming and creating like crazy, other times we are in need of some nourishment we need to take time to feed our creativity and our artist's soul. 
Autumn Art Ideas
Day 1.) Fall Art Journal
Make an art journal specifically for your fall and autumn art spreads.
I have several tutorials dedicated to making art journals and sketchbooks. You can check them out below:
How to Make Your Own Sketchbook
Turn an Old Book into an Art Journal
Day 2.) Fall Mood Board
Create a fall mood board. 
Find magazines, paint swatches, and even fabric samples and collage your inspiration.

Day 3.)
 Fall Art Supplies
Go to an art supply store or shop online. Look for something that is fall related. It can be something small like a new marker in a lovely shade of orange, or something larger like these autumn themes Neocolor II Autumn Set. 
Day 4.)
 Autumn Art Pallet
Make an autumn pallet with your favorite paints. 
Since I'm an avid watercolorist, I'll be making fall watercolor pallet.
Day 5.) Autumn Art Walk
Go for a walk. Try somewhere that is full of nature. Collect leaves and use them as inspiration for your art journal.
You can also press them in a book so you can save the, for inspiration year round.

Day 6.) Autumn/Fall Quote
Find an autumn quote that speaks to your soul. Let this quote inspire your art journal spread or another work of art.

Day 7.) Autumn Art Journal List
Make a list of all the things you love about autumn in your art journal.
You can choose to illustrate or collage this list.
Day 8.) Clean Up
Clean up your art space and organize it. It's every good to do this every so often. Organizing once a season helps clear out the old and bring in the new.
9.) Fall Dessert
What is your favorite fall dessert? Mine is anything pumpkin or cranberry. Treat yourself to your favorite fall dessert. You can go buy it or make it yourself,
Before you indulge in eating this dessert take out some art supplies and draw/paint it. You can also take a picture so you can practice draw/painting this later.

10.) Autumn Song for Fall Art Journal
Find a song that reminds you of fall. Using your new fall pallet and create an art journal spread inspired by the song.
11.) Mini Fall Painting
Create a fall mini painting. You can find mini canvases at your local art stores or even Walmart, or you can buy them online here.
12.) Autumn Self-Portrait Painting
Create a self-portrait. Use fall themes/colors to create this portrait.
13.) Fall and Autumn Doodles
Fall doodles and cute illustrations 
Doodle trees, leaves, coffee, or pumpkin. Fill a page of fun doodles and give them some color. Don't work too hard on the details. Keep these illustrations fun and loose.

14.) Autumn Decoupage
Find some autumn napkins and decoupage house hold items or art journal pages.
15.) Fall Themed Post Card
Make yourself a fall themed post card. You can also make one for a close friend of family member and mail it to them.
If you found this post helpful please buy me a coffee and help support this blog.
16.) Autumn Garland
Make a fall autumn garland. This is really easy and adds some great decor to any room.
First, decided on a shape. You can do fall leaves, pumpkins, acorns, or something you come up with.
Make a template and cut out the shapes. The number of shapes you cut out will depend on how long you want your garland.
No, you can use a sewing machine and sew the garland. Or you can buy some twine or small rope and simply glue the shapes. Also, you can buy some adorable mini clothes pins and use those to attach your shapes to your rope.
Now, hang it up and enjoy! 
17.) Favorite Fall Food List
Make a list of your favorite fall food.
Do you love to cook? You can write down your recipes and decorate them in your fall art journal. Not only are you celebrating your love for fall through your art journal, you're creating something you can share and even pass down to your children someday.
If you don't love to cook, but you still love to eat. Than just make rally fun and pretty lists of your favorite food. You can even save cards from your favorite restaurants.

18.) Autumn Art Journal Prompt
Choose a prompt from the list of Fall Art Journal PromptsAutumn Fall Art Journal Prompts to make your art journal spread.
There is a long list of autumn art journal prompts to choose fun, so have fun!
19.) Autumn Scents
Light some fall themed candles and relax. What do the smells remind you of? How do they make you feel?
Use these thoughts and emotions to create a fall art journal spread or fall related painting.
20.) Fall Themed Art Class
Try a fall themed online art class. This Autumn Watercolor Illustration class is perfect for painters of any skill level.
You can also take it for free! Just click on the link and you can get two free months of Skillshare. I'm super addicted to Skillshare. I'm always taking new classes. They have a TON of fat land autumn related art classes. You'll definitely find something that makes you happy.

21.) Whimsical Autumn Art Journal Spread
Get whimsical think of magical fall ideas. I have always been particular to fairies. What would the Fairy Prince of the Autumn Court look like? 

22.) Pumpkin Art
Paint a pumpkin. You can paint an actual pumpkin or paint a picture of a pumpkin. Or both!
You can check out my tutorial on How to Paint a Watercolor Pumpkin here!
23.) Paint Fall Trees
Paint some fall trees. They can be very loose or detailed.
24.) Fall Art Journal Prompt
Choose an fall art prompt from the list and create an autumn themed art journal spread.
25.) Fall Art Walk Photos
Go outside on a another walk. Take pictures of things that catch your you.
Print these photos and turn them into a fun collage spread in your art journal.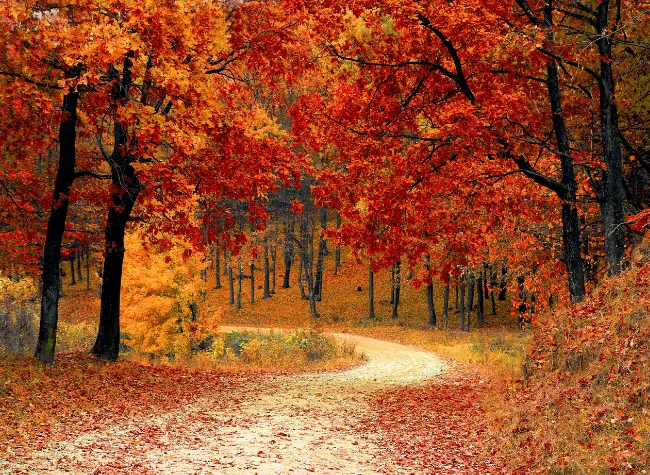 26.) Fall Art Photo
Take a photo from above and turn it into a painting. It doesn't have to be detailed, it can be loose and free and mostly from your imagination. Let the photo serve as the building blocks and let your imagination lead the way.
27.) Favorite Fall Entertainment List
Make a list of all your favorite fall themed books, movies and tv shows. 
You can illustrate this list or even find some photos of the books or movies and collage them on the page.
28.) Gratitude Journal
Start a gratitude journal. Fall is the perfect time to slow down and contemplate the good things in your life. I know this isn't always easy, especially when the world seems too have gone mad. However, it is important and can transform your thinking.
You can check out my full post on gratitude journaling here.
29.) Fall Traditions
Write a list of fall traditions you want to start or you already do and love.
Here are some ideas,
Apple orchards
Pumpkin patches
Walks
Buy a new scarf
Put on your favorite sweater, make a cozy drink, and watch your favorite autumn themed movie.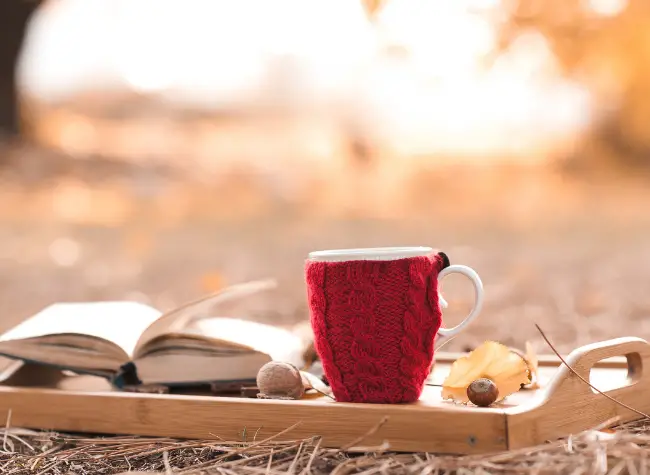 30.) Thanksgiving List
Create a Thanksgiving list. You can use this as the first page in your gratitude journal or your fall themed art journal or both.
Write down all the thinks you're thankful for and celebrate the season.

If you found this post helpful please buy me a coffee and help support this blog.
Autumn Art Activities and Ideas
Autumn art activities are so much fun. Indulge in all the things this season has to offer. Let your art reflect the changing of the seasons and have fun. Let your soul be inspired and enjoy some pumpkin and apple flavored desserts.
I'm always here to help! I'd love for you to come and join my private Facebook Group and share your art.