This post contains affiliate links. We may earn money or products contained in this post. Please click my disclosure policy to learn more.
Painting Quotes
Inspirational painting quotes
I've been collecting quotes since I could read. I used to circle, highlight and save quotes in notebooks. I've even bought many books dedicated to quotes of all kinds. Painting quotes just may be my favorite, though.
I find surrounding myself with I inspirational quotes and motivational sayings works wonders in my state of mind.
Marie Kondo notes in her book that in Japan there is a saying that, "words make our reality." Isn't that so true?
Surround yourself with words that speak to your soul and who you want to be and what you want to achieve. You can also check out my post on How to Find Inspiration for Your Art to get even more inspiration! 
Below are some of my favorite inspirational painting quotes by accomplished artists.
You can take these words and use them in your art journals. Or, you can even use the, in your paintings. Writing them out in your journal or printing them and hanging them by your desk will also help the, sink into your subconscious.

30 Inspirational Painting Quotes
"In art, the hand can never execute anything higher than the heart can imagine."
~ Ralph Waldo Emerson
"I dream my painting and I paint my dream." 
~ Vincent Willem van Gogh
"Painting is the silence of thought and the music of sight." 
~ Orhan Pamuk
"Painting is just another way of keeping a diary." 
~ Pablo Picasso
"If you could say it in words, there would be no reason to paint." 
~ Edward Hopper
"Every now and then one paints a picture that seems to have opened a door and serves as a stepping stone to other things." 
~ Pablo Picasso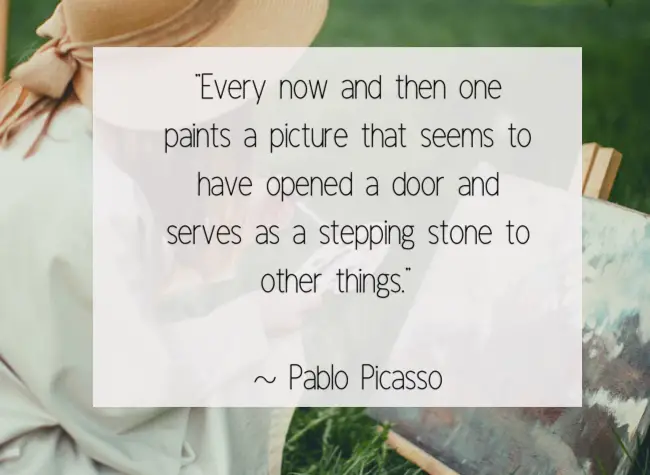 "All you need to paint is a few tools, a little instruction, and a vision in your mind." 
~ Bob Ross
"In our life there is a single color, as on an artist's palette, which provides the meaning of life and art. It is the color of love."
~ Marc Chagall
"If you hear a voice within you say you cannot paint, then by all means paint and that voice will be silenced." 
~ Vincent Willem Van Gogh
"The object isn't to make art, it's to be in that wonderful state which makes art inevitable." 
~ Robert Henri
"A painting requires a little mystery, some vagueness, and some fantasy. When you always make your meaning perfectly plain you end up boring people" 
~ Edgar Degas
"I paint the spirit and soul of what I see." 
~ Brian Froud
"Blessed are they who see beautiful things in humble places where other people see nothing." 
~ Camille Pissarro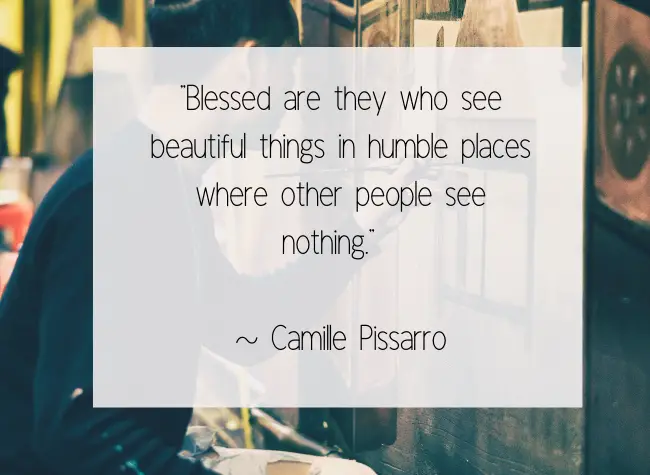 "Painting is silent poetry, and poetry is painting that speaks."
~Plutarch
"The painting has a life of its own" 
~Jackson Pollack
"Abstract painting is abstract. It confronts you. There was a reviewer a while back who wrote that my pictures didn't have any beginning or any end. He didn't mean it as a compliment, but it was."
~ Jackson Pollock
"Lend your ears to music, open your eyes to painting, and… stop thinking! Just ask yourself whether the work has enabled you to 'walk about' into a hitherto unknown world. If the answer is yes, what more do you want?"
~ Wassily Kandinsky
"If it weren't for painting, I wouldn't live; I couldn't bear the extra strain of things."
~ Winston Churchill
"To be an artist is to believe in life."
~ Henry Moore
"I don't paint dreams or nightmares, I paint my own reality."
~Frida Kahlo
"The painter will produce pictures of little merit if he takes the works of others as his standard."
~ Leonardo da Vinci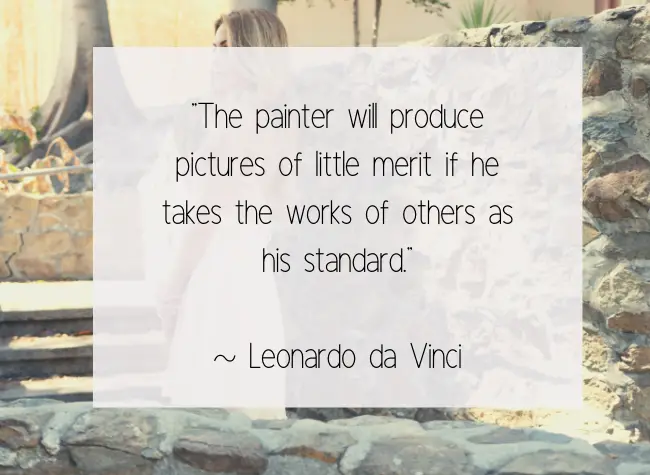 "A painting to me is primarily a verb, not a noun, an event first and only secondarily an image."
~Elaine de Kooning
"A work of art is the trace of a magnificent struggle."
~Robert Henri

"If you ask me what I came to do in this world, I, an artist, will answer you: I am here to live out loud."
~Émile Zola
The object of art is not to reproduce reality, but to create a reality of the same intensity."
~ Alberto Giacometti
"Color is all. When color is right, form is right. Color is everything, color is vibration like music; everything is vibration." 
~ Marc Chagall
"Listen to the advice of others, but follow only what you understand and can unite in your own feeling. Be firm, be meek, but follow your own convictions. It is better to be nothing than an echo of other painters."
~Jean-Baptiste Camille Corot
"Art is a line around your thoughts."
~ Gustav Klimt
"There is no must in art because art is free."
~  Wassily Kandinsky
"My business is to paint what I see, not what I know is there." 
~ J.M.W. Turner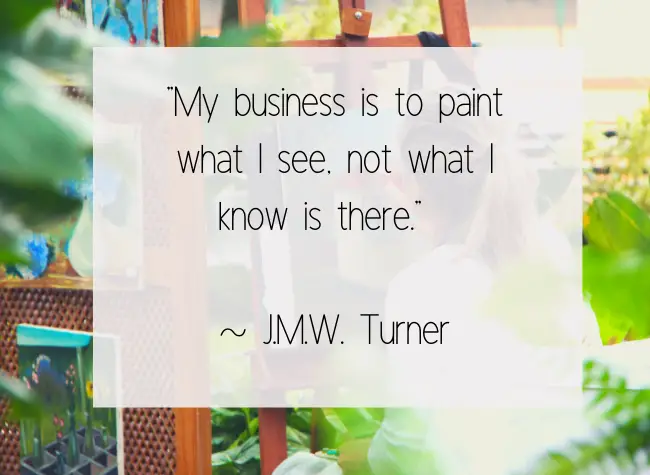 Inspirational Painting Quotes
I hope you have found these quotes to be inspiring! You can join my private Facebook Group and share your favorite quotes with me! I'd love to add to this list. I also have another post coming out with inspirational artist quotes, so stay tuned!
IF you found that you are now inspired and want to take your art farther you can check out my post on 67 different art journal prompts with supplies ideas and start creating art today!