This post contains affiliate links. We may earn money or products contained in this post. Please click my disclosure policy to learn more.
How to begin an art journal
An art journal is a truly wondrous experience.
It's a surefire way of simulating all those creative juices you know you have inside you. Art journaling is a creative dance between you and your art pages. It lets you set aside time just for yourself and for art.
Making art is also great to beat stress! Studies show that making art relieves stress and is good for your mental health!
Did you know you can create an art journal even if you hav never created art before? And, even if you are an accomplished artist you can still greatly benefit from keeping an art journal.
The act of setting time aside to create in an art journal is as therapeutic as soaking in a hot lavender bath. So, pour yourself a hot drink and read on to begin your art journaling adventure.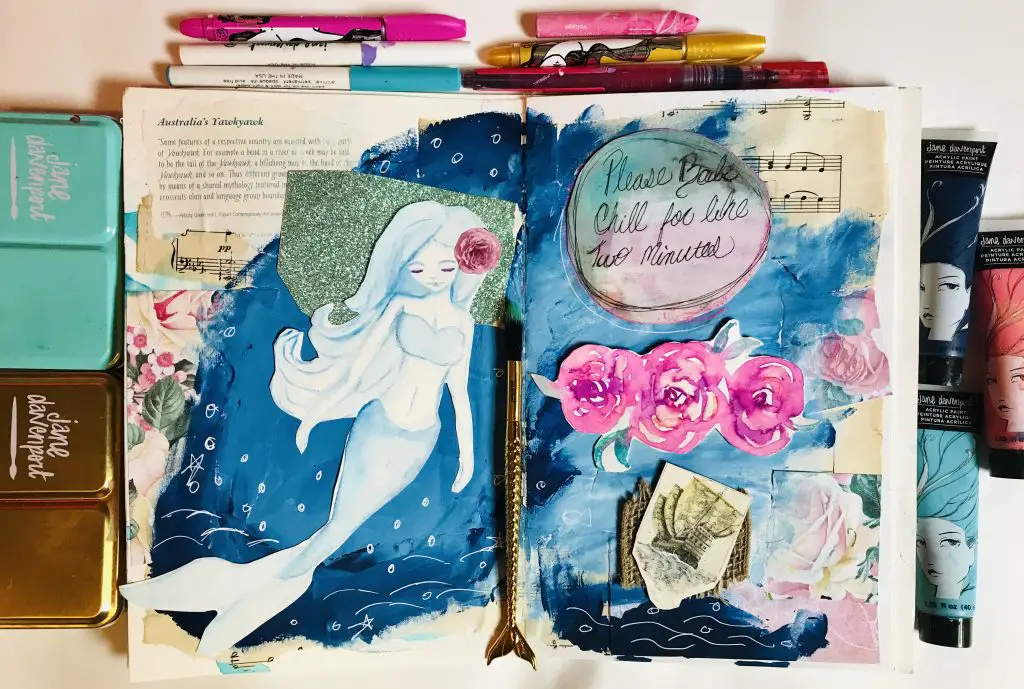 Benefits of starting an art journal
Therapeutic
Stress relieving

 

Boosts creativity
A safe lace to explore techniques
Make pretty pictures that make your heart smile
An art journal is a bit like a dairy, but with paint, pens, markers, anything you want. You can use old papers, tea bags, and anything that can leave a mark.
Art journaling is liberating. You're free to get messy and daring!
You can write down your feelings, you can paint your feelings. You can play with textures, stencils, and anything else your heart desires. 
Its a wonderland and you're Alice! Go ahead, follow that white rabbit and start an art journal
You can paint, draw, write, and create abstract art in the safety of your own little art world with an art journal.
Art journals aren't about rules, or judgements. There is nothing strict or overwhelming with an art journal.
You don't even have to share it with anyone. Art journaling is an expressive form of creating, documenting, and exploring your art and feelings.
Some people have themes, some people use it as a sketchbook, the options are endless. It's a little collage, a little scrapbook, a little painting and a whole lot of creative awesomeness. An art journal is whatever you want it to be. 
It can be like a sketchbook, scrapbook, a dairy, a combination. Let's look at how to choose the right approach for you.
How to select the right art journal
First, you need an art journal.
This can be sketch book, an old book, pages you add to a binder, anything that you can art on and keep in a bound location. There are options lots of options.
Art journaling is very much Mixed Media Journaling. So, you'll want to make sure you have the right paper. Paper is everything when it comes to art.
You want to use paper that can hold up under the use of different supplies. Some paper falls apart and then ruins your work. That is no good!
It also does not have to be expensive. Here are some options:
Choosing the right art journal is very important. You want something that fits your personality.
Something that makes you happy and that you can express yourself in. You don't have to use what is the most common or popular. There are things you will want to consider.
Size of your art journal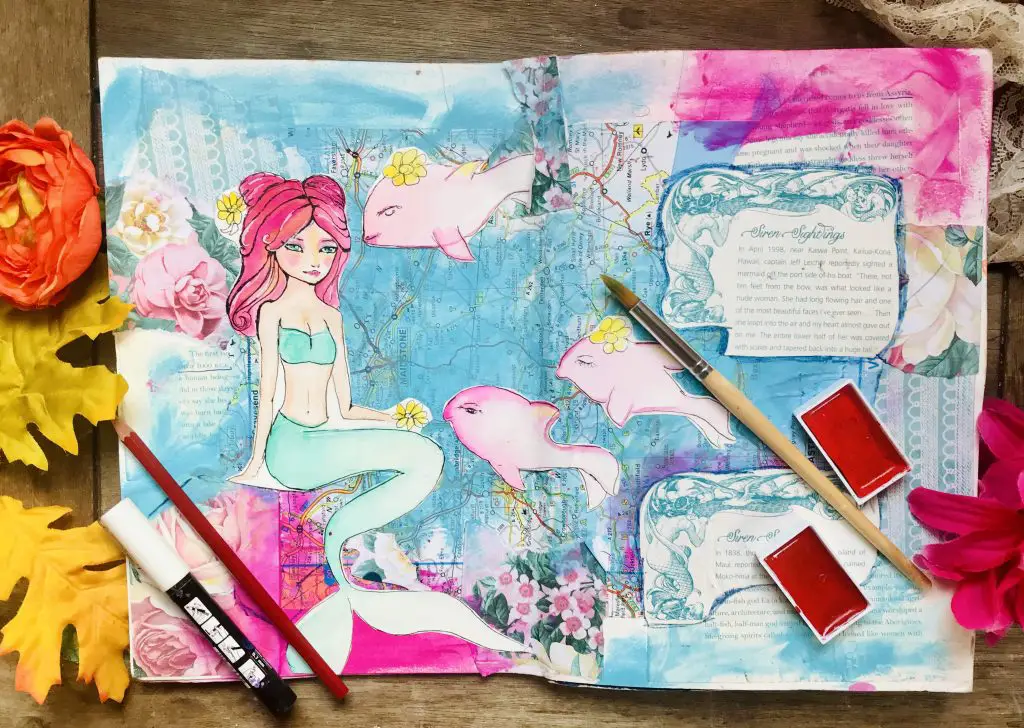 Choose the size that you'll feel most comfortable with. Some people like to use smaller sizes.
It lowers the pressure of having to fill up a big page. It's easy to carry and its cute. One of my personal favorite Journals was square. I adored the square layout. 
As you begin to create and fill art journals you will start playing around with different sizes and shapes. The important thing is to get an art journal that will help you get started.

If you found this tutorial helpful please buy me a coffee and support this blog.
Paper type of your art journal
Watercolor paper is a bit thicker. I'd suggest at least 90-140 pd paper. If you plan to use watercolor this may be ideal for you. 
Mixed media paper is designed for various mediums. It's usually inexpensive, and easily found.
You can also make an art journal from cardboard. Karen Campbell author of Mixed Media Magic, has YouTube videos showing her journal made from cereal boxes. I have a project with pizza boxes I'm currently working on. I keep forget to save the boxes so it's taking longer than it should. 
Don't let the choices overwhelm you. Choose one, and next time choose a different form. 
Now, let's look at art journal supplies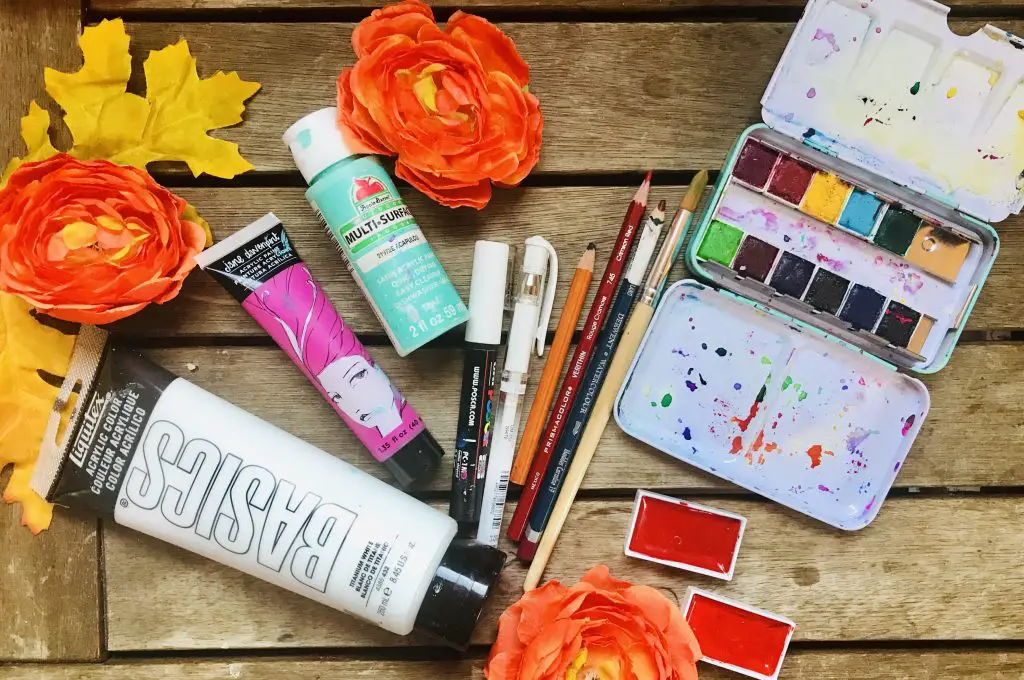 The supplies you can use are as endless as art supplies themselves. Everyone will have their own favorites. So, don't feel bad or get discouraged if you don't have a huge budget to go buy a bunch art supplies. Here's my list or favorite supplies. For a longer list of art journal supply list see here.
Gesso
I use Liquitex Gesso and adore it. The primary function of gesso is to prime a surface to take paint. But you can use it for SO MUCH MORE. You can paint with it, mix with it. It's really a great tool. I'll discuss how I use more later.
Acrylic paint
I love the little bottles of craft acrylic paint for art journaling. They are so affordable, ranging in price from .50-$2.00. The color choices are enormous and they paint really smoothly. They work nice with other mediums and really ideal for journals. 
You can also buy art acrylic paint, it's thicker and the colors are more vibrant. For more about acrylic paints read here. 
Pencils
My favorite are the dark, soft leads. I usually use anything from a 6b-9b. I also always have a 6b charcoal pencil on hand. Though, you can use any type of pencil. The harder the lead the lighter it will be and the softer the darker.
Stabilo All Pencil
Stabilities All Pencils are the love of my life! It's magical. It comes in various colors. Basically it's a pencil that writes on anything, really, anything! It's water soluble, so, you can use it almost like watercolor. Different mediums will also activate it. It's a dream, you can draw and shade a portrait with just this pencil and water. 
Micron pens
Micron pens come in different sizes, they are lightfast and they are water resistant. They are great for outlines, writing, and adding details to drawings. Beware, there are fake Micron pens that are packaged almost identical to the real thing, except they are called Micro Line, instead. 
Tombow Markers
These Tombow markers are dual tipped. They are great for hand lettering. I'm still learning this skill. I adore them because they are vibrant and they are water-soluble. You can make beautiful watercolor like paintings with these markers. All you need is water and a brush. They are truly fabulous. 
These are my basics for starting. Though others like to add:
Watercolors
Inks
Collage paper
Stencils
Read more about art journal supplies here!
How to start your art journal page.
Art journal pages can be abstract, portrait paintings, collages, or a mix of all.
Don't be afraid of the abstract 
Art journaling can often take on elements of abstract art.
You may find that you are focusing on color and shapes and expressing your emotions and feelings through non-representational forms.
Don't be afraid of it, embrace it. Abstract art is a beautiful form and can really help loosen you up and spark your creativity.  
Abstract art can be extremely beneficial when you are struggling with inspiration or ideas of what to create.
It allows another last of your brain to take over. Some things I do is to mix some colors and make them very soupy. I then take a large brush and start creating brush strokes watching how the color swirls and mixes. Sometimes I do this on a separate piece of paper then rip it up and use it for collage elements. 
The first step is to create an art journal background.
Now, remember, once you get a feel for art journaling you can begin however you like. These are just helpful tutorials to get you started.
Step 1.)
This art journal is an old book turned into a journal. You can read my tutorial on art journaling in an old book here
I first drizzled gesso across the pages and then used a crumpled paper towel to spread the gesso across the page in a light layer. I wanted the words to still be visible.

Step 2.)
Next, it's time for some color! I chose three colors and applies drops randomly across my art journal pages.

Step 3.)
To get some interesting texture I used an old gift card to spread the paint across the paper. I love the look and the way it mixes my colors.
Now, I have an instant art journal page background. This pages has interest, you can see the words of the book, it has color, and interesting patterns.

Layering
This isn't necessary, as there are no rules to art journaling. However, its pretty popular and its also pretty darn fun! 
Layering can be done by:
Applying multiple layers of paint
Through the use of collage on paint
Applying paint on collage

 

Writing on collage
Using various art supplies
I usually start with a paint and gesso background.
I'll add some washi tape and collage elements. I then add more paint, sometimes acrylic, fluid acrylic, gesso, water color, markers, usually a drawing is added. I may add even more paint.
Then, perhaps some writing. Writing can be done at any point. Stamps can also be used. There will be a lot that gets covered. That's okay. It creates depth and interest.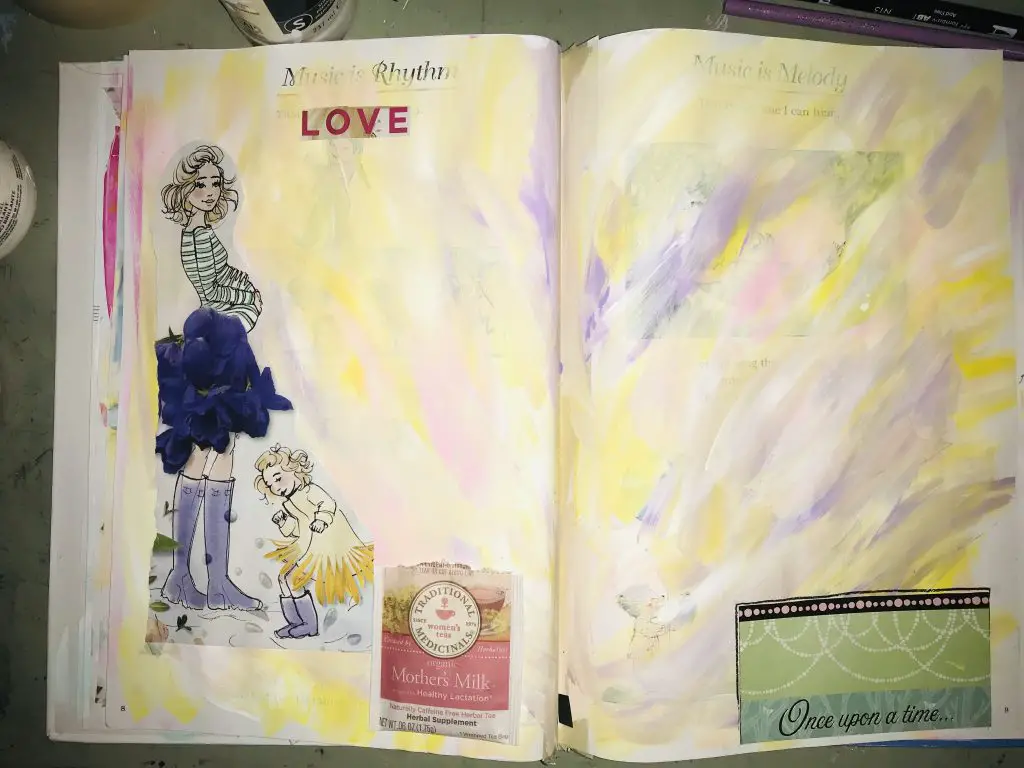 Collage elements can be:
Old book pages
Scrapbook paper
Collage paper
Magazine clippings
Ripped paper from old art projects
Post cards
Old letters
Any ephemera
Adding Collage to Art Journal Pages
I add collage elements to almost every page of my art journal. The collage can also help you decided on what colors you want to use on your pages. 
When adding collage elements to your art there are several ways to adhere them to the page. 
Mod Podge (or any decoupage)
Liquitex Matte Medium
Liquitex Gel Medium

 

Glue
I mainly use matte and gel medium to apply my collage, They dry clear and you can paint on top of them easily. 
Let's recap and then look at some examples.
Start with a background

 

apply some collage
 layer with paint
Add some pictures
Write or collage text
Here is an art journal page layout I did on an old book I made into an art journal.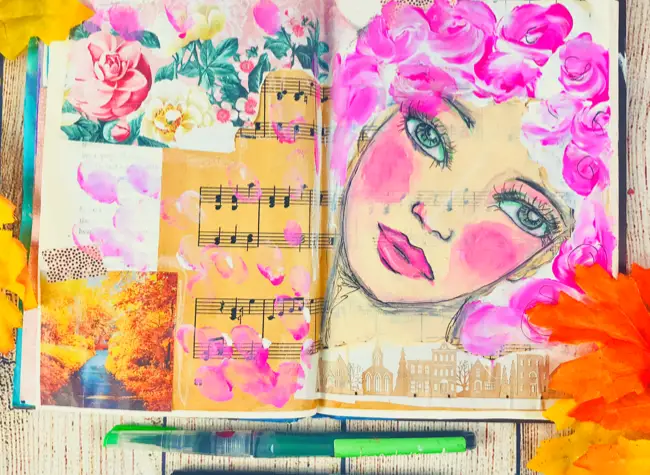 I first created a background with gesso and craft acrylic paint.
Then added some magazine clippings that caught y eye.  Sometimes the key to art journaling and making art all together is to not think about it too much. 
I was inspired by the magazine clipping and drew a variation of the girl in my style.  I wanted it happy and pretty. 
Book pages made into a paper butterfly was added along with words that expressed who I felt.
You can also use watercolors and make watercolor wash backgrounds. Watercolor always seems to have a whimsical look, in my opinion. 
Watercolor, inks, and markers work really well together. Markers such as Tombow are water solvable, so you can blend like crazy. Others, such as Micron are lightfast and water resistant. So you can outline, add details, or write and you don't have to fear water changing your lines.
Stencils
The use of stencils for art journaling is very common. They can be used to create intricate backgrounds in various patterns. You can also create faces, bodies, cute animals, or whimsical beings.
Don't be afraid of the stencil crimping your style. You can easily make a stencil into your own unique look. Here's a look at some simple stenciling I have done.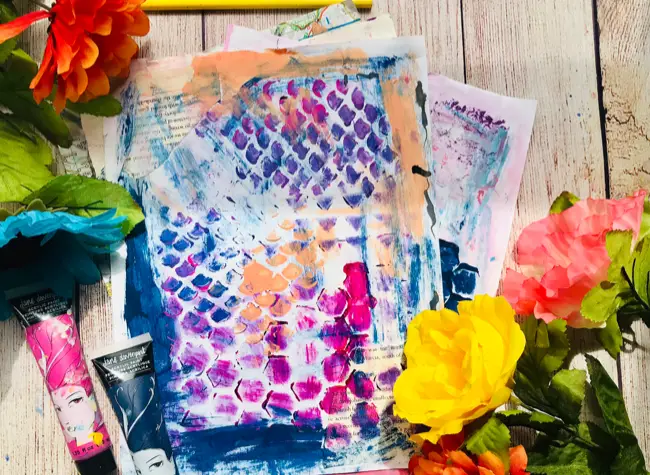 The common approach to stencils is to lay the stencil down and apply paint. However, you can also lay the paint down and the put the stencil on top and use a baby wipe or cotton and remove the paint where the stencil is. 
You can add modeling paste over the stencil to give textures and dimension. 
Stamps
Stamps are a lot of fun. You can add all types of images with all types of inks into your art work. Stamping is also a great way to add words without hand lettering or writing them out. 
Themes
Some people love to have a theme. You can make your journal highly personal this way. You can also tackle certain subjects and explore certain art mediums in your explorations. It's not uncommon for people to keep watercolor art journals, art journal devoted to family. Here's a list of themes for your art journal:
Family
Emotions
Watercolor
Faces
Fantasy 
Prompts
Prompts are also every helpful. Many sites have month long challenge prompts. These can really boost your creativity and it solves the problem of what to create that day.
Here are some prompt list:
20 Art Journal Prompts for When You Feel Stuck
67 Art Journal Prompts for Inspiration
Let the prompts guide you and stir your imagination and see what you can create. 
Miscellaneous tools
There are some other things that can help on your art journaling adventure.
Scissors. You'll want a good pair of scissors to cut out your collage elements. You can also buy scissors that cut cool patterns into paper.
Heat gun. A heat gun helps speed up the drying process between layers. You can quickly move along without having to wait for your paint to air dry.
Printer. It's really handy to have a printer as sometimes you want to print images or words to use in your journal. There are many affordable printers in the market.
When starting an art journal the most important thing to have is joy and a sense of adventure.
Don't feel you have to create complete pieces of art.
Art works don't always have to be neat portraits or landscapes, either. Everyone's art journal will be different.
Some people like lots of layers and collage. Some people like to keep things neat, while others like to use personal photos.
Art journaling is personal. You can share it or not. It should bring a sense of fun, peace, joy, and wonderment.
The practice of setting aside time each day to do something for yourself that makes you happy is truly a great stress relief. It's healthy for you. Don't underestimate the importance of taking time and doing things for your self, or the importance or creating art for the sake of art.
Be sure to come join my Facebook Group. Share your art, ask questions. I love to give personalized help!
How to Start an Art Journal