This post contains affiliate links. We may earn money or products contained in this post. Please click my disclosure policy to learn more.
Art Journal Supplies
Welcome to the wonderful and colorful sort of art journal supplies! You don't have to have a huge budget to begin art journaling. You don't have to have anything super fancy, either. So don't feel bad if you don't have everything listed here. Making art is something that grows as you do. You add art journal supplies as you go. Nobody starts with everything. If you already paint then you probably have more than enough to get started. You can even raid your children's art supplies. 
This is a list of common and popular art journal supplies used by many art journaling enthusiasts. I complied the list because often you hear about a product in tutorials or articles mentioned, but you might not know what it is or what it does. Also, some people are curious of what others use. This isn't a comprehensive list, since art supplies are so numerous. It's more of a helpful guideline to help get you started into the wonderful world of art journal supplies.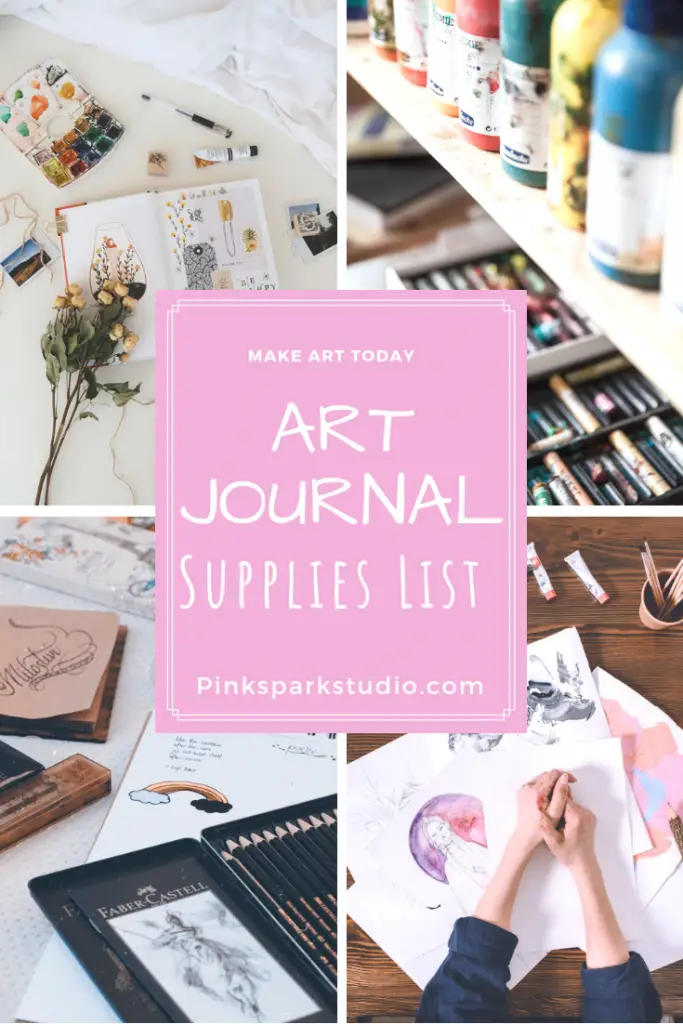 Gesso
On the top of my art journal supplies list will always be gesso. Gesso is a primer that you apply so paint can adhere to a surface. I apply gesso to every page I use. I also make art journals out of a lot of non-traditional materials such as cardboard and paper bags, so this is a nessecisty for me. However, if you are using a watercolor journal and mainly using only water color or inks you don't need to do this. 
Gesso comes in many forms:
Gesso will also vary according to the brand. You can buy a different brand each time you run out to try out the different brands. When it comes to acrylic painting and art journaling I have found my favorite brand it Liquitex. It affordable and applies smoothly. Golden is also a high quality brand. They are a bit more expensive and a little thicker. Both brands are fabulous and you really can't go wrong with either. Often I have both in my studio. 
My pro tip is to save a good squeeze bottle from your kitchen such as an empty dishsaop bottle or Sriracha bottle (I go through a lot of that stuff) and fill it with your gesso. You can squirt out out across your paper with better control or pour it easily into your pallet. I always find the tools of my gesso bottles get goopy and hard and messy. This saves me a little hassle.
Mediums
Mediums vary according to the art medium you are using (oil, acrylic, watercolor, etc). When it comes to art journaling the most common mediums art the ones that add textures and can be used as a glue.
Matte Medium
Matte Medium can be used as glue to adhere all your collage elements to the page. It dries clear, with a mate finish and you can easily paint, dry or use marker on top of it. 
Gel matte medium
Gel Matte Medium thicker than matte medium, but works mostly the same. 
Both these mediums can be used with acrylic paint to extent the paint, make it apply more smoothly and even lighten it it bit depending on how much you add. 
Moldeling paste/Molding paste
Moldeling past or Molding paste  is great for adding 3D texture to your pages. It can be used with stencils, or to make brush strokes pop off the page. The more you add the thicker it gets. 
Gloss Gel
Gloss Gel does what the name implies. It adds a glossy finish to your work. It has a nice shine and it can be fun to play with. You can add it to only certain elements of your page for added effect. It comes in different thickness, as well.
Acrylic Paint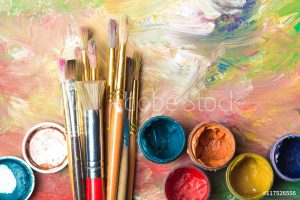 There are various brands and types of acrylic paint. All can be used for art journaling. My art journal supplies when I first started was mostly acrylic paint.
Craft acrylic paint
Craft acrylic paint is super affordable. You can find them almost anywhere. They come in hundreds o colors. They go on smoothly, you don't need to mix them with anything nor do you need to add much water. 
You can get them in
There's probably some variations I'm leaving off the list, but I think you understand the variety. The great thing about them is you can grab tons of colors for a few bucks and have a ball in your art journal.
The difference between craft and artist acrylic paint
Artist and student grade acrylic paint have more pigment. They are basically the binder and the pigment. They are thicker, usually more brilliant and have a richer color when applied. These paints are flexible and of a higher grade. Thought you can make a lot of beautiful art with craft paint. I used to avoid them until one day they were all i had around. So, I experimented with them and fell in love. They are also fabulous for skin tones. You can get a consistent shade each time.
Artist Acrylic Paint
There are two levels of paint grade, student and professional or artist grade. Artist grade has higher pigment and the less color shift than. The student version. For art journaling student grade is just perfect. Student grade is also more cost efficient.
Acrylic paint also comes in different variations such as heavy body and fluid.
Many people ask what is soft body acrylic paint? And, what is heavy body acrylic paint?
Soft body acrylic paint is medium viscosity, or thickness. It is creamy, applies smoothly and has a concentrated pigment load so the colors are vibrant.
Heavy body acrylic paint is think and perfect for allowing your brushstrokes to show. You can quickly build texture, as well.
Fluid acrylic paint are extremely thin and runny. They flow easily. One trick with fluid acrylics is to get refillable marker paint pen. You are basically making your own paint markers. You can also do acrylic pours, splatters, and get highly intense colors. 
Watercolors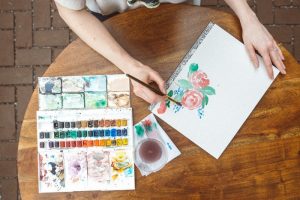 Watercolors are so fun because they are so unpredictable. I'd always suggest getting a good set. I bought a really cheap set once to experiment with and it was terrible. It was chalky and hard to activate. 
Lightfastness
One of the main differences between cheap, student, and artist grade watercolors is a thing called lightfastness. Lightfastness describes whether and by how much your color will fade overtime. 
Some watercolor brands I recommend are:
There are other good brands, however these are the ones I find to be my favorites. Daniel Smith is on the pricy end. For art journaling you can start with a lower quality. Since your paints are in a book the effects of fading should not be as evident as if the painting is hanging on a wall. However, i like to get the biggest bang for my buck. So, I wan a watercolor I can journal with and also make nice paintings with. That is why I have the brands above listed. 
When using water colors a good brush is important. You can also invest in a good set of water brushes. These make things so easy. Here are some brushes that are good quality:
Color Pencils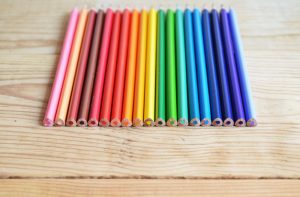 When it comes to colored pencils you might find a mix of opinion. If all you have is crayola, use them. I think crayola makes great products. However, if you are looking to invest then here are my top picks for my art journal supplies list.
Prisma Color
Prisma Color are pretty much top line. They are smooth, go on like a dream and come in a ginormous amount of colors. 
Jane Davenport Magic Wands
Jane Davenport Magic Wands You'll hear the name Jane Davenport often among art journalers. She has lots of lovely art journal supplies.  You can find richly colored, fun art products of various types. She also has books and online workshops. I adore her colored pencils. They come in whimsical colors and are smooth, and easily bendable. They are affordable and worth every penny.
Col-erase pencils
Col-erase pencils are from Prisma Color and they are erasable colored pencils. They are perfect for doing sketches and laying down a light framework for a pieces your working on.
Stabilo All Pencil
Stabilo All Pencils are my most treasured drawing tool, you can always find at least on in my art journal supplies. They draw on and over anything! They water-soluble and with a little water you can draw and shade an entire picture. You can use them over your acrylics, watercolor, collage. They are amazing.
Inktense
Inktense are watercolor pencils. They are rich in color, easily activated. You can use them dry or wet. They are fabulous and worth every penny.
Crayons and Pastels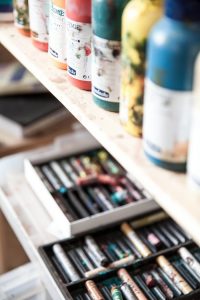 I mix this categories because often you'll find a pastel in crayon form.
Oil pastels/crayons
These are oil based and have a wax texture. If you want them to blend you have to put some work into it. I've seen it down, however, they are not known for their easy bendable nature.
Chalk pastels
These are as the name implies chalk like. I adore them. You do need a fixative so they don't smudge once you are finished. They come in sticks, pans, and pencils. 
Gelatos and Watercolor crayons
Gelatos are sticks of highly blend-able colors. You blend them wet or dry. They are super creamy and fantastic for all sorts of needs. You can easily create beautiful skin tones, you can use them with stencils. They also are made by several different brands, so you have a lot of options.
Water color crayons
These crayons can be used like a crayon, and left as is, activated with water to create watercolor effects, or you can take your paint brush and take the color from the stick on your brush and apply it to your paper. You tend to get a heavier coverage with these versus traditional watercolors. They are super fun to play with, and should be tried at least once.
Markers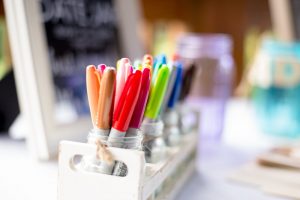 These art journal supplies are great for at home and and the go! Markers are so, so, so fun! There are tons of art markers, I'm only going to discuss some of the more popular ones and the ones I personally use. They are easy to find and easy to use and also easy to find tutorials of others using for art journaling.
Tombow dual brush markers
Tombow dual brush markers come in a wide variety of colors. They are highly vibrant and they have two different sized tips in one marker. They are also water soluble. So, you can make a line, add some water and do shading, and make many different effects. 
Posca Paint Markers
Posca Paint Markers come in many colors and different sizes. They are acrylic type, water based markers and a whole lot of awesome. You can white and highlight eyes, paint on words, add details. They are an amazing add to your art journaling tool kit.
Copic Markers
These are on the more expensive end of the markers, but well worth every penny. You can easily blend the colors, and they come in a ton of colors. They are smooth and delicious. You can easily create yummy skin tones and also highly vibrant colors for everything else. They are very popular with comic artists because of their high quality. 
Sharpies
I feel no art journal supplies list is complete without mentioning Sharpies! I've had a love affair with sharpies since junior high. Now they have so many options. You can get oil-based paint markers and brush tip markers. The possibilities are endless with these options. You can write over your painting, add dramatic details, anything you can think off. I keep the a large assortment of Sharpies on hand at all times.
Pens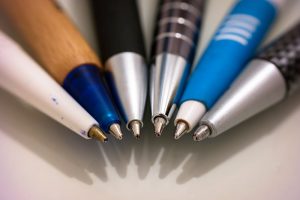 There are several pens you'll hear spoken of often among art journlaers. These are, tell pens, Pitt pens, and micron pens.
Gel Pens
Gel or Gelly pens are super fun for art journaling. They are often used to highlight the eyes and to add text. Though, they come in so many colors you can draw, write, add details to your hearts content with these gems.
Micron pens
These come in different sizes, they are lightfast and they are water resistant. They are great for outlines, writing, and adding details to drawings. 
Pitt Pens
Pitt Artist Pens are filled with India ink. These pens are extremely blendable. You can layer them, activate them with water and my favorite aspect about them is their high lightfast quality. If you like to play with ink in the form of fantastic pens, then these are for you!
Inks
I truly adore inks. There are also so many variations. When talking about inks you'll often hear the name Tim Holtz mentioned. He makes EVERYTHING, from inks to collage paper, to stamps, and stencils. Let's look at his wonderful inks.
Distress Oxide inks
Last I checked these inks came in 61 colors. They blend with water without loosing their vibrancy. Many art journalists use them to give pages the vintage color. They are slow drying so you have time to blend.
Adirondack alcohol ink
This ink he made with the company Ranger. It's alcohol based and applies to almost any surface. You can get a smooth shiny look. They come in a variety of colors, and the colors are delicious. You can find different applicators from this brand for using it with your art.
Archival ink
This is an oil based ink, it is waterproof, and fade resistant. These inks don't bleed and you can use them with the other two.
Collage elements/ephemera
No art journal supplies list would be complete without talking about collage. Truth is anything that you can think of can be turned into a collage element. In case anyone doesn't know what ephemera is let me explain. According to the dictionary it's:
things that exist or are used or enjoyed for only a short time.
items of collectible memorabilia, typically written or printed ones, that were originally expected to have only short-term usefulness or popularity.
So, it can be anything. Ticket stubs, letters, pretty tags. You can go to antique stores and find tons of really interesting postcards, letters, magazines. They usually are pretty cheap, as well.
Paper packs
You can find packs of prettily decorated paper at most craft stores. They come in different sizes and can be ripped up and added to any mixed media piece.
Collage paper
Tim Holtz and Jane Davenport both make beautiful tissue collage paper. It comes already collages, it is tissue, can gives you an instant background.
Any tissue paper can work.
Paper napkins are also great. You take of the white backing, use some mod podge and instant collage background.
Various brands make collage elements that are already cut out. You can find them in the paper-craft section of craft stores.
Art journaling is a wonderland. Art journal supplies are addicting and you should never feel bad in indulging in them. You can use as many or as few supplies as you want. Sometimes using sparse products forces you to be extra creative and really sparks the imagination. Have fun with your art. That's the the most important thing. 
You can read me article about how to
How to start an Art Journal here
I'd love to hear about your favorite products! Let me know what you're using.