This post contains affiliate links. We may earn money or products contained in this post. Please click my disclosure policy to learn more.
67 Art Journal Prompts to spark your imagination!
I don't know about you, but sometimes my mind just gets stuck and I need a little push. I believe that art journaling should be a regular practice, even when you are feeling stuck. Stephen King said, "Amateurs sit and wait for inspiration, the rest of us just get up and go to work." Sometimes we just need to push ourselves, with a little help. These 67 art journal prompts are for inspiration.
Why Art Journal Prompts Work
When I was in college my English professor often made us do exercises based on a prompt. I was amazed how having rules and being limited actually made me think more creatively. It made my mind think in new ways. It was really fun. Art journal prompts takes our minds off our problem of feeling stuck and focuses on what we can create with the prompt. It's problem solving at its best. Fast Company reports the studies that show working with constraints forces to work with the resources we have ion novels ways.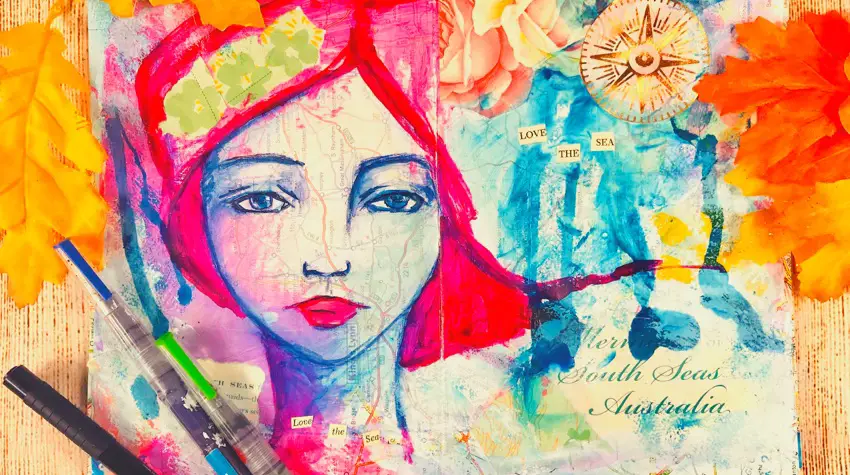 Start An art journal
If you are new to art journaling you can check out my post on How to Start an Art Journal here. Art journaling takes all the best parts if art, such as sketching, painting, writing, collage, and mixes it. You can combine everything or just on aspect of art. It's private creative process that lets you experiment. I suggest you let your imagination ru wild with these prompts and go crazy.
Whimsical Life Art Journal Prompts
Whimsical ideas are fun because you can break so many rules. Art journal themes shouldn't constrict you, they should empower you.
Ideas for this theme:
1.) Butterflies
2.) Mermaids
3.) Mermaids interacting with non-mermaids
4.) Fairies
5.) Fairie houses 
6.) Mischievous Fairies
7.) Baby fairies
8.) Elves
9.) Girls with whimsical faces
10.) Whimsical landscapes
You can incorporate the entire list into a whimsical themes journal. You could create your own little fantasy worlds. 
Supplies Ideas:
Glitter
Gold leaf
Flower cutouts
Butterfly cutouts
Lace
Pressed flowers
Glitter paper
Dress Up Art Journal Prompts
Dress up has always been one of my favorite things to do. You can make it as outrageous and over the top as you want. You can even combine themes. Why not a "fairy fashion" theme, or the "life of rich cats." You can have so much artistic fun.
11.) Dress up tea Party
12.) Fairy Fashion 
13.) Baby fashionista
14.) Fashion out of flowers
Supplies Ideas
Fashion magazine
Clothes tags
Perfume ads
Old clothes remnants
Glitter
Under the Sea art journal prompts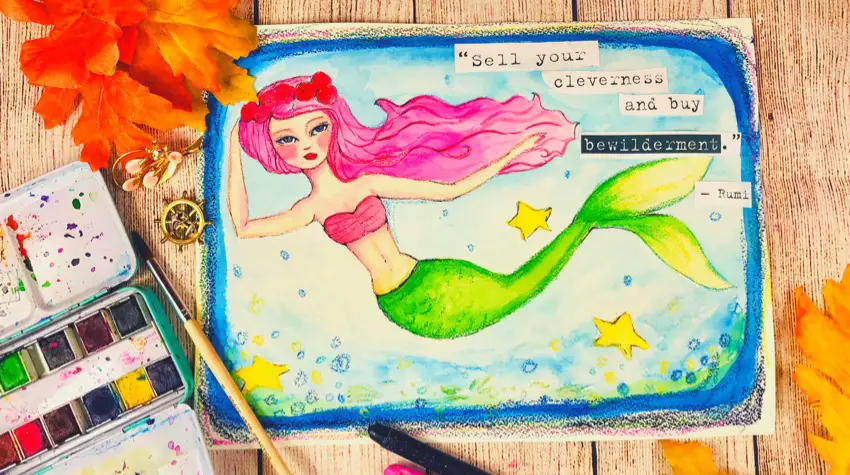 I adore all things aquatic. The sea art journal theme has so much potential. The sea is full of rich colors and life. You can really experiment with creating water, coral, and sea life.
15.) Fish
16.) Narwhals
17.) Mermaids
18.) Starfish
19.) Seahorse
20.) Fish towns
Supplies ideas:
Glitter paper cut into scales
Tissue paper
Hot glue to look like coral
Secret Garden Art Journal prompts
Here you can plant whatever flower you want. You can plant ideas, and dreams and surround them with pretty foliage, flowers and trees.
What are your secret daydreams? Why not paint them down in your journal. Let them come aloe on your page and inspire you.
Gardens are lovely places where life grows. You can fill it with all manner of beautiful things.
21.) Butterflies
22.) Birds
23.) Flowers
24.) Trees
25.) Foliage
26.) Wildflowers
Supplies ideas:
Dried Flowers
Fresh leaves
Fake flowers
Twigs
My favorite things art journal prompts
I love the Sound of Music. I could listen to Julie Andrews melodic voice for hours. What are your favorite things? Why not fill your art journal with things that make you smile. You can draw them, wrote them collage them onto page after page and then sit back and enjoy them over and over again. Art journal inspiration is one of my favorite things.
27.) Favorite perfumes
28.) Favorite jewelry 
29.) Favorite shoes
30.) Favorite animals
31.) Favorite places
32.) Favorite words
33.) Favorite colors
34.) Favorite flowers
Supplies ideas:
Magazine cutouts
Labels

 

Pictures

Fashionista art journal prompts
I adore fashion. I adore fashion illustration even more. Fashion is amazing inspiration for art journals because it is endless. Drawing fashion can be so much fun. This is also a perfect chance to practice figures, hands, and feet. You can let your imagination and inner girlie girl go wild as you draw out fabulous ball gowns and impossibly long hair. You don't have to be a fashion designer to draw all the pretty clothes and sassy poses.
35.) Ball gowns
36.) Flirty dresses
37.) Fashion feet
38.) Hats off to you 
39.) Ruffles
40.) Happy hair
Supplies ideas: 
Magazine clippings
Clothing catalogs
Awards events photos
Swatches of fabric
Color swatches
Unicorn art journal prompts
Who doesn't love unicorns? They are fabulous, colorful, and full of attitude and perfect for whimsical art journals. Let you mind prance around as you get inspired by these art journal quotes.
41.) Unicorn
42.) Mercorn
43.) Purrcorn
44.) Doggycorn
45.) You as a unicorn
46.) Unicorn bedroom
Supplies ideas:
Lots of colors
Large confetti glitter
Stickers
Literary Theme Art Journal Prompts
I am a huge book lover. I am constantly reading. Books can serve as fantastic inspiration for my art journals. What book are you reading? Does the imagery leap out of the page? How do you picture the characters? All of this can go into your art journals. It's super fun to get lost in a book or a specific character. 
47.) Mad Tea Party
48.) The Moors with the Brontes
49.) Tea with Mr Darcy
50.) I'm on Aslan's side
51.) Party like a Hobbit
52.) A scene from your favorite book
Supplies ideas:
Book Quotes
Book Pages
Images of Characters
Doilies
Tea bags
Aged paper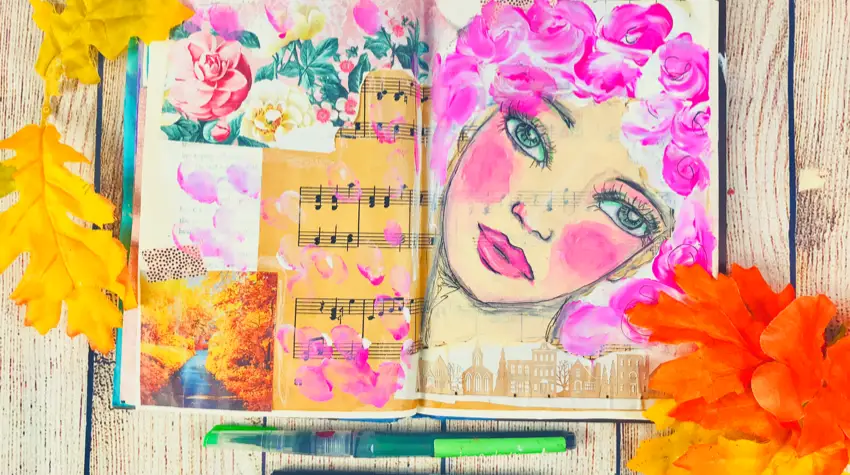 Inspirational Phrase Art Journal Prompts
Inspirational Phrases are great to use in art journaling. Art journaling is about finding the inspiration that is buried in the bottom of your soul and letting it flow through you. 
53.) I make my dreams come true
54.) Do what makes your soul smile
55.) Creativity blooms like a garden in front of me
56.) The sun of happiness shines upon my art journal page
57.) I fly upon wings of whimsy
Supplies Idea:
Gold foil
Dried Flower petals
Galaxy photos
If you found this post helpful please buy me a coffee and help support this blog! Thanks for the love.
Inspirational Women Art Journal Prompts
Inspirational Women are amazing inspiration for art journal prompts. The women I included are women who book rules, who made their own way in life. Some of thee women are rebels and some of them could be counted as saints. I included both because women are often expected to be both. Let's celebrate the fierceness of women in in our art journals and let some of their gutsiness rub off on us in our everyday lives. 
58.) Yael from the Bible who saved Israel by using things available to her as a woman of her time. 
59.) Tru'ng Sisters, raised a force of 80,000 and repelled an invading army from Vietname
60.) Jeanne de Clisson, a noble woman who raised a fleet of warships after the unjust execution of her husband
61.) Harriet Tubman a brave woman and abolitionist who escapes slavery and goes on to free 300 slaves through the underground railroad. 
62.) Hedy Lemarr. She was an incredibly talented actress, a coder who fought the Nazis by making unbreakable codes. Her inventions has led to Wi-fi technology.
63.) Irina Sendler, she saved 2,500 Jewish babies and toddlers during WWII. Though captured and tortured she never broke or gave up any information. 
Supplies Ideas:
Quotes by the women
Photos of the women
Ephedra from the time period or representing it
Ficti0nal Women Art Journal Prompts
Fictional Women lets let some of fictions best women serve as inspiration for our art journals. They are fun, sassy, classy, and so much more. 
63.) Loralei Gilmore from Gilmore Girls. She loves talking fast and drinking coffee. You could devote an entire art journal to her quips. She is a strong woman who sets an inspiring example to all women. 
64.) Morgan Le Fay she is the enchantress of the Arthurian legends. I find it fascinating who as time goes be writers chose to make make her more of an antagonist. 
65.) Holly Golightly if you haven't seen Breakfast at Tiffany's that's your homework. The fashion and the nostalgia will serve as fan static inspiration for you art journal.
66.) Sophie from Howls moving Castle. She is cured and ages to an old woman and saves the day as an old woman. Studio Ghibli movies are sure to prove as inspiration. All Studio Ghibli movies feature song girls/women who are capable and save the day.
67.) Eoywen from The Lord of the Rings. She is a power house and no damsel in distress. She gains renown in battle by slaying the Witch-King. I am no man!
Supplies ideas:
Photos of the women
Swatches of fabric
Book pages
Final thoughts on Art Journal Prompts
I hope you found these art journal prompts helpful and inspiring. Art journaling should be fun. Have fun and let your imagination run wild across the pages your art journal. I'd love for you to join me in my Facebook Group. You are welcome to share your art and ask any questions you may have. Be sure to sign up below to my e-mail list. You'll automatically be sent the password to my resource library once you conform your e-mail. In my resource library I have free printables you can use for your art journals. 
Keep Working on your art journal prompts and have fun making art!
67 Art Journal Prompts for Inspiration