This post contains affiliate links. We may earn money or products contained in this post. Please click my disclosure policy to learn more.
Art Therapy Activities
How are you feeling, today? As I write this most of the world is currently under some type of lockdown due to the virus. Stress levels are high for so many people.
Before the lockdown happened many people already had issues with stress and struggling with depressing thoughts of some type. Life can be crazy and throw a lot of curveballs our way.
It is really important that we take times and do thinks that help us ease the stress and clear our minds., We also need to find things that bring joy to our lives and make us happy. The person we often overlook to take care of is ourselves, this is especially true of women!
Art has the incredible power of reducing stress in our lives. Art is magic anyone can do. You don't need any special training or supplies. Though, you should never feel guilty about indulging in the purchasing of art supplies.
Science says art is a good de-stress activity
Creating and viewing art can lower your cortisol levels and can create endorphins. Psychology Today even sports that making art, even you don't consider yourself an artists, lowers the stress hormones in your body.
If you are a Reese Wotherspoon fan than you'll remember the line in Legally Blonde about endorphins making you happy and "happy people don't kill people." Happy people also make art and make their lives colorful.
It's not always easy to start making art when you're going through a stressful time or struggling with depression or any kind of sadness. Sometimes it's just willpower that makes you start. Once you start and keep it at it can get easier, trust me, I've been there. 
Here are some art exercises to help you begin creating art and endorphins and smile.
I suggest you find a way to incorporate art activities into your daily routines so it becomes as much a habit as brushing your teeth. Your mental and emotional health is just as important as your physical health.
De-Stress Art Exercises
You don't have to be an artist, you don't even have to draw to make art. There are many ways to be creative and make art. Do not let fear of not making good art intimidate or stop you from making art.
These methods below can also be incorporated into daily self-care routines. Routines help us organize our days and make time for what matters.
Adult Coloring Books
Adult coloring books have come a long way since they first came out. There are coloring books for every taste and style. There are also books that come with different papers so you can explore different art supplies. How fun is that? No more boring cheap paper. 
Coloring lets you occupy your mind on a single creative task. It is very soothing and looking at colors can have impact your mood. The act itself can bring a sense or calm to your mind.
You'll also get the satisfaction of watching a plain black and white illustration come alive through your efforts. Seeing a finished project also boost endorphins and makes you feel accomplished.
Here are some of my favorite adult coloring books and some beginner supplies:
Jane Davenport's Whimsical Girls art journal is full of her signature whimsical girls and faces. What really separates this book from the rest is that it comes four types of paper, coloring, marker, watercolor, and Kraft paper. This is the prefect book to experiment in and to really get creative. This book also contains a bonus stickers and collage paper!
Pop Manga Mermaids and Other Sea Creatures: A Coloring Book  is one of my favorites. I was gifted this for my birthday and I absolutely fell in love. This book includes 70 blank and white pages that are perfect for coloring. These pages are filled with wondrous undersea creatures. There are also fun patterns to keep you busy and they allow you to play with different colors and how they look together.
Art Supplies
These supplies are ones that I regularly use with my coloring books.
Jane Davenport Magic Wands Coloring Pencils are my absolute favorite colored pencils. I never liked colored pencils until I bought this set. Now, I can't put them down. These work beautifully in any coloring book.
Caran'D Ache Watercolor Crayons  These are the the best watercolor crayons on the market, in my opinion. They are vibrant and fun to use. You get the joy and versatility of a crayon and watercolor in one.
Tombow Dual Brush Markers These markers are water-soluble. If you take a paintbrush with water you can activate the color and paint with it similar to watercolor. They are vibrant and I love the dual tips. This is my go to set, however, there are several different color pallet choices to suite your style.
Making Collages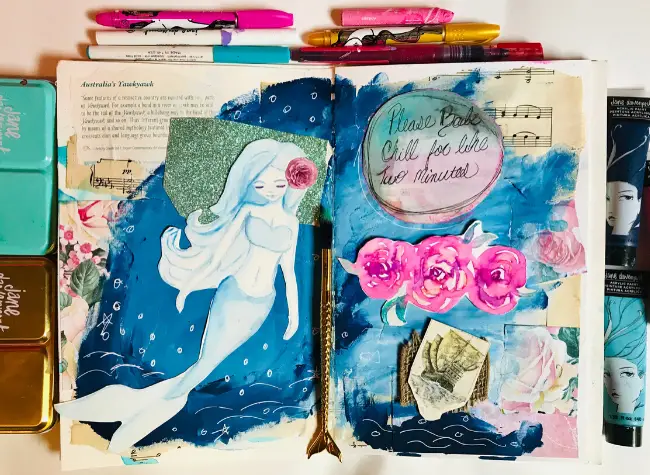 Making Collages is a great way to get creative and let loose. You can make collages completely from paper you've found. You can even cut out pictures you've colored and use them in your collage.
You can write or print words that make you feel empowered. Such as "I am Strong," "I am beautiful," "I can do all things through Christ who strengthens me." You can focus your energy o these powerful and uplifting phrases and let your art be inspired by them.
You can hang these collages up and remind yourself how awesome you are and beautiful your art is.
You can read more about Making Collages here in my tutorial.
You can create an art journal just for collages and watch the magic take place. Collages really help you loosen up, experiment, and have fun.
Make Your Own Collage Paper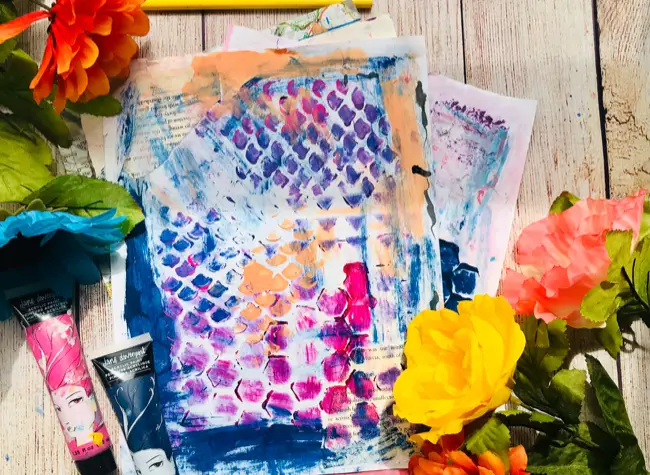 Collages are amazing. I often buy fun paper with creative patterns to use in my art journals and with my collages. However, sometimes I skip the store and make my own patterned collage paper. This is a really fun and therapeutic exercise that not only works to de-stress you, it also will give you a some fun paper to work with.
You can read my complete tutorial on how to make you own collage paper here.
Start an Art Journal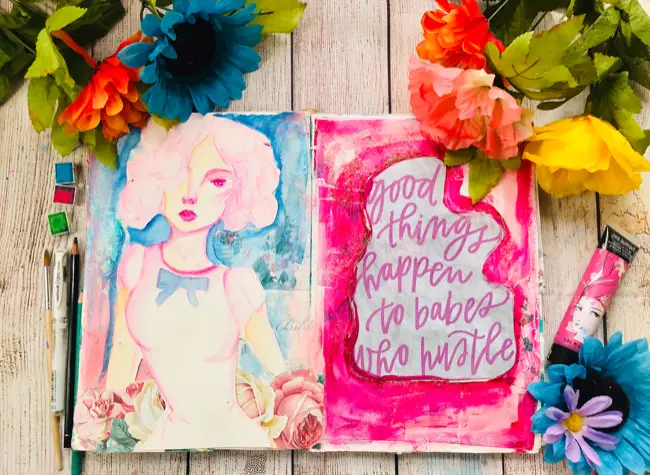 I cannot tress enough how much an art journal can help your peace of mind and your art. An art journal is a little bit of a diary, a little bit of a sketch book, and a little bit of collage. It's everything and only what you want it to be.
You can buy art journals, you can make your own art journal. You can even use a three-ringed binder. Do you have any old trapper keepers? Use that. I'm still trying to find my old Lisa Frank trapper keeper because I think that would be awesome.
If you want some good visuals of different art journals and art journal pages you can check out my Pinterest. I have several boards dedicated to art journaling. You can also read my tutorial on How to start an Art Journal here.
Getting into the habit of setting time aside for your art journal is a healthy practice, Make it a habit. You are worth the time and making that tine yours reinforces the idea that you are and your art are important.
Create a Vision Board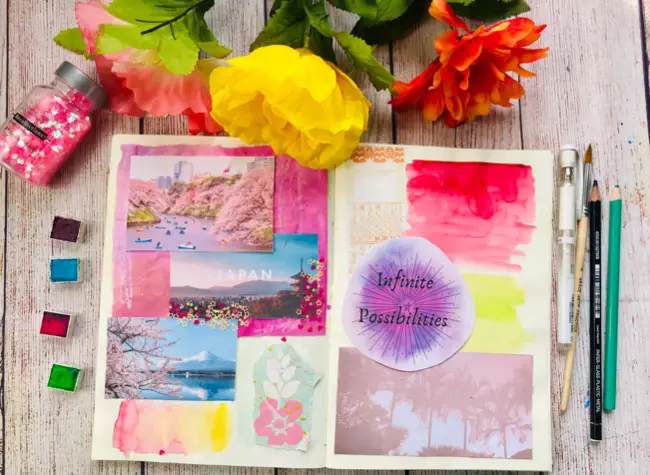 You can read my tutorial on how to  Create your own Fairytale Vision Board in your art journal. This is the perfect way envision and create your dream life. If you are stressed out you may not be where you need or want to be in life. Take some time to really think about what you want and who you want to be. Dream big.
You can also create a standard vision board not in your art journal.
It's pretty easy. You visualize what you want and what goals you want to reach. You can make a list a head of time to see your dreams on paper.
Once you have your goals set find images that represent those goals. Add words that reiterate and reinforce those dreams,
Hand up your vision board where you can see it every day.
Create Found and Blackout Poetry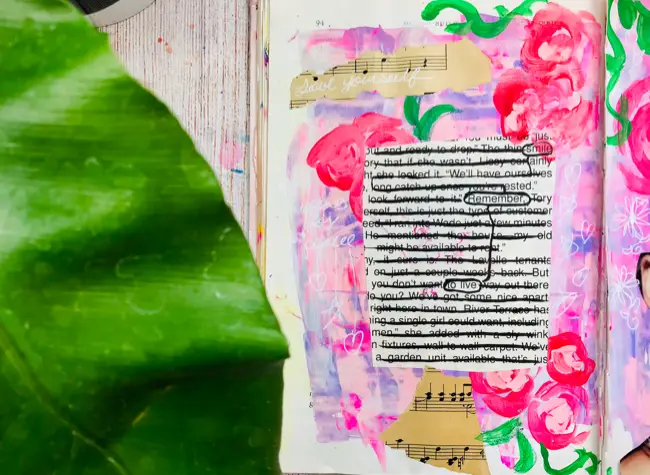 This is great activity to get your brain thinking in new ays and off your problems. Do you have any old pages left over from crafts? If you don't this may be the perfect time to find an old book and use it for some new art projects.
The idea of found and blackout poetry is to start with a page of words that already exists. Variations of these techniques will vary according to the person who does them. So, it's okay for you to change this and do it how you want.
Idea 1.) Book Page Poetry
I start with a stack of old book pages. I find some pages produce better inspiration than others. Sometimes I go through several before I find words that inspire me.
Go down the page and look for words and combinations and circle them and connect them.
You can choose to blackout the rest of the words if you want. This is where the term "blackout poetry" comes from.
Or, you can leave it as it is. It's your poetry your choice how it looks. You can also choose different paint colors besides black.
Idea 2.) Cut and mix words 
For this idea you just need book pages or magazine pages.
Find words that inspire you and cut them out. Don't worry about them matching or being the same size. Part of the fun is that they will be different.
Grab an art journal page and glue on your poem.
You can choose to have long poems or just single words. This is about your inspiration and having fun. Don't stress over it.
Take an Art Class Online
I love taking new art classes. There is always something new to learn. Every artist has their own techniques and styles and it's so exciting to learn these new ways of making art.
This doesn't have to cost you, either.
I haver a special gift for you! You can try Skillshare FREE for a whole month. Skillshare is a streaming service for art classes and so much more. They have technology classes, business classes. I haven't even explored all the classes, yet.
I adore Skillshare. The classes are broken down into easy to follow segments. That way you don't have to do them all at once and it's always easy to find where you left off. So, if you're a mom like me you'll appreciate this.
It's a risk free way of trying tons and tons of free art classes, why not give it a try? Try Skillshare Here for one Month Free!
Doodle in your Art Journals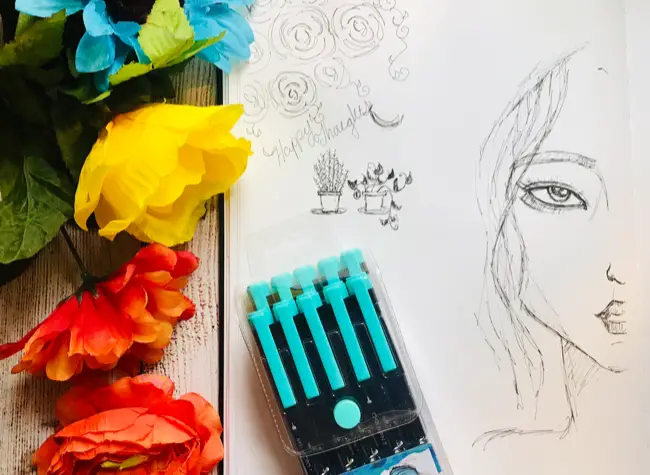 Doodling have be extremely therapeutic. The simple act of just letting your mind and one wander across the page without the stress of creating a grand work of art can actually free your mind.
It lets you get lost in the moment and it also lets you have fun while creating. You never know where your imagination will lead you.
All you need is a pen and some paper. I like to doodle in my art journal so I can make sure my doodles stay safe and are in a place where I can go back and find them.
Anti-stress Art Activities Wrap Up
I would live to see your de-stress art activities. You can join me in my Facebook group and share your art and ask any questions you may have. I hope you found some great ideas to create art and get rid of stress.