This post contains affiliate links. We may earn money or products contained in this post. Please click my disclosure policy to learn more.
DIY Collage Paper
If you make mixed media art of any type chances are you've bought collage paper. I have a bunch stored under my desk. However, this is something you can do without. I decided to not buy anymore paper for collages for a little bit. Instead, I decided to make my own collage paper. This is a fun challenge. I'm sure I'll end up buying more paper. However, it will be because I want to and not because I have to.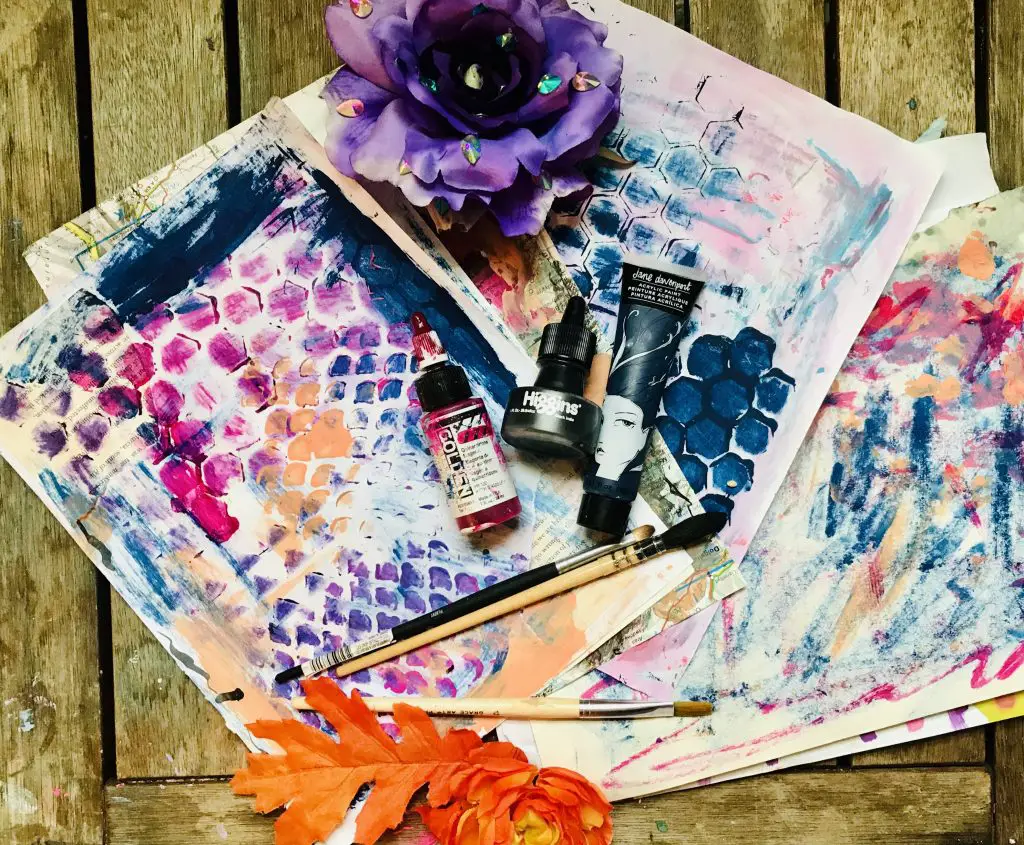 The first time I did this was back in the year 2002 while I was studying with an accomplished artist. He was always having me push my limits. Fast forward many years and I had forgotten all about this exercise until I found I didn't like any collage paper on hand. Like they say, necessity is the mother of invention, that and Pinterest. After spending time looking at other beautiful collages and mixed media, I decided to make my own collage paper, again.
Here are some benefits:
Cost Efficient
One of a kind

 

Helps improve creativity
It's fun
Saving money is always a plus for an artist. There are so many supplies I'm always aching to buy, saving money in other areas helps feed my addition to buy more supplies. It's an accomplishment to lower your waste. It's good for the environment, saves room in your trash can and saves money in your wallet. 
One of the best aspects is that nobody else will have the same paper. You can get as wild as you want and make one of a kind creations. You can even take it a step further and scan and print your collage papers so you can keep a theme going for your mixed media creations. 
The activity of creating collage papers helps stimulate and deepen your creativity. You can play around with new color combos, making stencil, designs and mark making techniques. Endless possibilities. 
Lets make some collage paper
You can make collage paper is a variety of paper. I'll be making collage paper with the following paper:
Art Supplies
Acrylic paint is always a good choice. You can don't even have to use fancy acrylic paint for this process. You can use the very cost affordable craft paint. I also love fluid acrylic paint. It has a liquid consistency and is fun to drip and splatter. The colors are all very vibrant and add a great splash of color to any page. 
Acrylic paints work very well with stencils.
Here are some paints I used for the examples:
Watercolor paints can make beautiful backgrounds and are easy to layer on. You can use your cheaper watercolor for your collages. Or go wild and use the super expensive stuff. Whatever your art intuition is telling you.
Gesso is a great tool. It can prime your surface for paint, you can mix it with paint and inks, and it can also be used to mute your colors and bring your composition together.
Painting techniques
Here I will talk about different painting techniques to use for your collage papers. Then I'll talk about combining these paint techniques to create the actually collage papers.
Splatter
I love to splatter my past onto surfaces. There are a couple or ways to splatter so you can still control the look of the paint and where it goes.
I like to add a little water to acrylic paint to get a good thin constancy. I then take my brush and load it with some paint and then tap it on another brush so the paint splatter of the brush onto the page. You can also use a toothbrush to get get smaller splatters.
Loose Strokes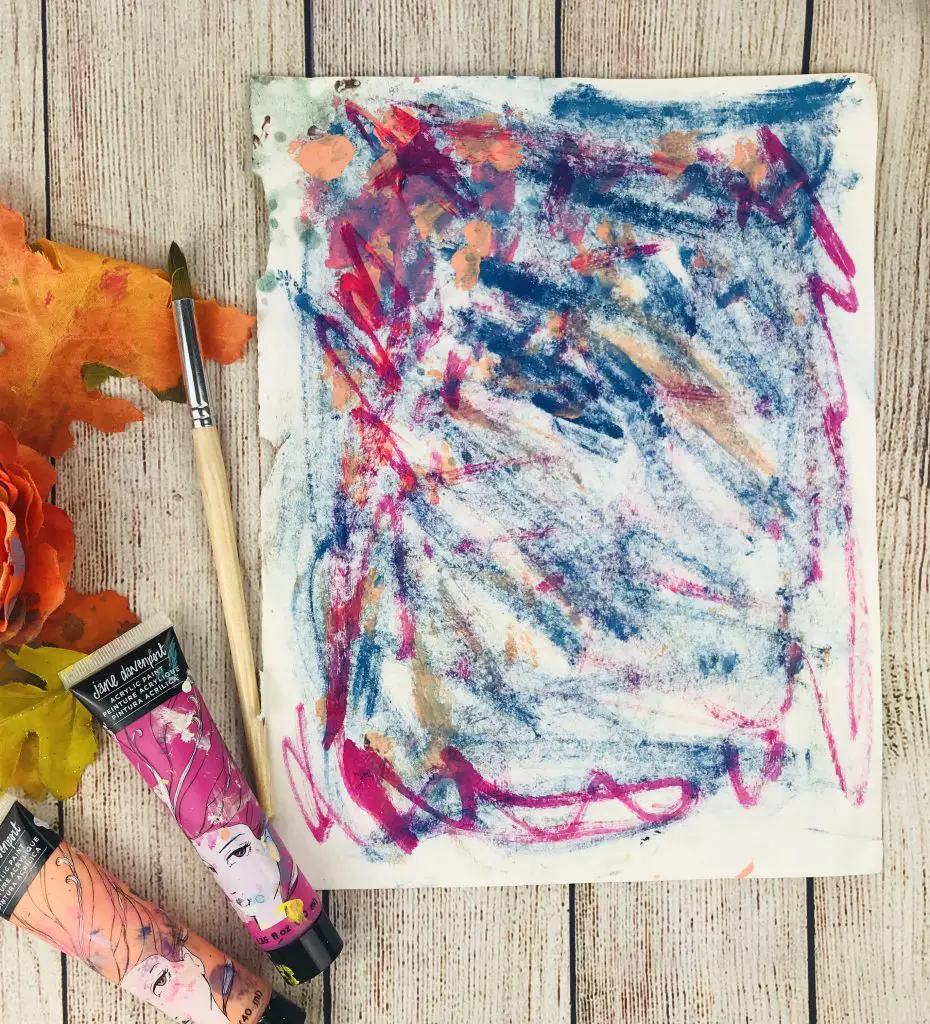 Loose, drippy paint strokes can bring energy and excitement to your page. I take the acrylic paint mixed with some water, load my brush and loosely swish it across the page. Don't plan, just let the brush lead you.
Watercolor washes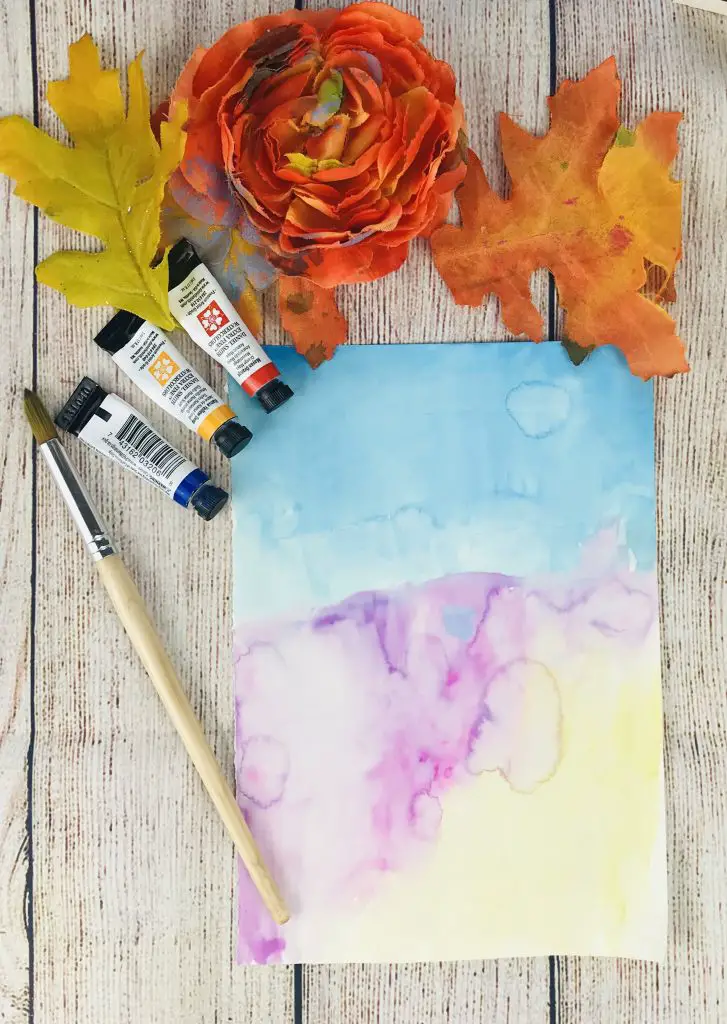 You can make smooth and beautiful graded washes that blend two colors, flat washes or uneven, fun and messy loose washes. 
You can pretty much use any paper. Never limit yourself. I've seen some of the most beautiful art journals created in a regular notebook. The trick is finding something that jives with you, that inspires you. 
There are endless ways to make collage paper. This is just a few ways. You can copy it, or use it as a spring board to draw inspiration from. 
Save your paint and paper
When you are art journaling you can often end up with excess paint. Instead of throwing out the paint take your brush and clean the paint off on a black piece of paper. If you want to test paint test it on a piece of paper and save the paper. These papers with excess paint and test samples can later be turned into collage paper. The paint that is already on them will give interesting an unexpected marks for further use.
Making Collage Paper
Collage Paper with stencils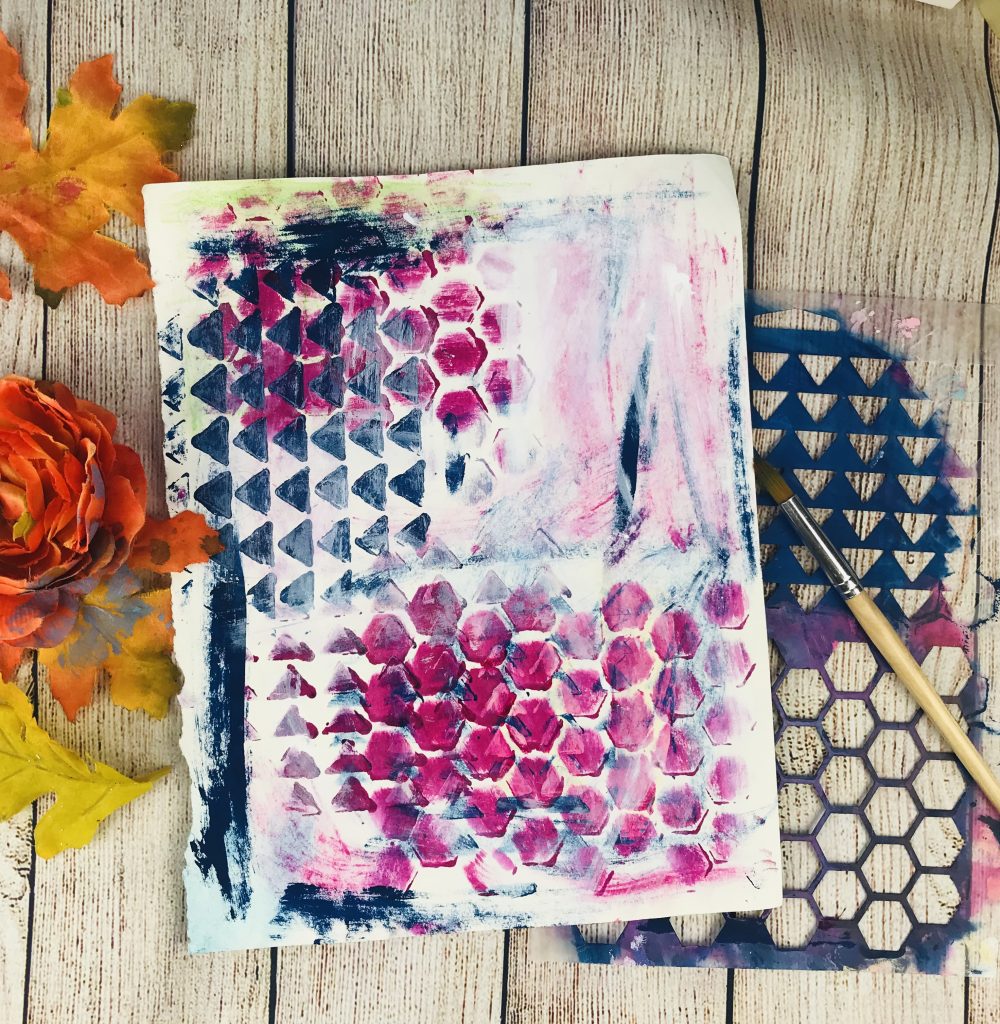 Stencils are a great way to add design and interest to your collage papers. I created these stencil patterns on aper that already had been painted on. I also overlapped the stencils. I wanted to be a free flowing design and not orderly if that makes sense.
1.) Place the stencil where you want it and apply paint. Remove stencil and admire the patter.
2.) Apply paint, place down stencil, tips away paint where the stencil is to create almost a negative space look. Remove stencil and admire.
You can layer stencils, apply stencils wherever on the page with out any planning. Or, you can make your stencil the focus point on the page.
Collage Paper with Ephemera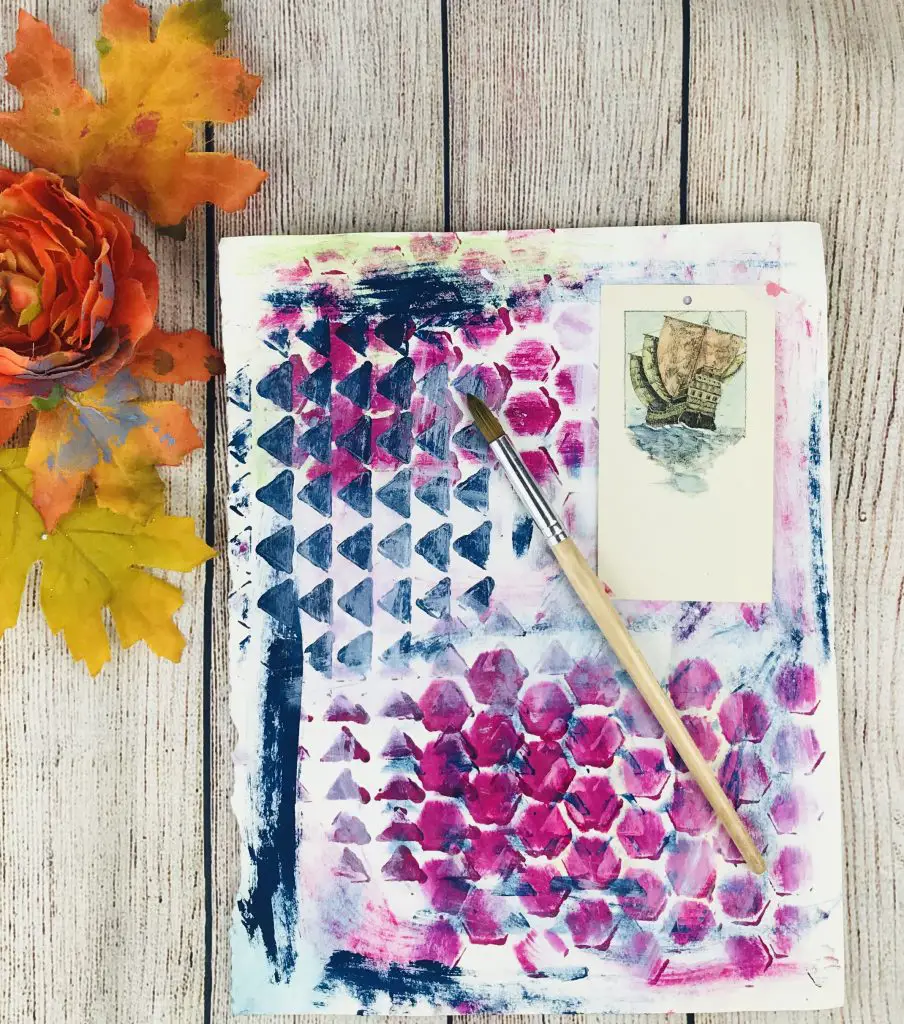 When making collage paper you can do anything you want. I love to add ephemera to my collage paper to add an even more unique look.
Things I use for my paper:
Books pages
Magazine clippings
Saved clippings
You can add these elements to the base layer or on the top layer. Ephemera can work combined with the above techniques. 
I like to use a little ink or gesso over ephemera to help blend it with the rest of the page. 
Collage Paper with Stamps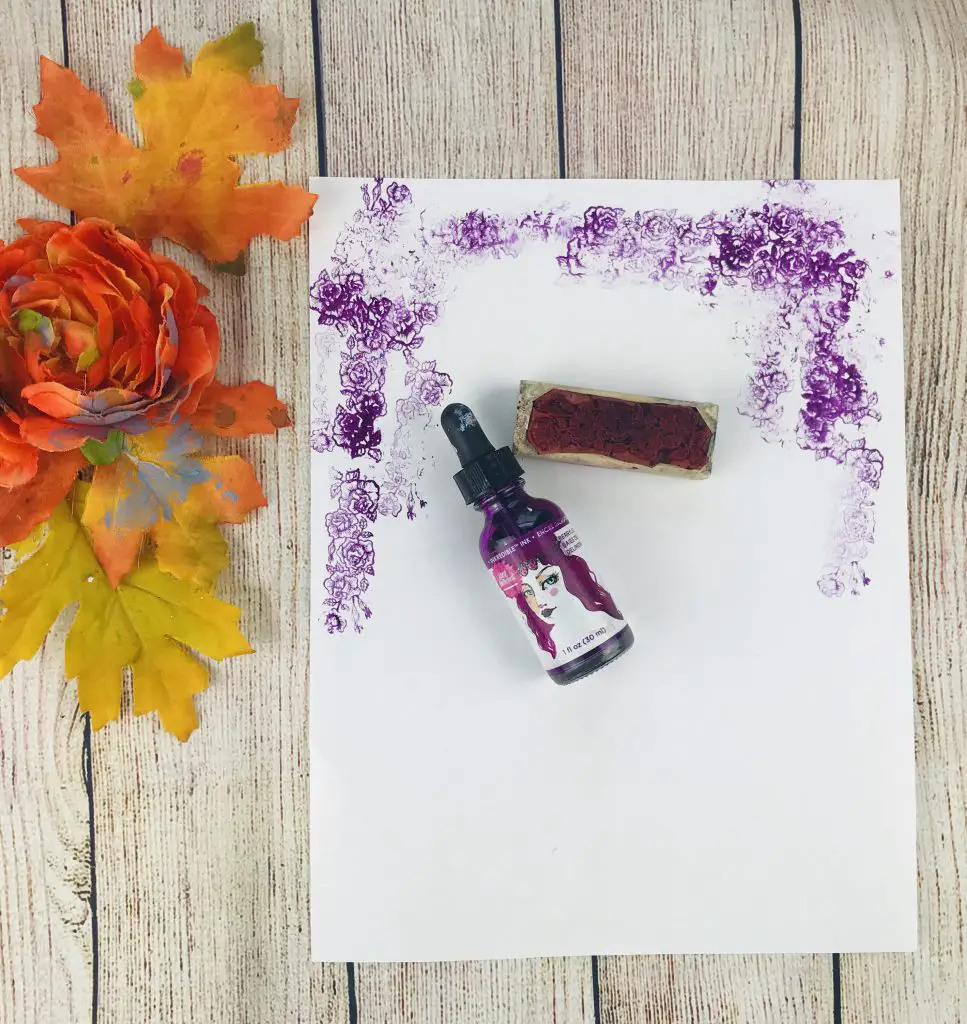 A few stamps can go a long way. You can create a focal point by repeating a pattern. You can use face or people stamps. There is s tamps for anything you could be interested in.
Collage Paper with Ink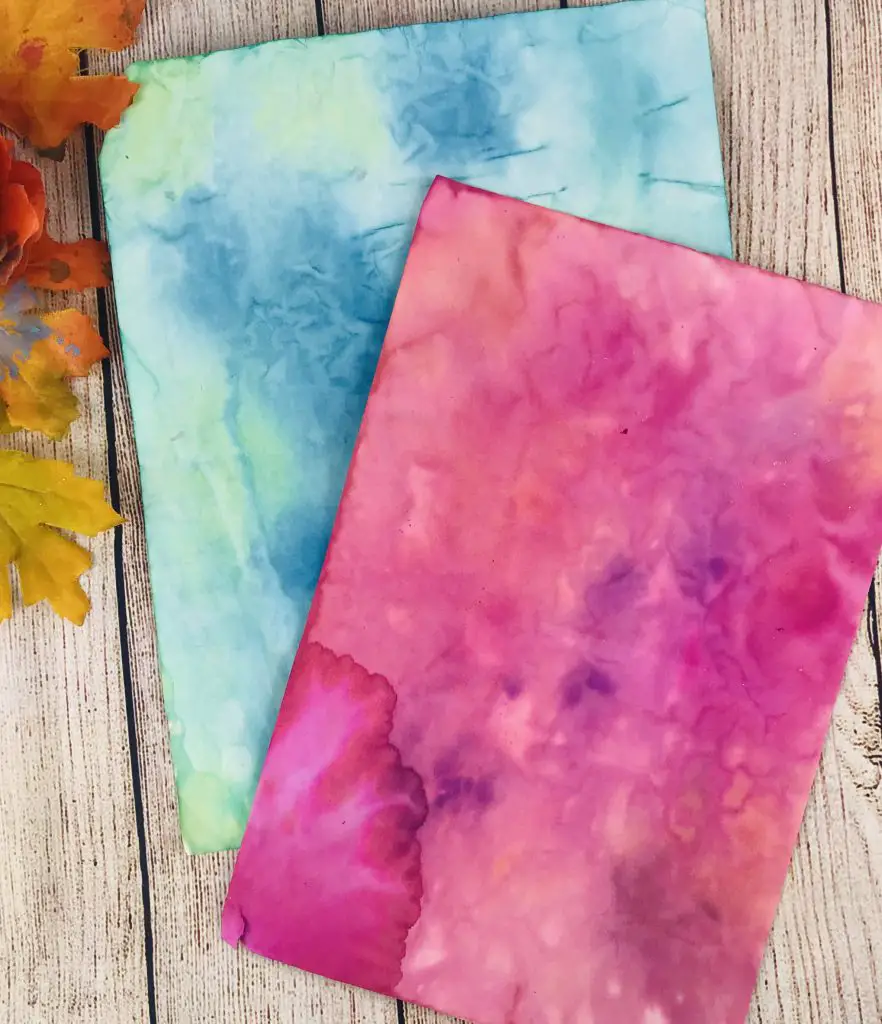 I love ink. It's bright and vibran and I love the liquid texture. One thing to keep in mind is that ink is not lightfast. This means the color will eventually fade, it can even completely change it's hue. I still use it. You can read how I dyed my mermaid paper here.
Print and Scan your Collage Paper
You can easily scan your collage paper and save it on your computer or on a flash drive. I recommend flash drives. I like to have a back up plan. Then, you can always go back and print out your handmade collage paper whenever you want to. It's a nice accomplishment to be able to go and print off art supplies that you made. Congratulations! I hope you enjoy your work.
Show Me Your Art!
I'd love to see your art. Please come and join me in my Facebook group and share your art and ask any questions you may have!
More Art Tutorials
If you love art tutorials than you should try Skillshare. I'm on Skillshare all the time taking classes. Skillshare is basically a streaming service for classes. They have art classes, tech classes, and so many more.
You can get a free trial absolutely FREE with this link! That's how I got started. You can read more on my Favorite Skillshare watercolor classes here. This is a risk free way to try the service. I have tried many similar services and so far Skillshare is the only one I try like and actually use and benefit from. I adore it. It's a great way to get myself out of a creative funk on those blue days, too.