This post contains affiliate links. We may earn money or products contained in this post. Please click my disclosure policy to learn more.
Art Journal Page Step-by-Step Tutorial
Art journaling is truly a joyous activity. If you're feeling blah or suffering from blank-page-itis then grab a cup of coffee or tea and follow along with this tutorial. 
Step-by-step art tutorials can be very soothing and stress-relieving. You're being creative but the steps are already laid out for you so you don't have to worry or think too hard about what comes next. Art journaling should be a stress-reliving activity.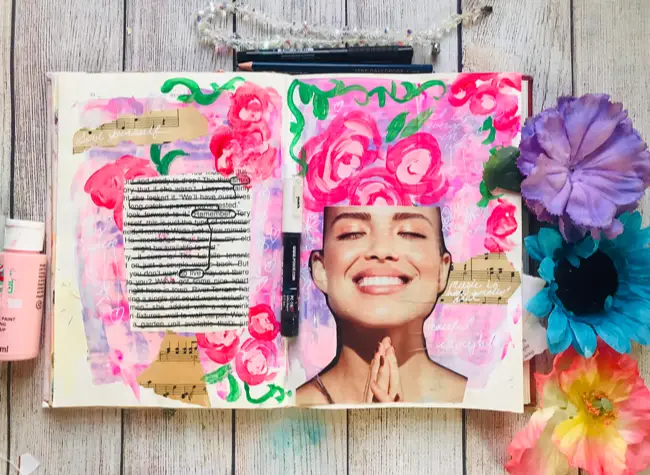 Art journal tutorials can also help you get an idea of ways to mix and use your different art supplies. You can learn different ways your art supplies can combine with each other and what order they work best.
This tutorial gives lots of room for you to take it in your own direction and come up with something completely new and uniquely your own.
I created this tutorial because it combines so many elements I love and because it makes me smile and I hope it makes you smile, as well! 
Art Journal Page Supplies
I didn't use very many supplies on this art journal page. 
You don't need many supplies to create fun and interesting art journal pages. So, never feel bad if your art supplies stock isn't very big. Sometimes having too many choices can make creating more difficult.
When I first started art journaling I didn't have that many supplies nor a whole lot of money to go and buy more. I think that's why I love going back and creating simple art journal spreads. It makes it accessible to almost everyone and it's fun.
The journal I'm using is an old book. You can read my tutorial on how to turn an old book into an art journal here.
You don't need any fancy art journal. If you don't have an art journal just grab some paper. You can read my tutorial of three journals I made from things around my house here.
I used white gesso. My favorite brand is Liquitex. 
Other supplies
Magazine clippings
Old sheet music
Book page
Credit card for scrapping paint
Art Journal Page Step-by-Step
Step 1.) Gesso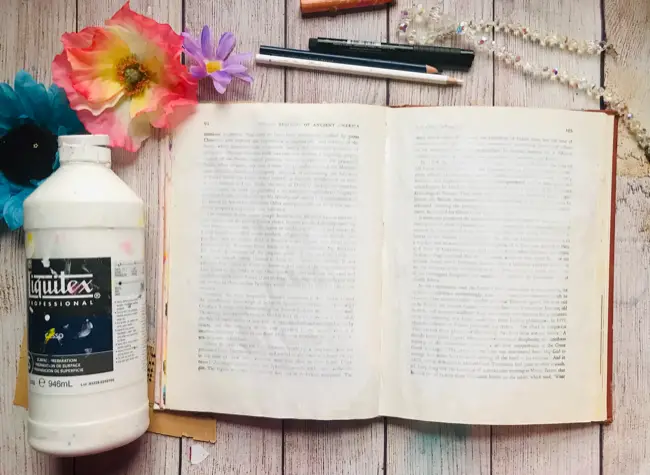 The first thing I did was apply white gesso to my art journal pages. I used a paper towels to brush it across the pages. I wanted to book page to still be visible. 
The gesso helps prime the book pages so it will accept paint and keep it on the page.
Gesso is a miracle supply. It turns almost any surface into a canvas so you can paint on draw on top of it. This is one reason why it's a staple for me.
Step 2.) Paint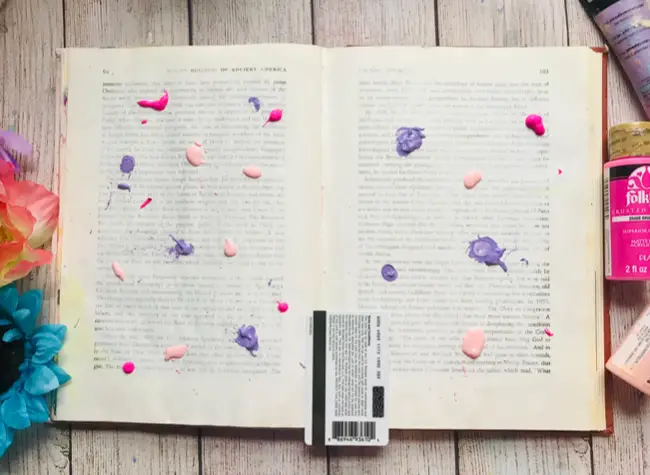 This is where we'll be adding color to our page. 
I choose three colors I found to be pretty and applies drops across the page.
Step 3.) Texture Background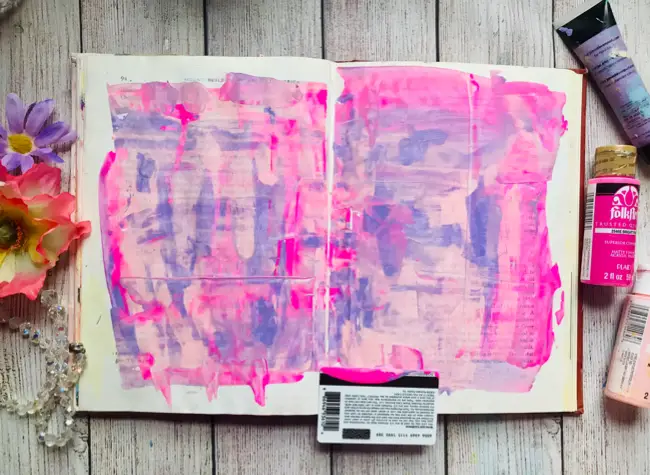 Next, I used an old gift card to scrap the paint across the page.
I love the effect cards give paint. They smoothie the paint across the page in the most delightful way, combining and mixing the colors. This is a great technique to use to begin any art journal page. You can even do this to pages ahead of time so you'll have backgrounds ready for whenever you're ready to art journal.
Step 3.) Tone Down the Page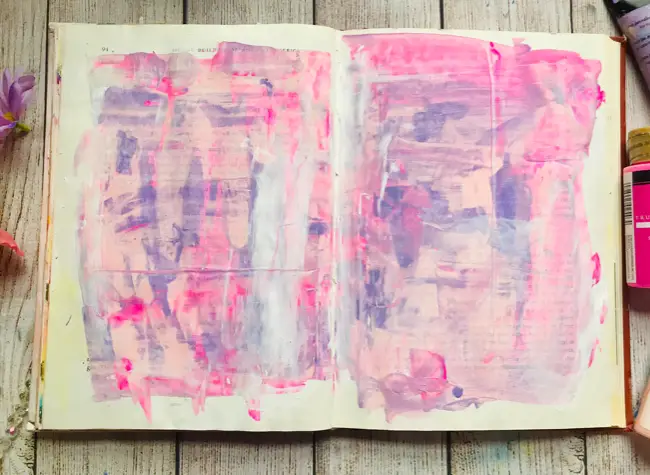 I felt the bright pink was a bit too bright so I added a light wash of gesso to tone down the colors. This step is optional. However, it's good to know in case you want to tone down your colors or add a light wash of gesso for the beautiful look it has.
Step 4.) Abstract Flowers in Acrylic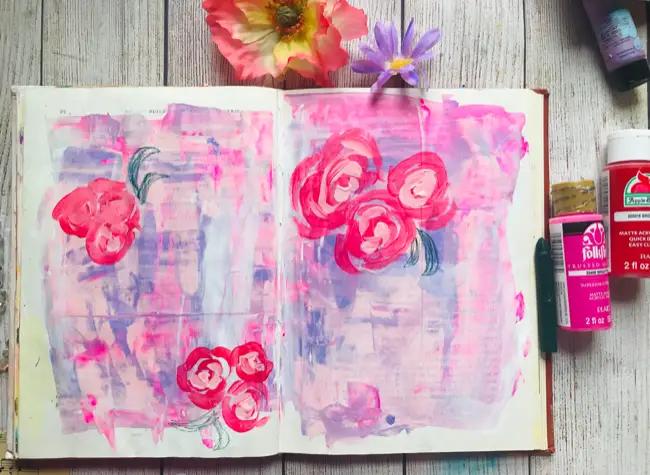 I mixed red and pink and made some loose, abstract-ish roses across the page. In hindsight I would have probably used thicker paint or mixed the craft paint with some gesso to get more texture. However, I'm still happy with the results.
You can add as many or as few flowers as you want.
Step 5.) Collage
Now, it's time to add your collage magazine cutout. I cut off all her hair so it would look as though flowers were blooming from her. I loved that she seemed to be praying and very happy. It made the entire atmosphere of the page feel jubilant. 
I next added a few scraps of sheet music. I was keeping this page fairly simple so I didn't add too many scraps.
Step 6.)
 Found 

Poetry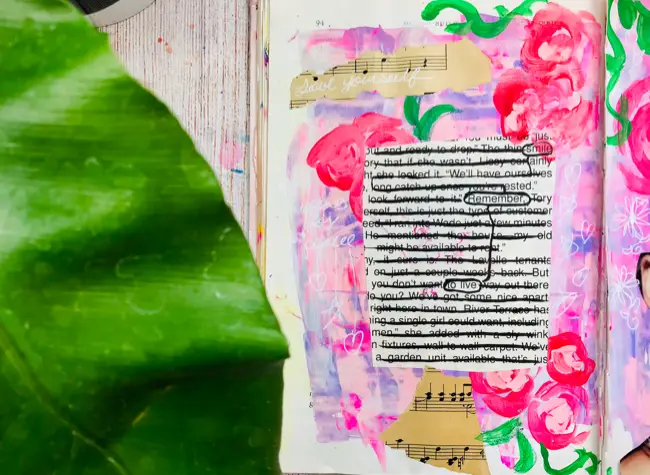 Next, it's time to create some found poetry. Found poetry, sometimes this version is also called black-out poetry, is finding poems with words that are already existing. 
In this example you take a book page and find words that create a poem and then cross out or black-out the rest of the words.
This poems says, "Smile, remember to love."
You can take any book page or even use words cutout from a magazine to create your poem.
7.) Finishing Touches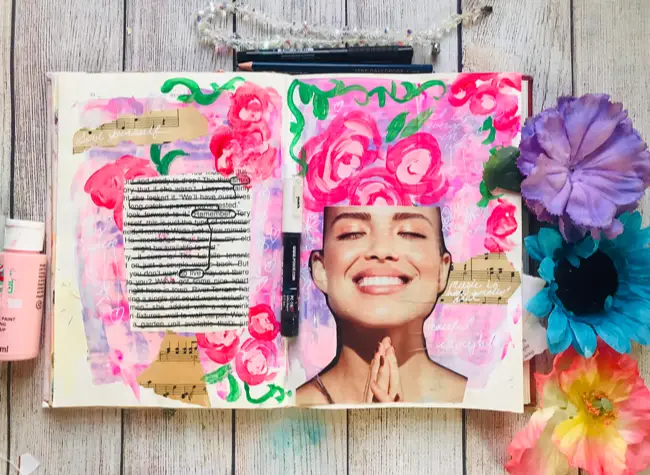 It's time to add some finishing touches. I used a white post a pen to add some doodles around the page. I also added a bit of text with some words here and there around the page. 
Final Thoughts on Art Journal Page
When you're looking for art journal page ideas you can use examples from other artists as a spring board to get you in the groove. Don't overthink your steps. Let the mood guide your art journal page and remember to have fun.
Art journaling is about getting and staying creative. It's about having fun and exploring all the possibilities you and your art supplies have.
There are no mistakes or wrong ways to art journal.
I'd love to see your work! Come join my Facebook group and share your work and ask any questions you may have. 
If you love art journal page ideas and tutorials let me know!
Art Journal Page Idea Step-by-Step Tutorial