This post contains affiliate links. We may earn money or products contained in this post. Please click my disclosure policy to learn more.
Let's Create Mixed Media Collage artwork
I firmly believe that anyone is capable of creating beautiful mixed media collages. Creating mixed media collages is like building a your very own world. You can take bits from from magazines, old post cards, tags, other art, and transform it into something magical and all your own. Does this sound fun? I hope so!
Do not be afraid to get your hands dirty. Collage can be messy. It doesn't have to be, it all depends on your style and personality. I for one get vey messy. It's part of my creative process. 
Let's begin our journey into the wonderful world of mixed media collage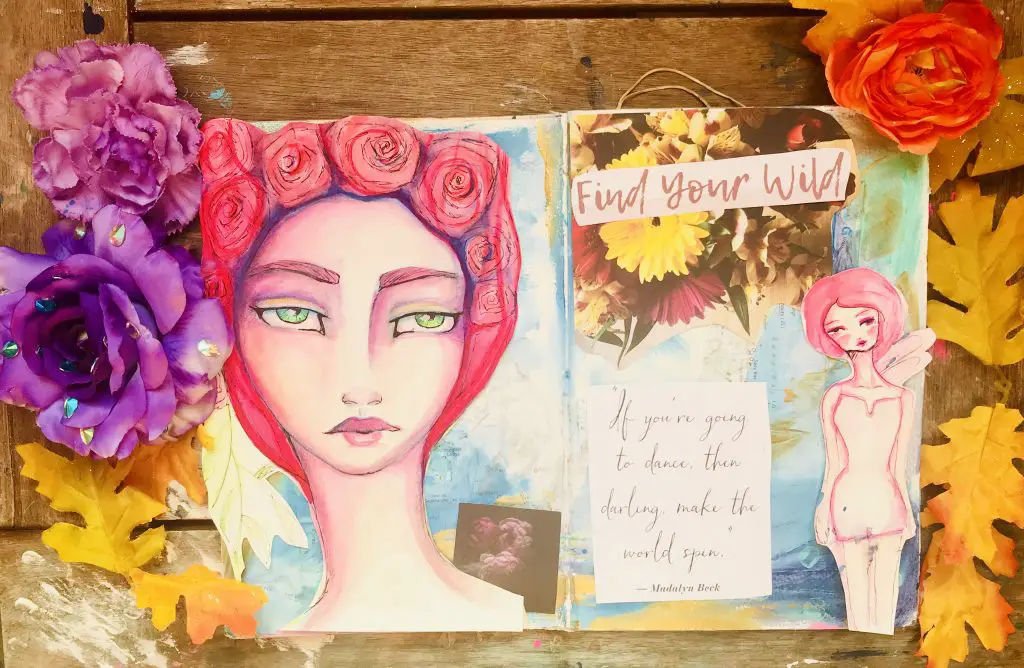 You can also check out my other article on mixing collage and watercolor. One thing you'll notice with mixed media collage, art journaling, and mixed media in general, is that there is a lot of overlap. That is okay, art builds on top of other art and the styles that came before.
The first step is to create a space to work in. You want to have space and have your supplies in a way that makes them easy to access. 
Next, gather your supplies. You don't have to have a huge amount of supplies. So, if you're just beginning don't feel bad if you don't have a huge art supply collection.
Also, don't feel bad if you do want to go on an art supply shopping spree. One of my favorite quotes about shopping comes from the video game Borderlands. The character Marcus states, "remember, you're money's not worth anything until you spend it." 
Here are the supplies I routinely use:
Now, Most of that is pretty straight forward, except for collage papers.
So, let's look at what collage papers are and what can be used as collage paper. 
You can buy paper that looks like it's already been collaged. The collage paper listed above is beautiful and fun and easy to rip and paste. It can make a really nice background. There is also collage paper that looks like its already been stamped and collaged and can be used without ripping. It's kinda like wallpaper, but for your journal. However, I don't personally use them. I prefer to find my own papers and to turn them into collage paper.
Here are a list of papers I use to make collage with:
Old Book pages
Illustrated book pages
Scrap book paper packs
Magazine Pages
Maps
Antique ledgers
Vintage papers

 

Homemade collage paper
Tissue paper
Wrapping paper
Arranging your collage papers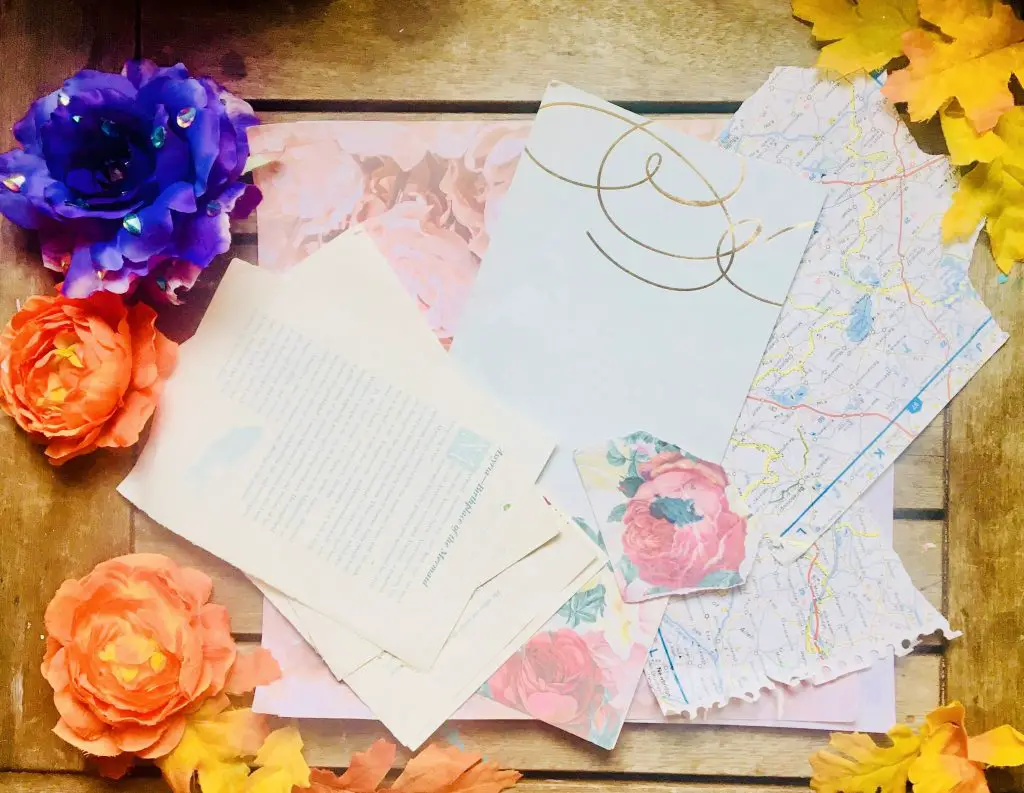 Arranging your collage papers is where the fun part comes into play. My favorite part about this step is that you don't have to have any plan in mind. You can intuitively rip and paste and let the papers guide you.
I prefer to use Matte Medium in this step. It is smooth, dries clear, and it makes the pages easy to draw and paint on top of. 
You can choose a color palette ahead of time, or let the paper guide you on your color choices. 
You can also mix the papers you use together. A little scrap book paper, some books pages, and even throw in some vintage paper. 
You also don't even have to cover the entire substrate you're working on.
Creating collage is a great way to start journal pages or even canvas paintings. It instantly adds depth and interest to the page. As I mentioned earlier, it can also help you choose a color pallet.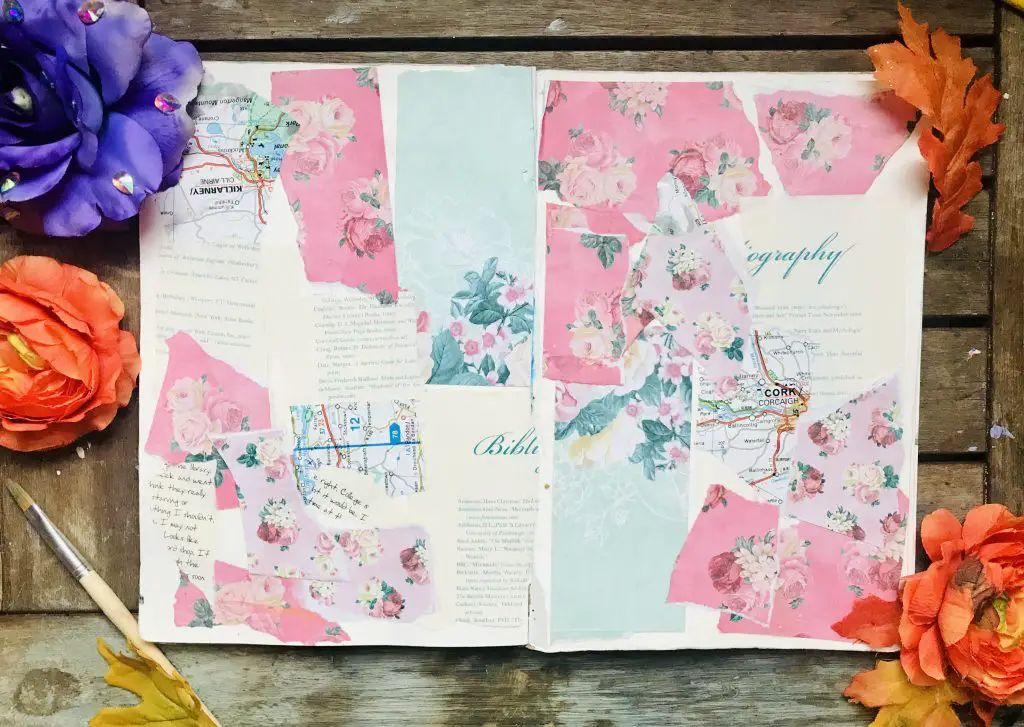 How to Make your collage papers come together
Once you have all your beautiful and fun pages glued down it may look like a chaotic mess. Don't worry. By the end to bring you will bring the paper into harmony and it will all make sense.
Materials I use to on top of my mixed media collage:
There are tons of other art supplies you can use, these are just my personal go to items.
If you are going for a vintage look with your collage try using sepia ink. You can use an ink pad or sponge and add ink around the edges and across the page to tint all the papers the same color. Sepia adds that beautiful vintage look. You can add some gesso around the edges to further mute it and create a neutral looking palette. 
I love using inks they can give a nice transparent layer over your paper and they come in so many options.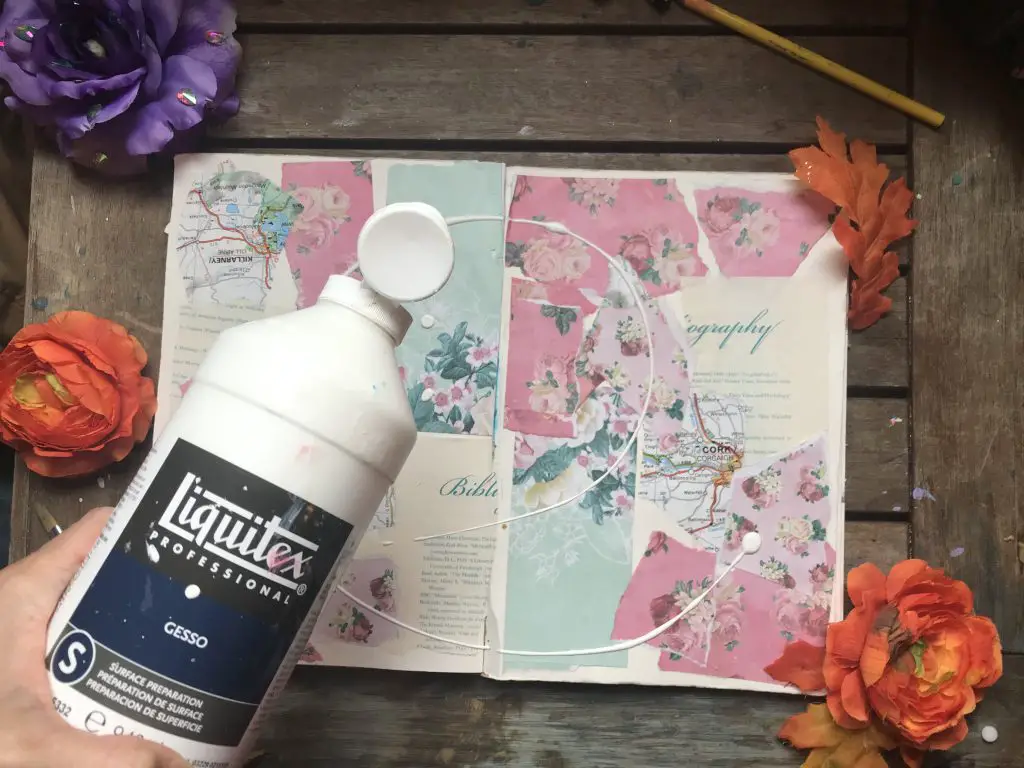 I use gesso a lot for my collage. I like the white muted look it gives my papers. If I want more color I often use my fingers and add splashes of acrylic paint across the surface.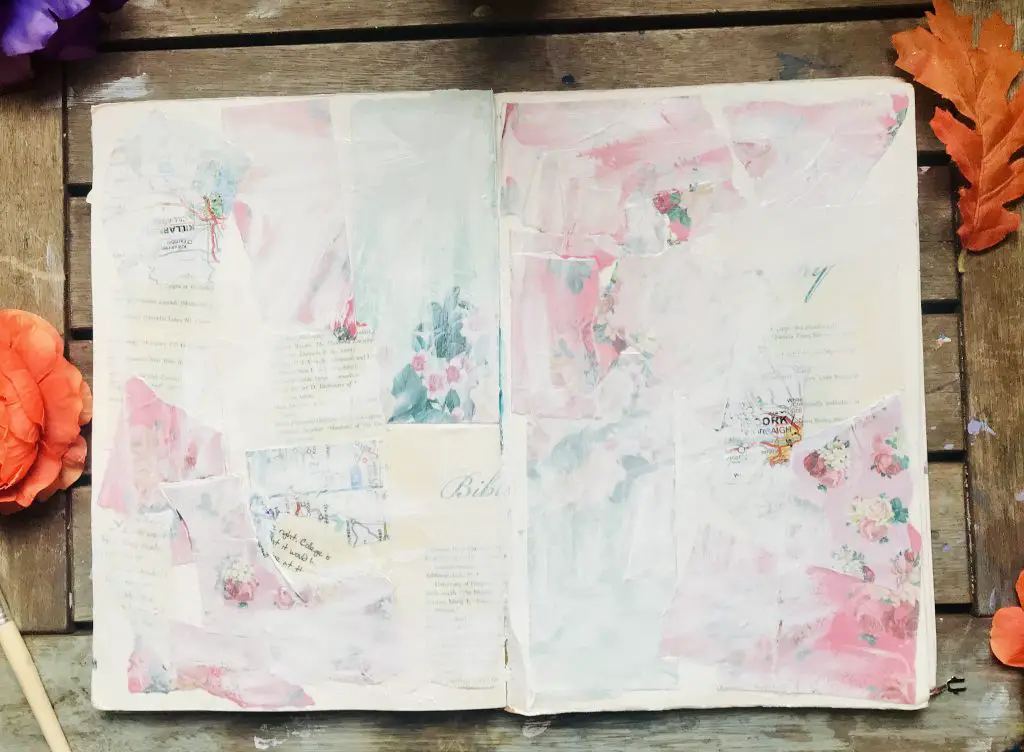 Don't worry about covering your papers. Sometimes they get mostly covered and only parts show through. It's all part of the process. Trust the process.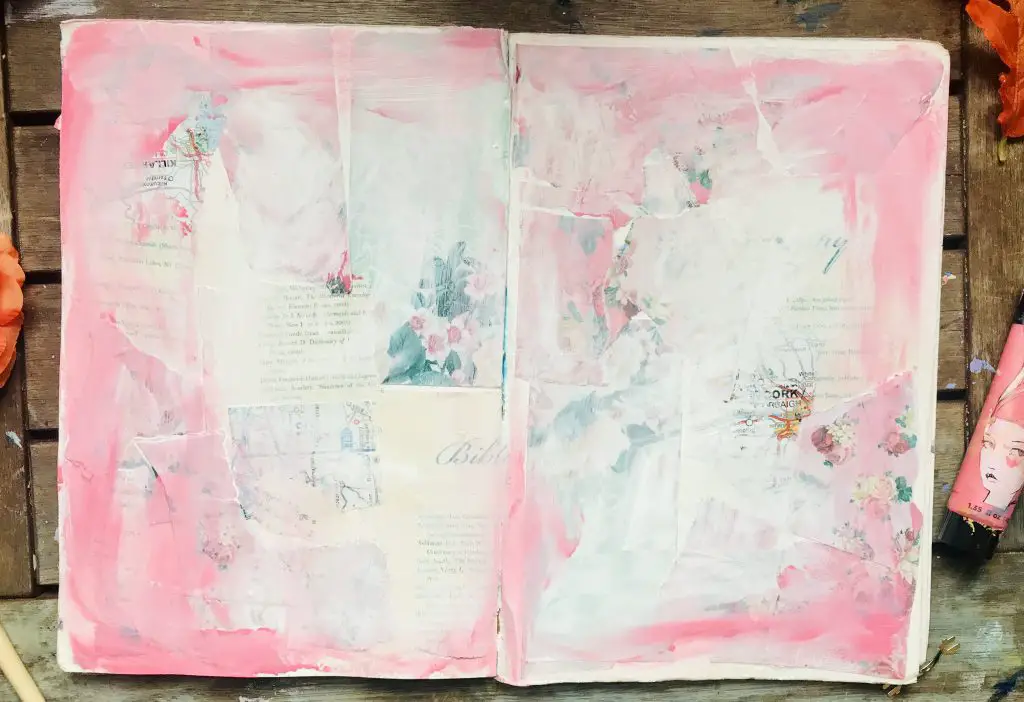 Collage on top of collage
Once you've created your first layers of paper and paint you can continue the to add more paper, paint and other elements. These can be elements that stand out on their own such as fussy cut flowers or butterflies. You can buy really cool elements from art and craft stores or online.
Or, you can use your own creations. I often like to practice different techniques making flowers or drawing people. Sometimes I leave them in my sketchbooks other times I cut them out and add them to my collage pieces. 
You can cut out words or print words to use as well. 
Creating on top of your mixed media collage
Once you have created a collage and are happy with how it's coming together you wonder what or how to create on top of it.
The simple answer is you can create anything on top of it. But, let's give you some ideas to help spark some ideas.
A common thing to create is beautiful mixed media faces. There are a plethora of fantastic artists who both teach and create faces on top of collages and collages back grounds. 
You can create landscapes, animals, trees. Once you get started you'll start to get feel for it and with practice comes even more inspiration!
Here are a couple of amazing books I recommend for this process:
Mixed Media art supplies for creating on top of collage
Now, if you read the above mentioned books you'll have a good idea about supplies that work on top of mixed media collage.
There is a lot of overlap among artists and tools. You can start off using the same supplies as your favorite artists. However, don't feel you have to use those supplies to be good, or or cool or anything else. Don't be afraid to use art supplies that nobody else talks about or uses or even likes.
Here are some art supplies I use to create in top of my mixed media collage pieces.
To draw I use:
All the above supplies except for the colored pencils, are water soluble, that means they are activated with water. They will also active with paints and gesso. So, keep that in mind when you are creating. 
If I'm creating a fcae on top of my collage, or even an animal or house, I use some gesso to paint in the shape and separate it from the collage background. Then I add more paint and more details with pencils or markers. 
Once you've drawn or painted your object on top of your collage you can go back and add more collage. You can even collage parts of your drawing. 
Don't limit yourself and do not be afraid not experiment. Not every piece of art has to be a masterpiece or an instagram hit. I have a pile or art that is absolutely terrible. But you know what? All those terrible pieces helped me become a better artist. It's just a part of growing and deploying your skills.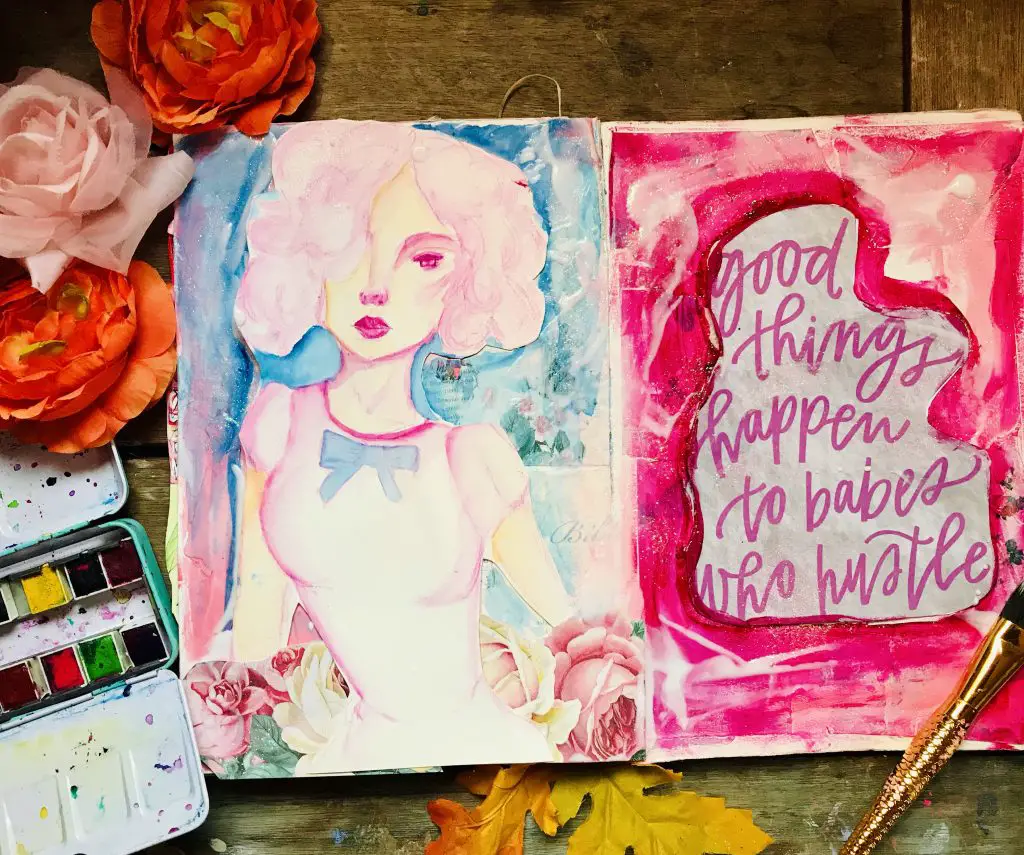 Sealing your mixed media collage
There are several options fro sealing your work. You also don't have to seal it at all. I often don't
You can use Mod Podge. I use this one with the yellow label and I have never had any issue with it being sticky once it has dried. If you do use Mod Podge some of your art supplies can smear and reactivate. I'm okay with it. Most of my supplies have never smeared to a point where it has ruined my art.This will change the texture and slightly the appearance of your work.
You can also use a spray sealant. There are ones with a matte finish or gloss. I find the gloss is more likely to stick and you should really make sure that you do not sorry too close to your art. These sprays can also reactivate your supplies, sometimes even changing the color or certain markers. 
I don't really use strays anymore. I either don't seal or use Mod Podge or Matte Medium. 
If you found this tutorial helpful, buy me a coffee and help support my blog.
Other options for your collage
Some people like to use a lot of 3D elements for their collages. Tim Holtz makes a lot of fun items for this. You can even use cutting machines and cut elects such as frames and flowers out of thin boards or thing paper. I don't do this type of collage. However, you can find many tutorials on Youtube.
If you are looking for even more tutorials I highly, highly suggest you check out Skillshare! Skillshare has hundreds of art classes and more. You can get a free two month trial through this link. That way you can binge as many classes as you like to make sure this platform works for you. 
The classes are all easy to follow and broken down into smaller segments. I am seriously always on Skillshare looking for fun classes to take. Once the free trial has ended the membership is still pretty cheap running between $8-12 on average.
You can cancel anytime and they will not charge your card. 
How to Mix Watercolor and Collage
Watercolor and collage are two of my all time favorite things in this life. Sometimes I wish I didn't need sleep so I could stay up all night with a coffee/tea/wine and enjoy the cozy vibes while I create unlimited art. Mixing watercolor and collage makes me want to stay up even more.
What are some of the benefits of mixing the two?
Learn new techniques
Experimenting
Make your watercolor paper go farther
Give new life to old paintings
Good way to use paintings that your not happy with
Mixing watercolor matings with mixed media collage can sound both easy and complicated. I know there have been plenty of times when I have heard about something and though, "I got this, no problem" and then run into problems. Maybe it will be easy for you and this article will just give you some helpful tips and inspiration. Whether you are a seasoned artist for brand new you can still learn how to mix watercolor and collage to create fun works of art or pages in your art journal.
Have you ever painted something and loved it but hated the background? Well, get that out, cut it out and set it aside to use in this project.
Do you have a canvas you painted on, but it's just not doing it for you? Get that sucker out, we're going to give it a new life!
This article is not here to give you firm rules, rather a guideline, a jumping board for you to use to go and create your own interpretations.
I'll be making two new pieces just for this article to give detailed step by step instructions and images. I'm very much a visual learner when it comes to art.
So, let's look at a couple of ways you can mix watercolor and collage art.
First, here are the supplies I'll be using:
Canson Watercolor paper
Arches Cold Pressed Watercolor paper
Grace Art Watercolor brushes
Kuretake Gansai Tambi watercolors
Acrylic paints
Collage papers
The first method is to use collage background and add your watercolor painting elements on top.
First step is to need to find a substrate, or something on which to collage and paint on. This can be a canvas, art journal, mixed media paper or even a piece of cardboard.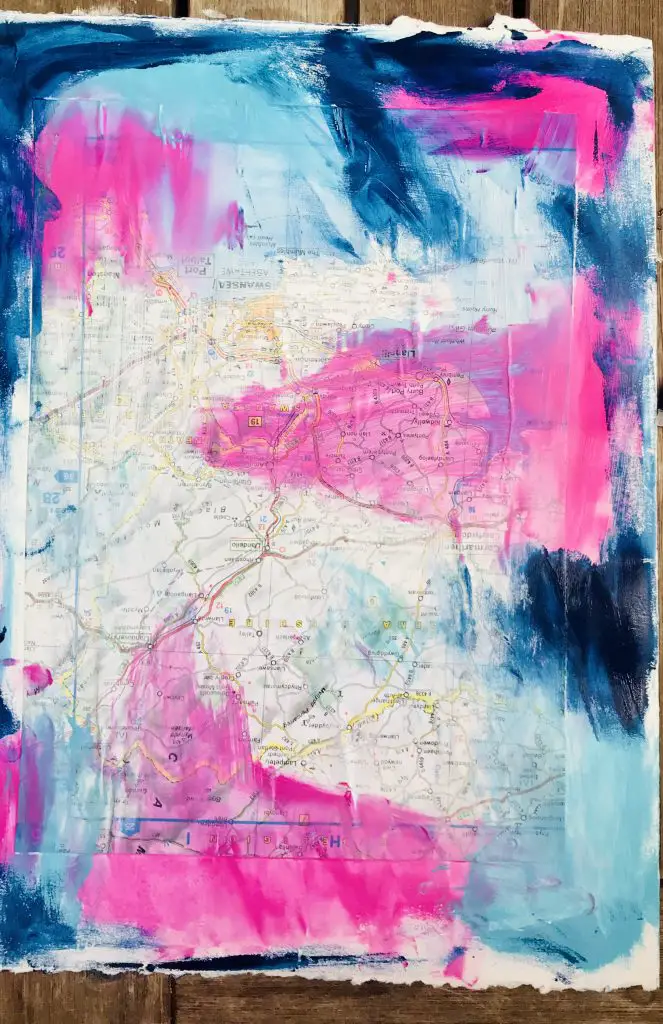 I choose to use a couple page from an old atlas I got a used book sale. Fun fact, the book sale was fill a bag for $5 and I managed to get 54 books in my bag. These sales are a great place to get books for altering or for to glean for pages to use as collage elements.
I Have a slide cutter which really helps to take off the edges I don't want in one easy swipe. I recommend them to everyone.
I attached the pages using some Matte Medium. This dries clear, and you can draw and paint on top with no issues.
Once attached I decided to cover the entire surface with matte medium. I wanted a texture that I would work not top of. The pages were a bit glossy. I then added some gesso, and acrylic paints.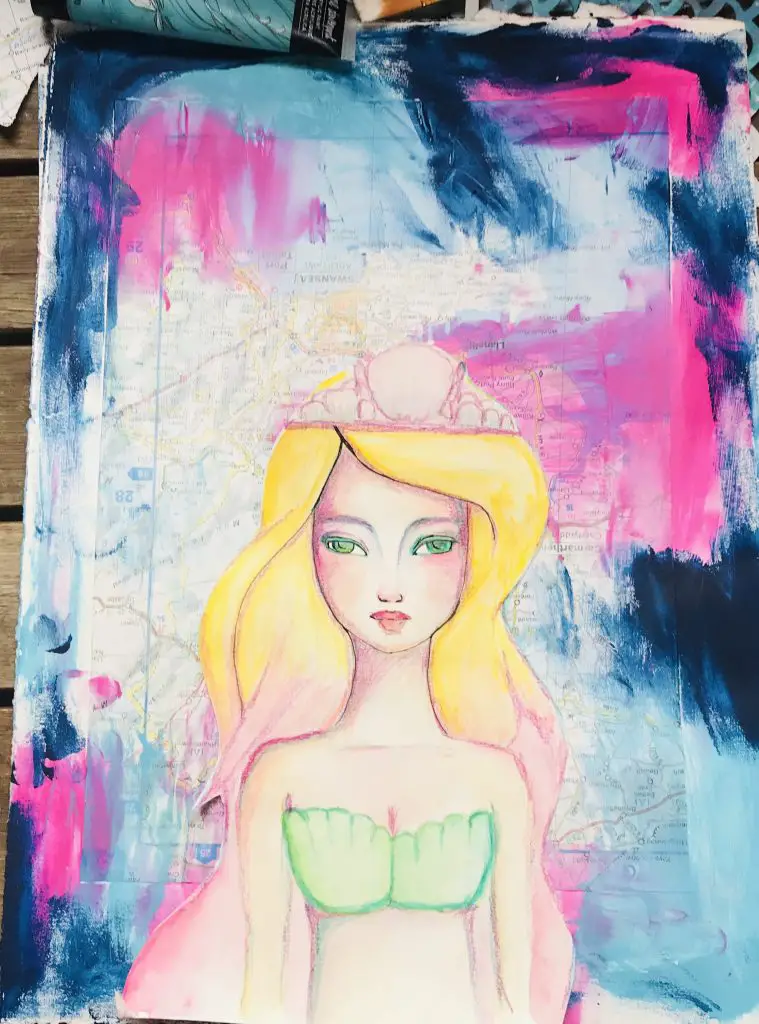 I then cut out a watercolor mermaid I painted on some cheaper watercolor paper. I used matte medium to attach my watercolor mermaid to my mixed media collage. It can be tricky to get watercolor paper to stick to collage. I covered the entire back of the mermaid with a thick layer of matte medium. I laid it on the collage and then used a piece of cardboard over the mermaid and applied pressure.

I then continued to add collage, paint, until I was happy.
Painting watercolor pieces, cutting them out, and then using them as the main focus for your collage is so much fun. It allows you to use so many different art supplies and get totally creative.
I want to see your art
I'd love to see your art and help answer any questions. You can jump right over to my Facebook Group and and share away!