This post contains affiliate links. We may earn money or products contained in this post. Please click my disclosure policy to learn more.
Art tutorial and inspiration books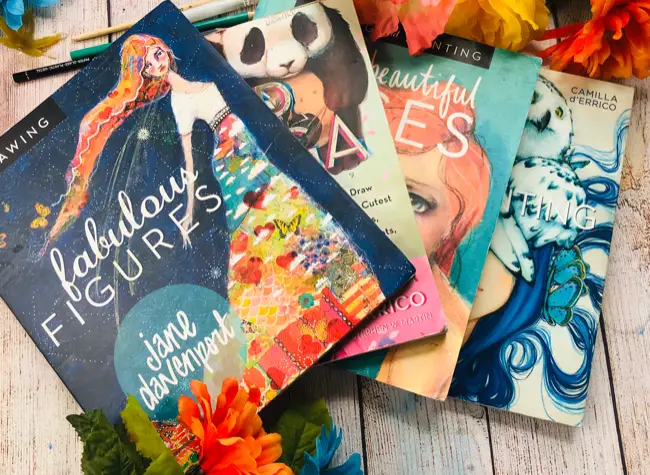 I adore the internet and all the resources it has. However, sometimes I find the need to turn the electronics off and get lost in books. Art books and provide great tutorials and inspiration. The great things about books is that you can take them with you, you can sprawl out on your bed and stare at the pages. There's a special kind of magic about books. One of the many things I adore about art books is the beautiful illustrations. I feel they can be even better than seeing them on-line. Being able to hold a page and see it up close brings the art and the magic of the artist to life.
I have spent a lot of money on art books. They are an investment to my future and to myself as an artist. I never feel bad on spending money investing in myself and you shouldn't, either.
Below is a list of some of my all-time favorite art books. They are a mix of tutorials and books based on a particular artist that serves as inspiration.
Art Tutorial Books
One of my all time favorite art books and one I recommend the most is Beautiful Faces by Jane Davenport. If you love creating whimsical faces and creating art with mixed media art supplies then this is a must have! I am an experienced artist, yet, this book taught me so much.
There's something uniquely magical about all things Jane Davenport. I found this book and her art supplies during a very difficult time in my life and they brought me so much joy. The colors, the art, the techniques are pure inspiration.
This book gives easy to follow directions and will have you creating whimsical faces in no time. It is also a great book to own so you can go back to this activities when you need som inspiration and to see how your art has improved over time.
Fabulous Figures by Jane Davenport is a fabulous book. You'll learn Jane Davenports unique way of drawing figures of all shapes and sizes. You'll go through poses and learn hands and feet. I love how pretty this book is and the great quality illustrations. You also will get stickers and stencils. If you want to learn to draw figures and you love mixed media then this books is a must!
Creative Girl is a wonderfully delightedly book by artist Danielle Donaldson. In this book you'll learn how to draw from your imagination and how to tell stories with your art. You'll also learn watercolor and mixed media techniques. This book is a treasure of information and inspiration. Donaldson has a beautiful art style;e and teaches you how to draw your own style into your work.
Mixed Media Magic by Karen Campbell is a fun and creative wellspring of information. I love watching Karen's Youtube channel. She has a fun and extremely helpful way of describing her tutorials. Her mixed media projects are always full of imagination, color, and unique techniques. This book is beautifully illustrated and easy to follow. I highly recommend this for all mixed media art lovers.
How to Draw and Find your Style is another book by Karen Campbell. Her tutorials are so easy to understand and follow along. She really knows how to get a technique across without making it complicated. In this books you'll get 37 step-by-step tutorials for faces, hands, eyes and so much more.
Fashion Illustration by Anna Kiper is a gorgeous and helpful book. In this book you'll learn how to create a fashion figure
, how to create movement, texture and so much more. You'll go through different art supplies, especially watercolor, to make beautiful fashion illustrations. This is a great resource for those who want to become fashion illustrators, and those who just love to create fun figures.
If you found this post helpful please buy me a coffee and help support this blog.
Pop Painting by Camilla d'Errico is a luscious book full of gorgeous illustrations. In this book you'll get a begin-the-scenes look at the process, tools, and techniques used to create Camilla's pop surrealist paintings. This book is perfect for inspiration that thinks outside the book. If you love color, and imaginative worlds then this book is right for you.
The Sketchbook of Loish art in progress is a beautiful look at her art and her process. This book focuses a lot on digital art. However, it provides stunning visual inspiration for everyone. I also love reading what she has to say about her art and her process. There is a lot to learn from her words and advice. This book is a must.
The Art of Loish: A Look Behind the Scenes is my favorite of her books. This book looks at her early work and you can see her development. I simply adore her style and how she brings movement into her works. This is great book to dive into to study how an artist goes and gained their skill.
The Painted Art Journal: 24 Projects for Creating Your Visual Narrative by Jeanne Oliver is a stunning book. You'll go through a variety of tutorials that'll teach you how to draw from photographs, how to incorporate mixed media techniques, and how to delve into your own style. I have been a fan of Oliver for a long time. Her art is a great inspiration. This book will give you so much information and inspiration you will not be disappointed.
Fantasy Worlds by Stephanie Pui-Mun Law is a gorgeous watercolor instruction book. You'll all kinds of beautiful watercolor techniques to incorporate into your art. I have always found Stephanie's books full of inspiration and truly helpful. She has such a unique style and way of painting that you're sure to come away with some helpful lessons.
The Creative Habit by Twyla Tharp is all about how to turn your creativity into a habit and become successful with your art. There are many talented artists who lack the discipline to turn their art into success. There are 32 exercises to guide you through lessons Twyla has learned throughout her highly successful career. This book is full of wisdom and practical steps you can follow. I highly, highly recommend this book for anyone who wants to be more creative.
Art books to instruct and inspire you
I hope you have found this list of books helpful. I would love to hear about what you are reading! You can join my Facebook group and share your thoughts anytime. I will also be creating more books lists. Is there something specific you'd like too learn but don't see a book for it mentioned? Drop a comment and let me know and I'll find a recommendation for you!

If you found this post helpful please buy me a coffee and help support this blog.