This post contains affiliate links. We may earn money or products contained in this post. Please click my disclosure policy to learn more.
My top Five Favorite Art Journal Supplies
This is a list of my top five favorite art journal supplies and art supply tools. These are the supplies that I just can't live without. The supplies I pack with my if I'm going on a trip. These supplies are versatile, and work well together. They also are beautiful and inspire me just be looking at them.
Sometimes having too many art supplies on your table can make creating feel almost overwhelming. Theres so many choices you just don't know where to begin. The same can be said when you'r just starting out art journaling an your're not sure what to buy. If you are looking fro a guide on how to get started art journaling you can check out my tutorial here.
Having a limited palette actually boosts creativity. You start to look at your supplies with different eyes and it also takes the stress of choosing what to use away. I read that many accomplished individuals have the same breakfast and almost same wardrobe everyday to eliminate decision burnout. This also saves their mental energy so they can apply it in their creative outlets. This study in Healthline gives a pretty good description of what it is and how to avoid it.
So, in effort to help you eliminate some stress and have a place to start when art journal here is my persona list of art journal supplies.
Art Crayons
Caran d'Ache Neocolor II water-soluble Pastels are definitely one of the most fun art supplies I have. You can do so much witness beauties. Plus, the can work in different ways.
You can color your page with these crayons just as you would normal color crayons. The main difference happens when you add water. Adding water actives them, turning them into a watercolor type medium. They go from looking like crayons to looking like watercolor.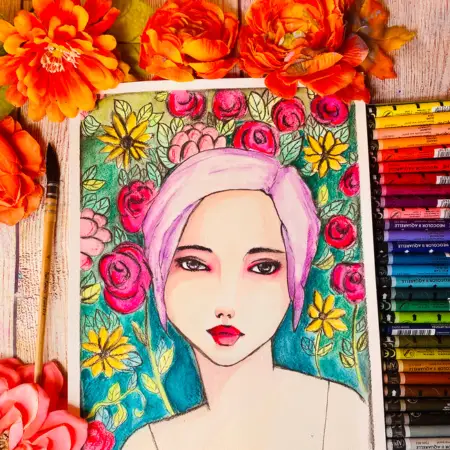 They are very smooth and look good whether you use water or don't. They blend very well and are also easy to travel with.
The background of this painting and the skin tone was done with my Neo Color set. 
Stabilo All Pencils/Watercolor Pencils
Stabilo all pencils are pencils that will write on anything. Once you add water to them they active and blend similar to watercolor paint. You can do entire monochrome paintings with just this pencil.
Watercolor pencils work in a similar way. However, they come in a a lot more colors. There's also a slight difference in texture and the way they go on. 
I love to have both pencils in my art bag. There's something very magical about having pencils that can write on almost anything and that can act like watercolors. This makes them another ideal art journal supply to have with you on the go.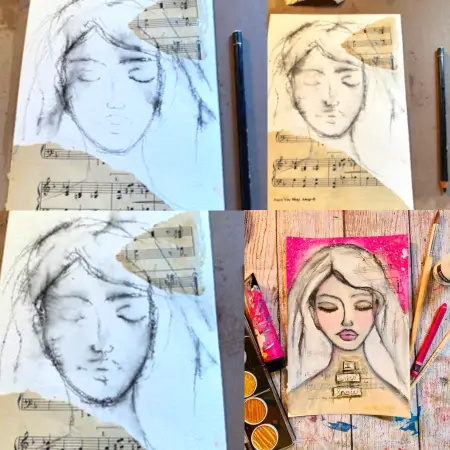 Watercolor Paints
Watercolor paints have become my favorite painting medium. I adore how the are often unpredictable and whimsical nature. You can get very subtle and sheer colors and also dramatic deep shades. 
Since I make most of my art journals I usually always have some type of watercolor paper with me at all times. 
My favorite watercolor sets are Kuretake Gansai Tambi, and Mijello Mission Gold. Kuretake Gansai Tambi are incredibly affordable and they are so beautiful. There is a lot of misinformation on places like Facebook about them If you would like to read my full review you can check it out here. 
Mijello Mission Gold are my other favorite watercolors. What I love most about them is how rich and vibrant their colors are. also, all their paint is non-toxic which is a huge plus. These paints are so lush to paint with you'll definitely enjoy every minute of them. You can read my full review of these paints here.


If you found this post helpful please buy mea coffee and help support my blog.
Acrylic Paint
My art table is not complete without a few tubes of acrylic paint. Something about its thick consistency and the feel of it across the paper makes creating art feel like magic. 
For art journaling I usually use the cheaper craft acrylic paints. These work really well in art journal and com in a ton of colors. 
These paints are easy to use and fun.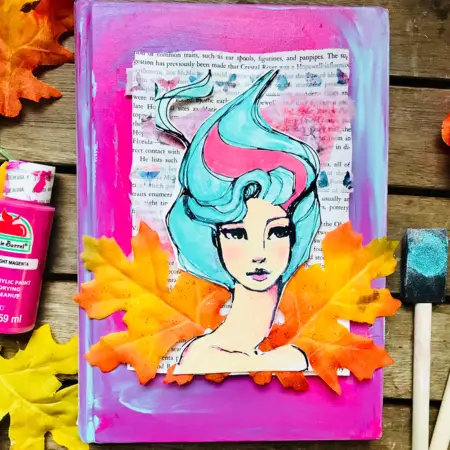 Pens

I have to have a few opens in my art journal bag. My favorite is is defiantly Sakura Micro pens and Faber Castel Pit Pens.
Sakura micron pens work really well to outline your drawing or to write text into your journals. They come in a variety of tips and can be purchased individually or in sets. They also come in different colors. 
Sakura Micron pens are also waterproof! So, you can outline your drawing and go over them with watercolor paints and you won't have to worry about smudging. 
Faber Castell Pit pens are beautiful. They are made with India ink and are waterproof once they dry.
You can draw on a plate, then use a brush and paint with the ink. Once dry, your painting will be waterproof and you can go over it with different art mediums. 
Both these pens work well together and with the other art supplies I have already mentioned. 
Art Journal tools
I feel these a bit different than supplies because they are more tools with which to use your supplies. Again, I limited this list to my top five tools
Art Journal
An art journal is the foundation of your art journaling. I like to either make mine from mixed media paper which you can read about here. Or, I buy an art journal mixed media paper. Or, lastly, I use an old book. 
Each art journal has its benefits. If you are just starting then I would recommend buying a good mixed media journal or using an old book. You can read how to prepare your book for art journaling here.

Brushes
A good paint brush does not have to be an expensive brush. I use the Grace Art set, primarily. You are perfect for watercolor paints and work well with acrylic paints. They are crazy affordable and come in a set that has a wide range of different sizes. 
Gesso
Gesso is used to prime different surfaces so you can draw and paint on top of them. Gesso comes in white, clear, or black. I always have a bottle of gesso near by so I can prime my old books or other random surfaces I want to use for art. 
Some type of glue medium
I like to have Mod Podge and Matte Medium always available. 
Mod Podge come sin clear gloss and matte. It works well as a glue got add collage elements to your page. It can also seal your page. Though , not all art mediums will work on top off Mod Podge.
Matte Medium is similar to Mod Page. However, you can usually use most art mediums on top of matte medium without any issue.
Washi Tape and a little Ephemera
Washi tape is perfect for adding that little extra bit of flair to your page. It also works perfectly when adding bits of ephemera to your page. I usually have a few neutral colored rolls on my desk at all times.
Ephemera isn't too hard to come by. I love adding collage elects to my art journals so I'm alway collecting bits of paper. Ephemera can be pretty clothes pages or old post cards. You can also buy really cute sets from the internet like the one pictured above.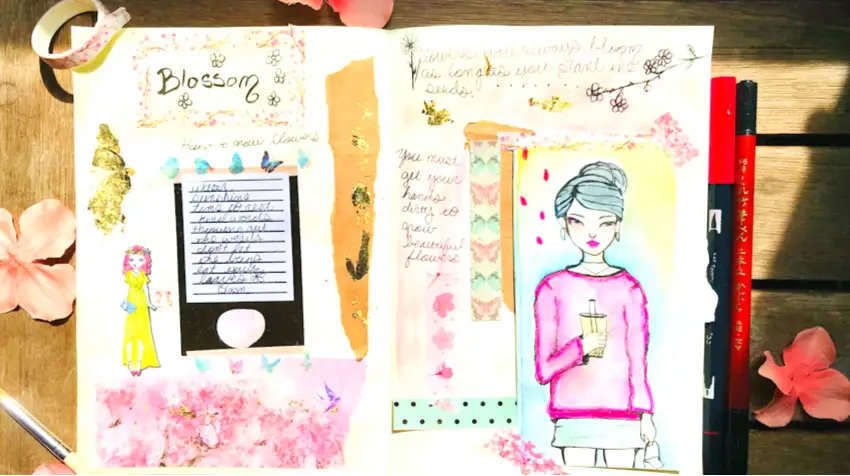 Art Journal Supplies and Tools
I hope you found thus list of supplies and tools to be helpful. I'd love to see your art journals and answer any questions. Please join my Facebook group and art with me!

If you found this post helpful please buy me a coffee and help support my blog.