This post contains affiliate links. We may earn money or products contained in this post. Please click my disclosure policy to learn more.
Kuretake Gansai Tambi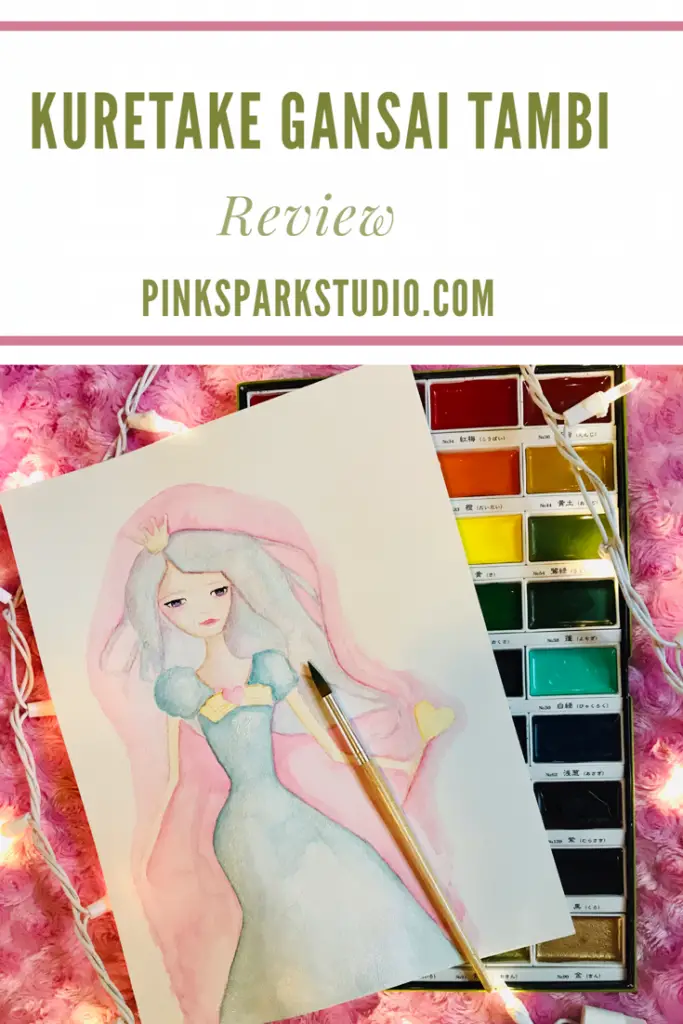 Kuretake Gansai Tambi watercolors are some of my favorite and some of the most misunderstood. I hear and see so much false information about these paints, that it's time to drop some truth bombs. I'm such a huge fan of these glorious paints that I hate to see people miss out based on falsehoods.
If you are on the fence about buying these watercolors or are shopping for a good set of watercolors read on. I think you'll find a lot of beneficial knowledge.
If your brand new to watercolor you can also read my article Watercolors for beginners.
In this article I'll talk about some of of the technical differences between Kuretake Gansai Tambi watercolors and Western watercolors. Then, I'll be focusing in the more fun side of the review.
What are Kuretake Gansai Tambi watercolors?
Kuretake Gansai Tambi are Japanese watercolors. When you look at the name it breaks down as Brandname + Medium + specific name from brand. For instance, Windsor & Newton Watercolor Cotman. Kuretake is a band who make Gansai watercolors.
Gansai watercolors differ from Western watercolors in a few ways. All watercolor is made from pigment plus binder. The ingredients of the binder vary from brand to brand and based on quality of the paint. Gansai consists of pigment plus Gum Arabic which Western watercolors also have, however, Gansai also can contain animal hide glue, beeswax, sugar, sugar syrup, and glycerin. There are several Wester watcolor companies such as Sennelier and M. Ghraham who use honey in their watercolor. Both can use variations of sugar. It's the animal hide glue and mixtures if the rest that is part of the difference. Kueretake Gansai Tambi do not use low quality fillers. The products that go into these are for a purpose. The company strives for the utmost quality and it shows with the creamy, yummy, amazing paints. 
Gansai also uses a much higher pigment to binder ratio than Western watercolors. This is why their colors are so vivid and bright. It little paint goes a long, long way. It was thisnaspect that truly sold me on these paints. I'm all about color and vibrancy.
Packaging
Gansai watercolors also come very large pans compared to normal wester half pans. Traditional Japanese watercolor brushes are larger and need the space as their bristles do not snap back as western brushes do. They are larger to accommodate Calligraphy Paint brushes . Calligraphy paint brushes work amazingly well for details. The large pans give more room to work in without damaging bristles. I personally love the large pans and all the paint you get with them.
The packaging for Kuretake Gansai Tambi watercolors are also very different. They come in a stunning green cardboard box. The one downside is that there is really no mixing space within the packaging and since the pans are so large the packaging is also large. It can be slightly awkward, but not unmanageable. This shouldn't be a deterrent. There are several great mixing pallets that will make life much easier.
Here are some links to my recommendations:
Painting with Kuretake Gansai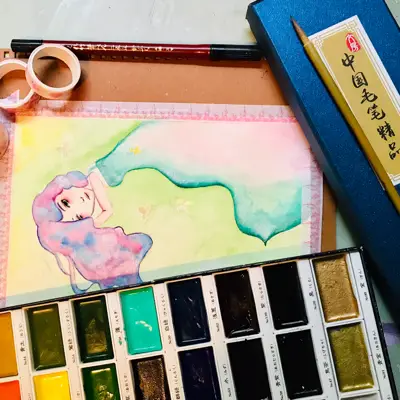 Now, that all the technical stuff is out of the way it's time for the fun part. The actual paying with the Kuretakes.
The very first dip of my paintbrush into this paint I knew I would love it. The paint is ultra creamy and smooth. There is absolutely no chalkiness to this paint. There is also no granulation which I love. There is a difference in feel and texture between Kuretake and other watercolors. It's the smooth texture and the way the paint sits on top of the page instead of getting sucked right in immediately. You have more time to work with the paint moving it and blending it as you want than with Western watercolors.
One of my favorite things about this paint is that you don't have to activate it with water before you paint. Most watercolors have to be spritzed with water and have to soak a bit before they are ready to be painted with and to get the color to come onto the brush. These paints are ready when you are. There is soemthing uniquely satisfying about the smoothness of these paints and the feel of them straight from the pans.
Kuretake Gansai Tambi Watercolors are not Gouache
One common misconception is that Kuretake's are gouache. This is completely wrong. Kuretake Gansai Tambi has a reputation for being on the opaque side. However, they don't have to be, you can get light translucent layers. You also don't need as many layers to get a heavier coverage. If you want light layers mix some paint in your palette and be sure to add a sufficient amount of water. This is actually how I get light layers for all my watercolors. If you paint right out of the pan you will get a heavy thick layer. It depends on the look you are going for. Their times when you may want to dip your brush right in the pan.
Generally, as a watercolor rule you are advised against painting for the pans. Watercolors are all about creating translucent layers. The key is to mix your paints with water in a palette. I may sound redundant, but nobody ever emphasized this when I was starting out and I made a ton of mistakes.
Pigmentation
These paints are highly pigmented as mentioned earlier. You can get highly vivid and bright colors with ease. There is also very little fade in color from wet to dry. You won't lose the brilliance as you do with some other watercolors. The pigmentation of this paint is what pulled me to these paints. I'm able to produce brilliant colors and soft colors with ease. 
Mixing colors
I personally use the 36 color Kuretake Gansai Tambi set. The color choices for this pallet were chosen so you do not need to mix more than a few colors to get your desired outcome. It is actually recommended to to over mix to prevent getting muddy colors. 
I've found that I can get some truly amazing skin tones from mixing just two or three colors.
Some skin tone recipes:
Brown ocher and little violet
Red + Lemon Yellow + a dash of Ultramarine Blue
I'll have an entire article dedicated to color theory and color mixing, soon! Be sure to subscribe to my newsletter so you don't miss out.
Lifting qualities
These paints are super easy to lift. You can almost entirely erase some paint with water, a clean brush, and some paper towels. The beauty of this is that you can have more freedom of play. I make mistakes, sometimes I need the ability to remove some color and these paints give me that.
Don't worry, you can add layers easily without taking away any layers.
This paint is also very easy to reactivate and pick up. Once dry you can re-wet it and paint as if you didn't stop. Also, you can dip your brush into parts of the paint already down on the paper and and easy get some paint to add details around the page.
Pearlescent
 

and Metallic Paints

The 36 watercolor set comes with metallic. These colors often don't get too much love. That's most,y likely due to the special sets Kuretake has dedicated specifically to pearlescent and metallic colors.

These sets are worth all the rave reviews. However, the paints that come in the Kuretake Gansai Tambi 36 color set are not bad at all. I love the white pearlescent paint. It's easy to layer on top of colors to get sheer and shiny.
Kuretake Gansai Tambi takeaways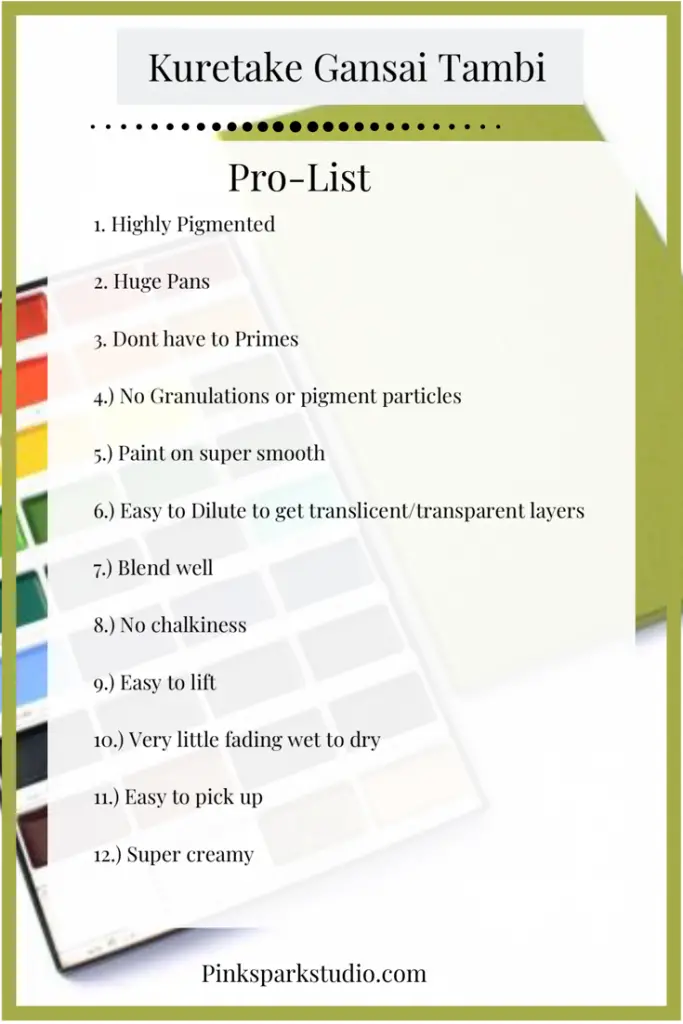 Kuretake Gansai Tambi are defiantly worth the money. They are smooth, creamy and a delight to paint with. I find they also work well with other watercolors and will complement any other brands. They making painting fun and exciting. If you're curious about how to travel with them then stay tuned, as I'm working on a special watercolor travel piece that will cover how to travel with these and other paints. Be sure to sign up for my newsletter to get weekly prompts and updates about future articles and fun art events. 
Be sure to join my Facebook Group. I love to give hands on help anyway I can!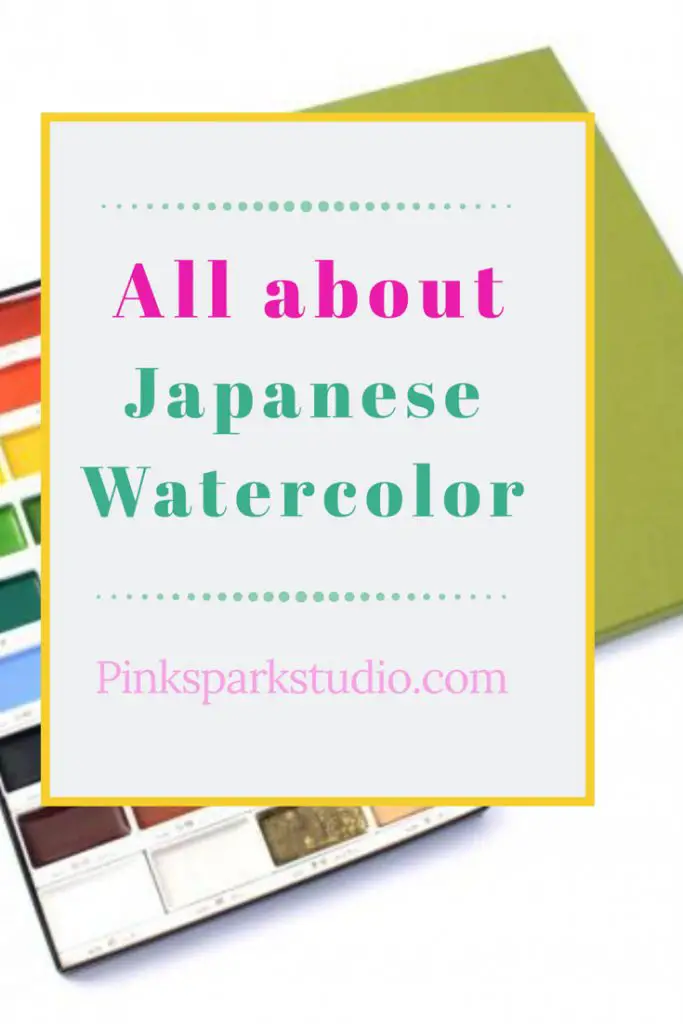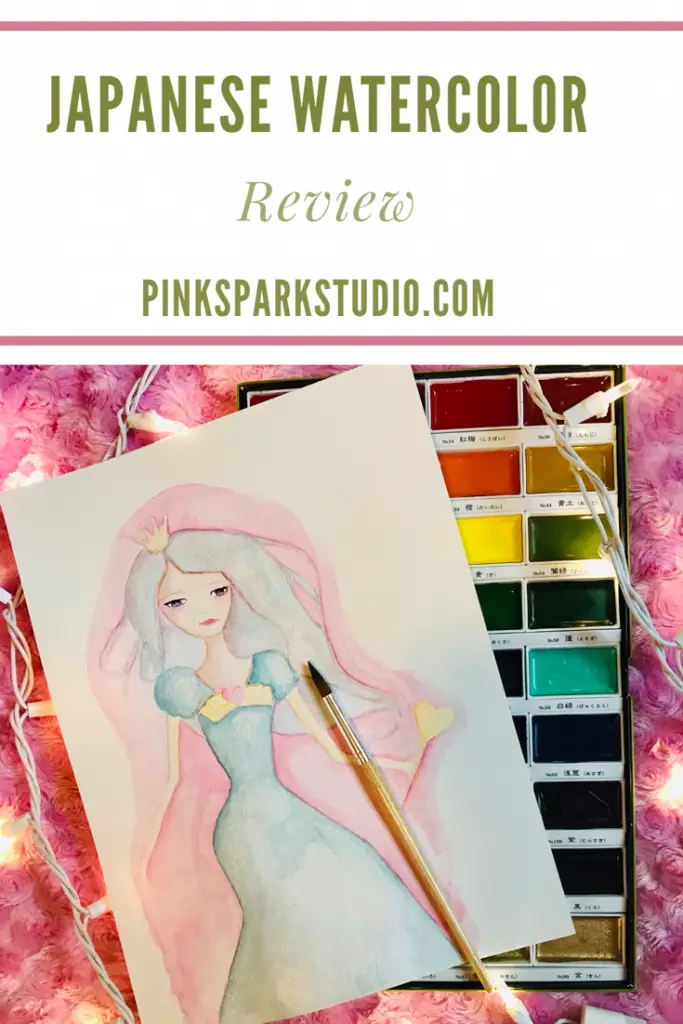 ---