This post contains affiliate links. We may earn money or products contained in this post. Please click my disclosure policy to learn more.
Art Journal With Old Book Pages
Art journaling with old books pages is really and truly a fun activity. I know, at first some people can get a bit squeamish about ripping apart book books and painting on book pages. But, near me out first, before you dismiss the idea.
I'm a huge book lover. At one point in my life I had over 2,000 books. I lost most of those due to a house flood.
Later, I discovered Marie Kondo. She does not say you need to throw out your all you books. Her emphasis was on surrounding yourself with things that truly bring you joy. 
I realized, many of the books did serve me joy. But, their time as serving me as a book had passed. I also had many copies of the same book. And, as an artists, it's completely okay to find a new purpose for an old object.
Think of it as recycling. Nothing is going to waste. The worlds of stories I loved now are on my walls and in between the pages of my art journal. They have been re-born like a phoenix. 
Don't feel bad. You can find old books that are mass produced, that speak to your heart, and use them in your art. The world will not end, even if some people on social media get upset.
Now, let's look at some fun ways to use these wonderful book pages.
1.) Found Poetry
I adore poetry. Poetry was one of my favorite classes during my university days. Funny story, the just day before spring break on of the guys brought rums and some red cups and everyone, including the professor enjoyed a nice refreshing drink during class. I don't even think everyone was of age. I really felt like I was one of those super cool writers of the past. Poetry beings out the best in people! 
Found poetry is where you take words that already exist, such as words on a book page, and make a new poem from them. 
Here's an example, I circled the words I wanted to use. Then I crossed out the rest of the words.
The poem says:
Smile, remember to Live.
You'll be amazed. at the poetry you can create. Remember, you don't need a lot of words to get a feeling or thought across.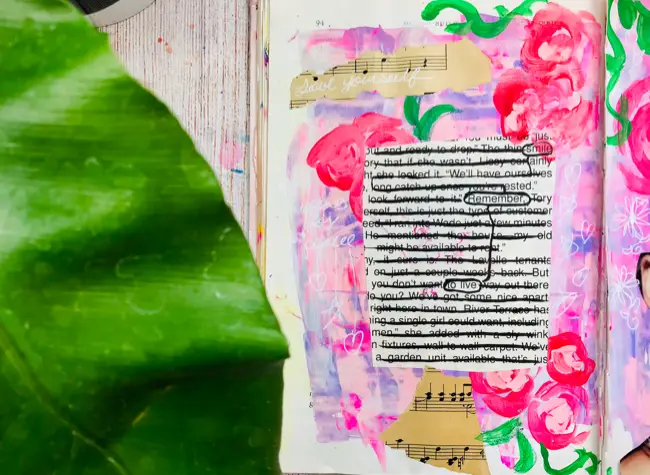 2.) Paint a picture on the Book Page
This is perhaps the easiest way to use old book pages, and one of the most fun. I find paintings on books pages to be so aesthetically pleasing to look at. 
You could make an art journal of only book pages you have painted on.
If the page is really old you can layer some matte medium or clear gesso over it to give it some durability. You can use matte medium or clear gesso to make the page easier to work on, as well.
I use a light layer of white gesso when I want the words to be visible, but subdued.
You can use pretty much any art supply in book pages, as well.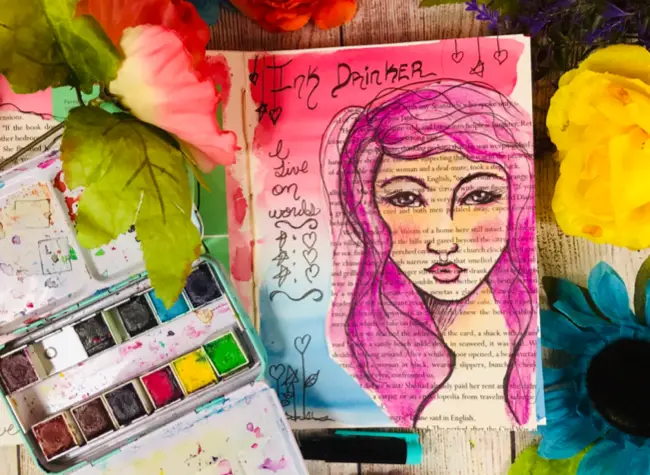 3.) Cut Out Shapes Book Pages
Book pages cut into shapes make a beautiful addition to any art journal page. You don't have to make your cutout shapes super perfect or detailed. Have fun, keep things loose.
You can make a simple background. You can check out my tutorial on easy watercolor backgrounds here for some fun ideas.
Then, place your cut outs, add some pen and ink details, maybe some words, and viola! You have a beautiful art journal page.
This page was inspired by Les Miserables.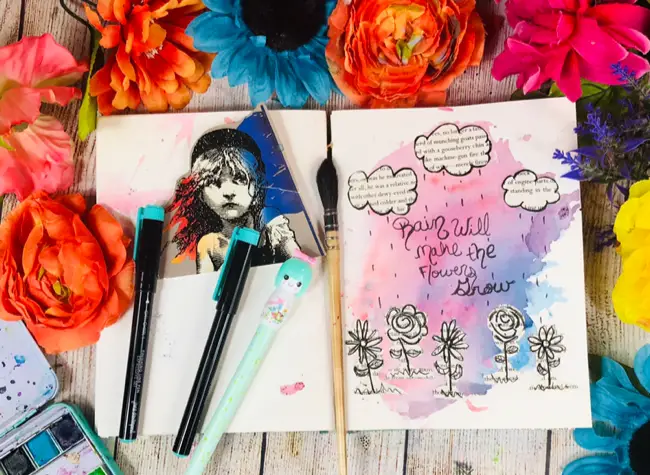 4.) Background For Paintings
You can use an entire book page, or rip it in half, and use that as a background for art journaling.
Here, I spray painted my book page with a sparkly blue paint. Them I cut out my painting and glued it on top. 
Now, I could glue this into my journal and leave it as is,mor add a few little details.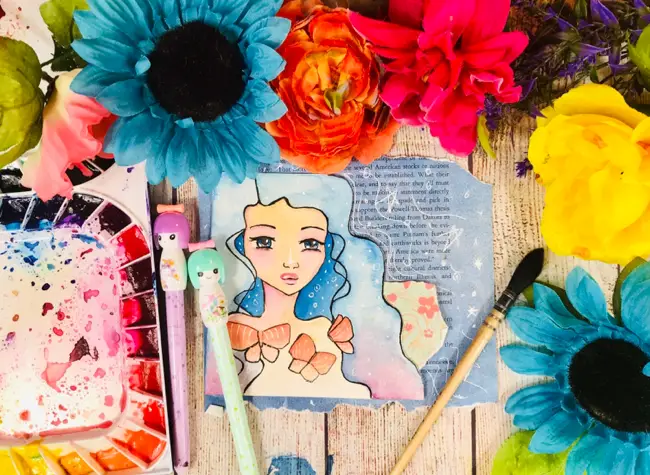 If you found this tutorial helpful please buy me a virtual coffee and help support my blog.
5.) Collage for Art Journaling
You can use book pages as collage ephemeral and it looks beautiful. All you have to do is rip up a book page and add it around your art journal page. You can then paint around it or on top or, and even add more collage details.
Or you can keep it very minimalist. Just a few we'll placed collage pieces.
You can also find specific words that have meaning to you or your specific page and tear just that out and use it as a collage focal point.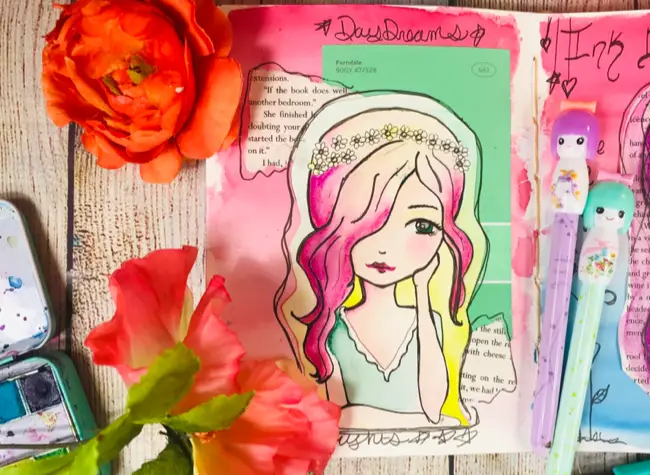 Bonus Ideas
 Bonus Ideas Because creativity doesn't end with the art journal page.
These are a couple of fun ways to use your spare book pages and decorate your art space, room, or anywhere in your home.
Decorate with old book pages
Flowers
Book page flowers make such a pretty decoration. I keep a vase of book page flowers on my desk. They make me happy whenever I look at them. I used pages from a copy of Pride and Prejudice. I own about 5 differ t versions, so I decided one could be used to help spread the word I love so much.
Here is a Youtube video that give a tutorial similar to how I created my book page roses.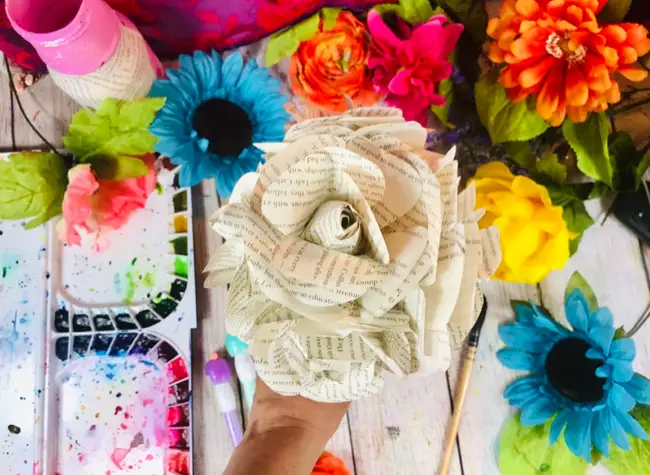 Decorate a jar
I used an old salsa jar for this project. It's really simple. You just need book pages and Mod Podge.
I use a sponge brush and use Mod Podge to stick on the pages of the book onto the jar. You can decorate the bottle more, or leave as is. Either way have a lovely decoration. You can use this jar to hold your book pages flowers, as well.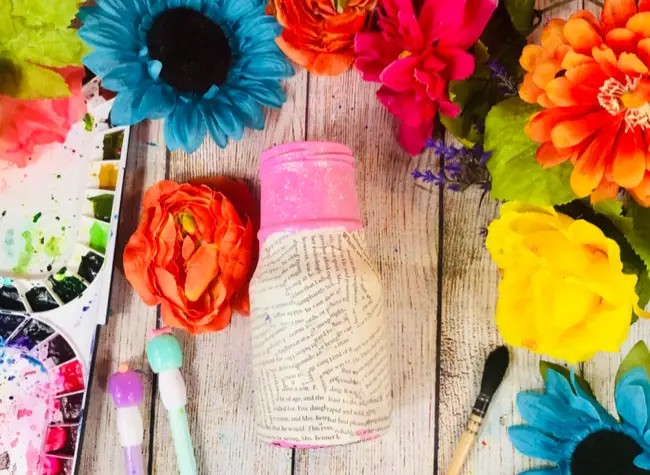 Make garland

 
I've seen book page garland made in many different ways. Some people sew their garland. I prefer to glue mine.
Here's how I create my book page garland.
I cut out the shapes I want. In this case hearts. 
Next, I glued two hearts together with twine in the center. I continued to glue hearts at even intervals until may garland was as long as I wanted it to be.
Next, all I had to do was hang it on my wall.
You can do this with book pages or maps. It's a fun and cheap way of creating DIY decorations.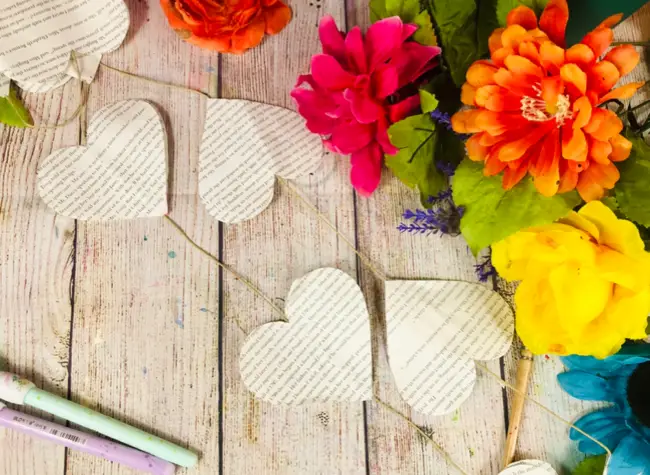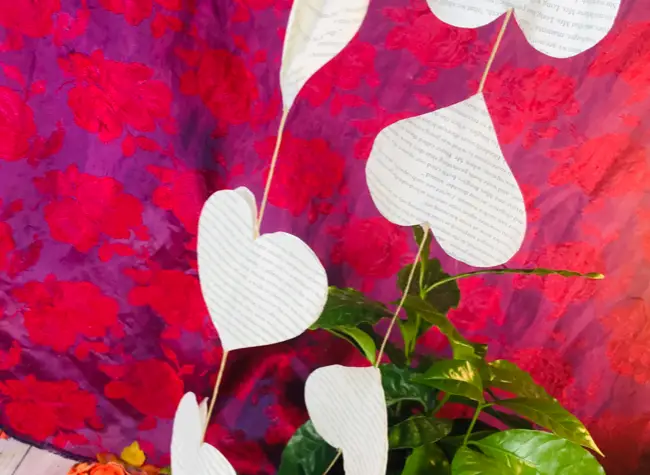 Book Page Art
Look through your old books. See if you can find some inspiration from them and give them a second life in your art journals.
I'd love to see your artwork or answer any questions you may have. Please join me in my Facebook Group.
Let your creativity bloom and have fun creating art with old book pages.

If you found this tutorial helpful please buy me a virtual coffee and help support my blog.