This post contains affiliate links. We may earn money or products contained in this post. Please click my disclosure policy to learn more.
Why Challenges are amazing
Art challenges are the perfect way to boost your art. In case you don't know what an art challenge is let me give a quick description. An art challenge usually is for a month, though the time does vary, it usually has a set of prompts, on for each day. Everyday the participants to create art based of their interpretation of the day's prompts. Art challenges can focus on a certain medium type or theme. There are tons, there are some that are constantly going, and others that only take place certain times of year.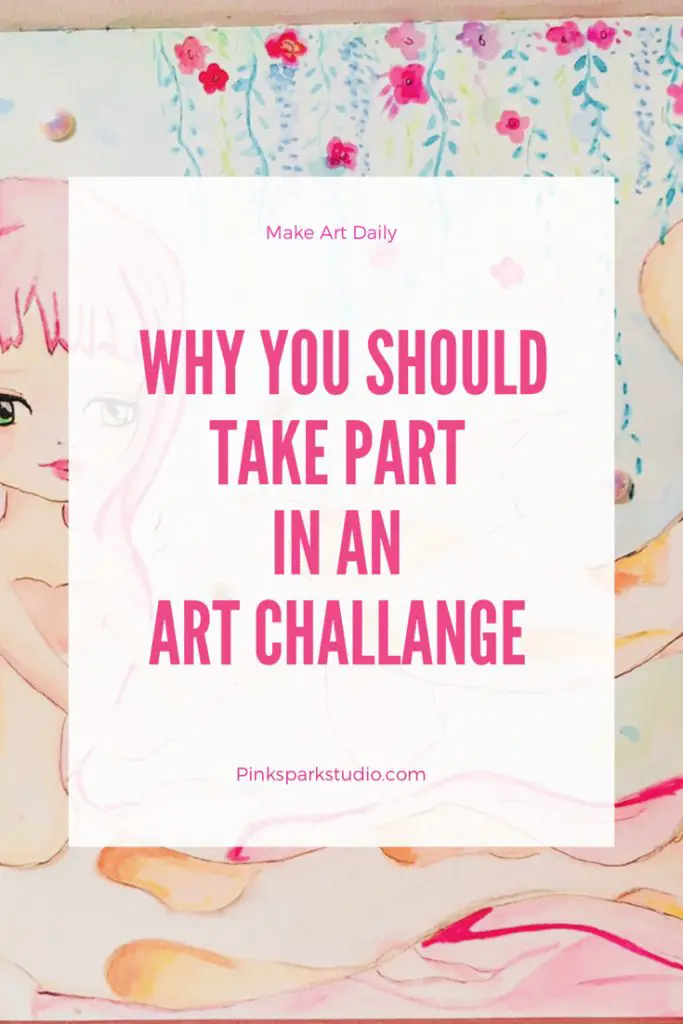 Art challenges force you out of your comfort zone. They get you thinking creativity, and the more you think creatively the more creativity comes to you. Does that make any sense? The first few days you may think you're not creative enough and start to feel intimidated. That's okay, what's not okay is to quit and let those feeling win. You've got to push past the doubt, the scared feelings, and maybe even the art that's not your best to get into your art zone. Your art zone is where your inspiration is, it's where your creativity breeds and grows.
Taking part in an art challenge keeps you accountable. It's easy to say you'll draw everyday but not actually do it. However, when you have a challenge you have goals, specific tasks it keeps you focused. Also, there is something about having limitations that boosts creativity. Having to keep your art on a specific theme forces you to limit your options, but also grows them. Its as though it's a contradiction, but it's really not. There's a reason why art teaches, music, teaches, English teachers all make you stay within limits in class. They are stretching and working out those creative muscles.
Benefits of an art challenge
Accountability
Set goals
Pushes you out of your comfort zone
Boosts creativity
Grow your skills
Track your progress
Feeling of accomplishment when you've complete the challenge
What lead me to art challenges
In case you haven't read my about page let me fill you in on some info about myself and why I think art challenges can change your art life.
About six years ago I was doing pretty well. I had a gallery asking to see more of my paintings. I had studied independently with a successful artist and studied it at the university I was attending. I've always been an artist. Every chance I had to get some info, advice or lessons from successful artists I grabbed the opportunity. My art was really blossoming into some I was happy with. And then I met a man. Ladies, let me tell you right now, if your family doesn't like your man you tell him goodbye. 
Abusive, controlling men do not start out that way, however, there are signs, but I of course didn't take heed. Fo six years I was denied my art, while serving his art and helping him. He tried to make me very ashamed of my own art. I don't need to go into detail, I think for the most part you can understand what happened. But, I'm free, yay! And, I'm taking everything I learned while helping him and his art and I'm going to use it for myself and to help you guys. 
So, once I was free again I longed to create my art. I felt like I was starting all over again, learning, gaining confidence. I had very little art supplies and no direction. However, I started drawing or doing something creative everyday. I took knitting lessons, I took necklace making lessons. I dove in. It's time for a new challenge, an art challenge! 
My art is not where it used to be, but it's growing to a place that's better. I'm doing art challenges because I'm serious about art and I want to push myself and see my progress. So, I'm doing a challenge for myself, and to show everyone how they really do improve your art, creativity and overall happiness. Yay art! 
Mermay art challenge
This month I am taking part in Jane Davenport's 2019 Mermay art challenge. If you don't know who Jane Davenport is you're in for a huge treat. She is art magic in human form. I first heard of her while shopping at Michaels and finding her book Drawing and Painting Beautiful Faces: A Mixed-Media Portrait Workshop This was during my first week of freedom from Mr Badman. My art life has changed and never been the same.
Jane Davenport exudes inspiration and art wonderment. She makes divine art supplies. You can read my review of some of her products My Favorite Jane Davenport Art Supplies. She also teaches online workshops and run a fabulous Facebook group. I urge everyone reading this to try at least one Jane Davenport art supply and join her group. You will not be disappointed! Her art and art supplies have brought so much joy and inspiration into my life I never leave my house without some sort of Jane Davenport art supply.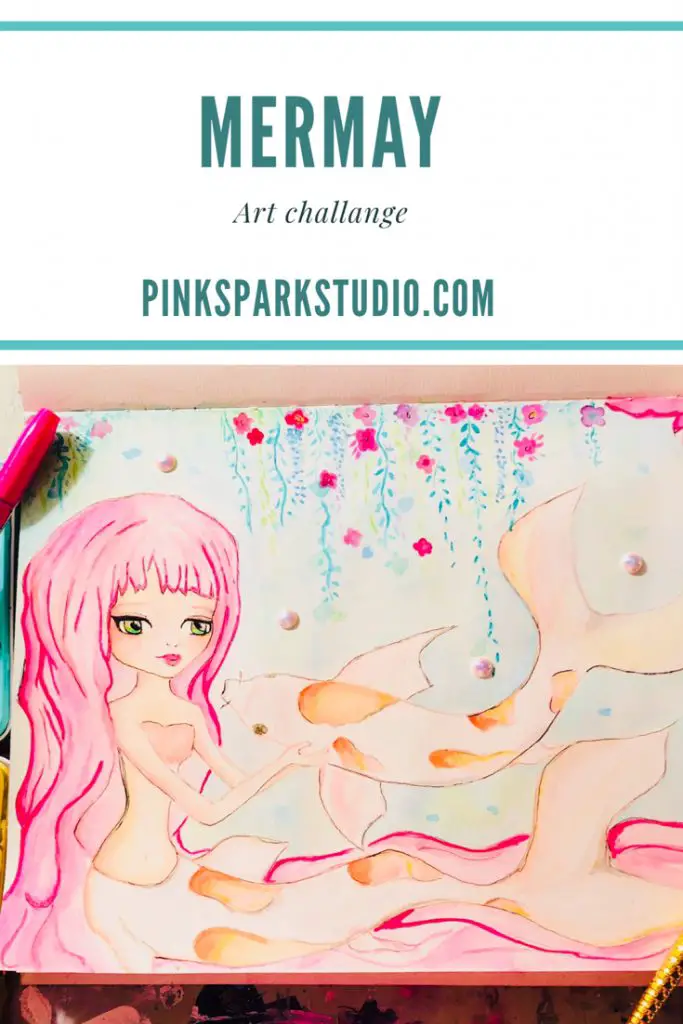 You can find her art prompts for Mermay on her Blog and in her Facebook group. For Mermay, she has 30 prompts the challenge is to use her art supplies to make beautiful art and post them to the group to share and be inspired, if you don't have a ton of her art supplies it's okay. She explains everything on her blog.
This is my first art challenge since finding my freedom. Doing these challenges and sharing them can make you feel vulnerable. You may feel the urge to judge your work compared to the art of others. Don't do that. For one thing, we're always far mo critical of our work than others are. There have been several times when I've looked at art posted in a Facebook group and thought, "wow, that's fabulous" then gone to read the actual post and discovered the person was insecure about their art, or they were new, or something else along those lines.
I'm kinda starting all over with my art. I'm not new, but in a way I am new since I haven t created art in so long. 
I'll be posting my art daily on this page. There are many art challenges. You can follow me on my Pinterest account, I have a board dedicated to art challenges. You can do it on your own as well. You can choose what floats your boat. I'm doing Jane Davenport's art challenge because I love mermaids, I love her art products, and I love her group, it's going to be a fun, whimsical and inspiring.
I feel vulnerable myself. I want to be perfect, I don't want to have any art out in the web that is less than perfect. But, I also want everyone to see the growth and fun of art challenges and how they can propel your art to reach new depths. So I'm putting myself out here for you guys!
Everday I'll be uploading the day's prompt. I can't Pro is a specific time, I'm not that organized.
Here's day one prompt, "Feeling Koi."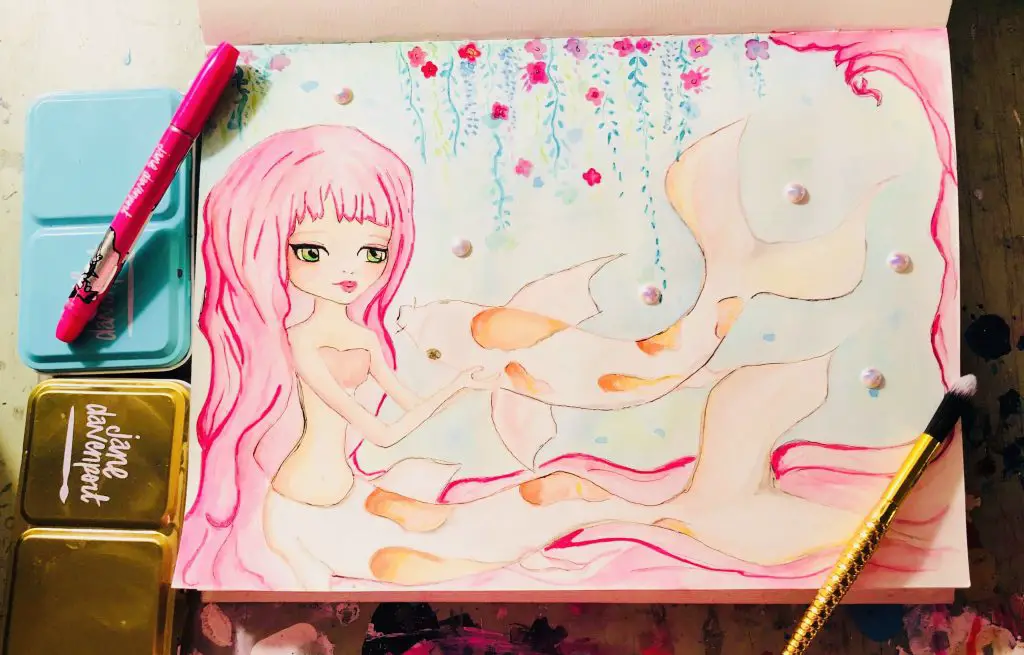 Materials used
Jane Davenport Watercolor Bright Palette
Jane Davenport Watercolor Neutral Palette
Jane Davenport Glitz Sea Markers
Grace Art Watercolor Brush Set
Jane Davenport Large Art Journal
I did a second piece for the first day's challenge. I used the same watercolors and brushes as listed above.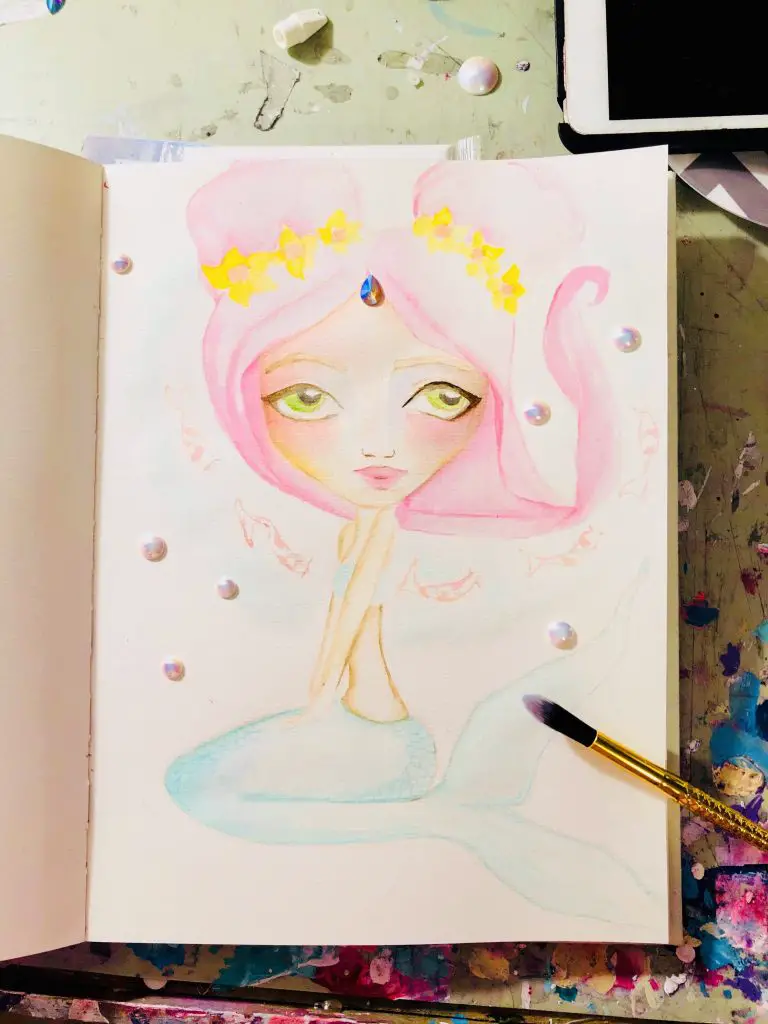 Mermay Day 2 art challenge, Riding the waves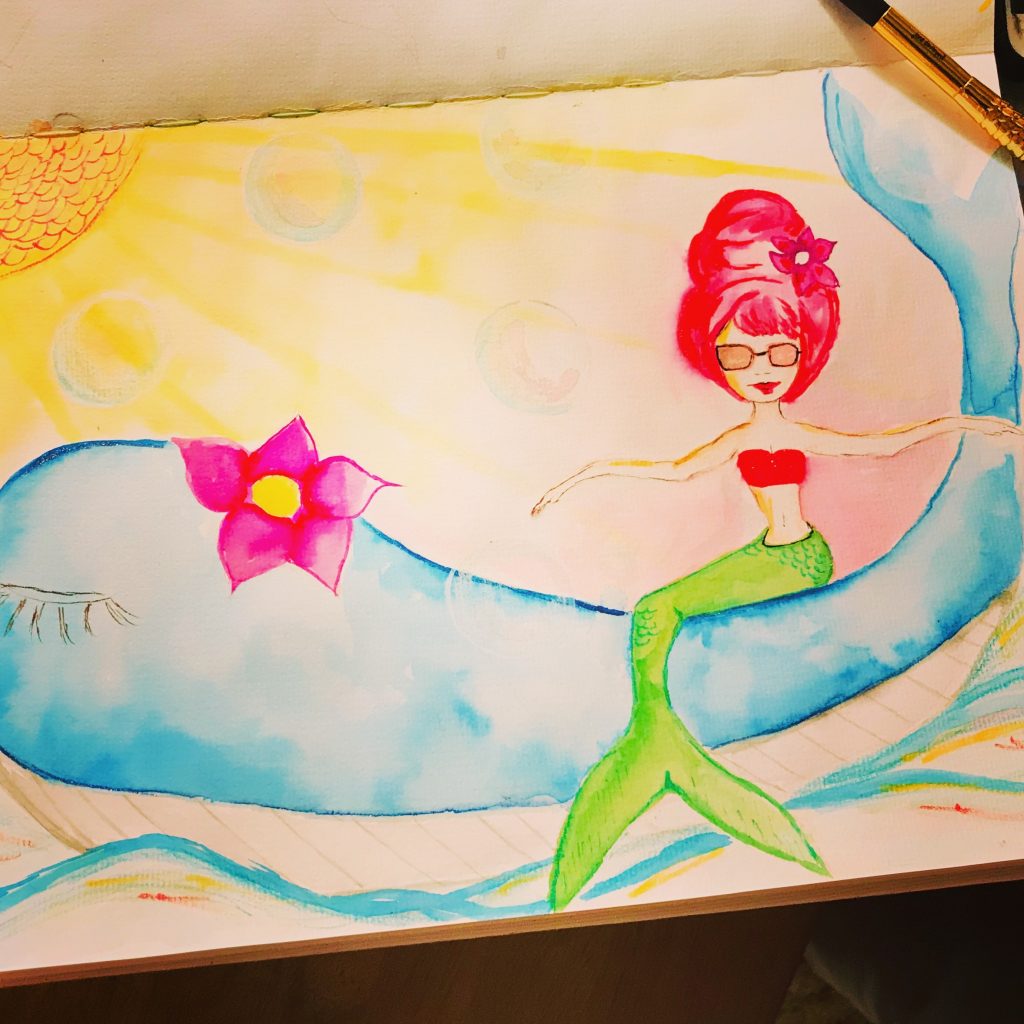 Day 3 of Mermay, Deep Sea Divas
Day 4 of Mermay, Oceans of Color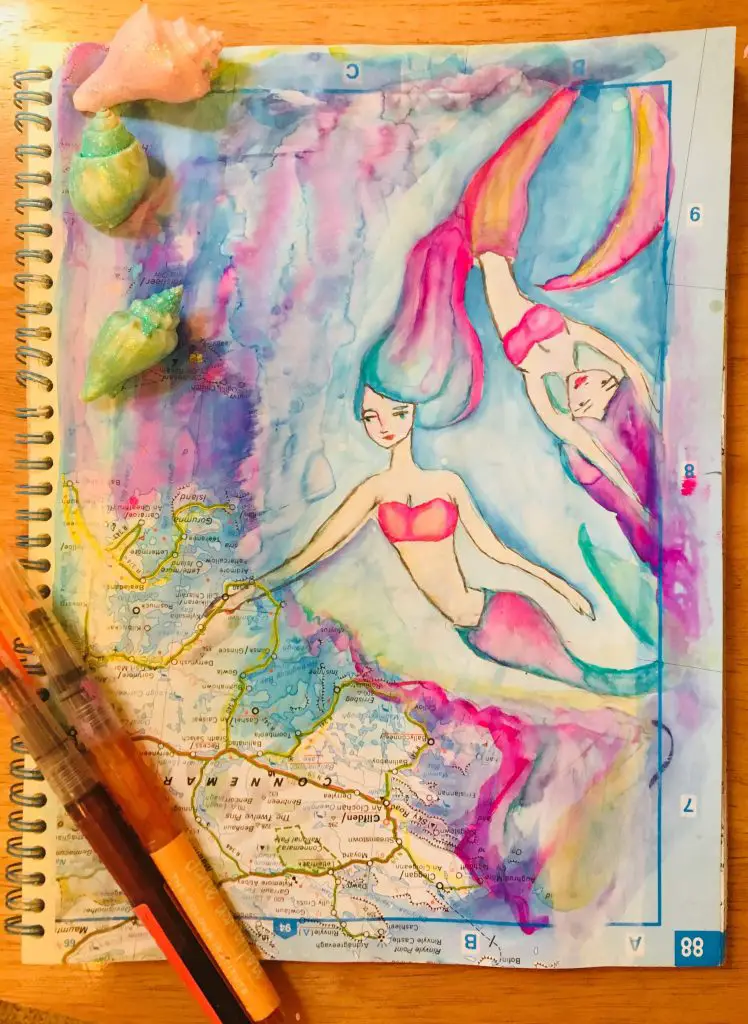 Day 5 of Mermay, Mermaid Hair Don't Care
Day 6, Shell We Dance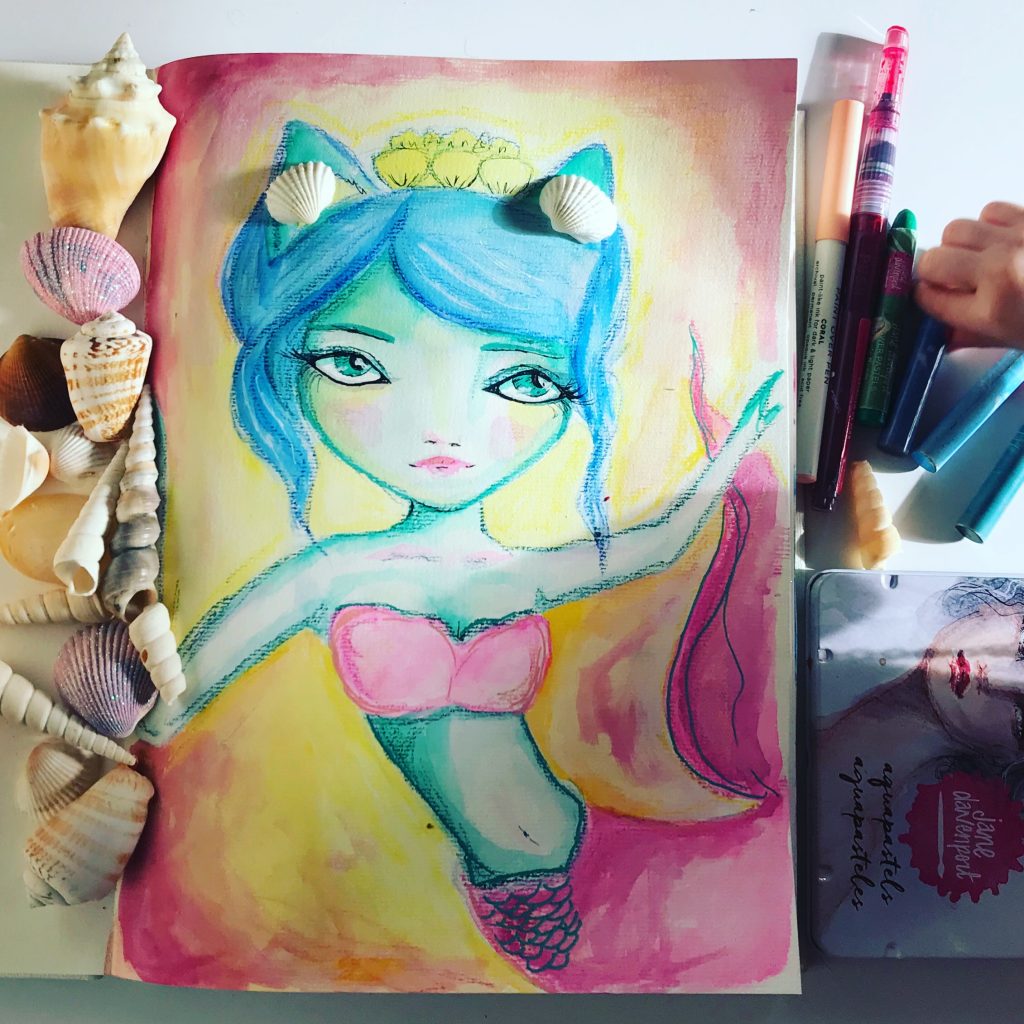 Day 7 Juggling Jellyfish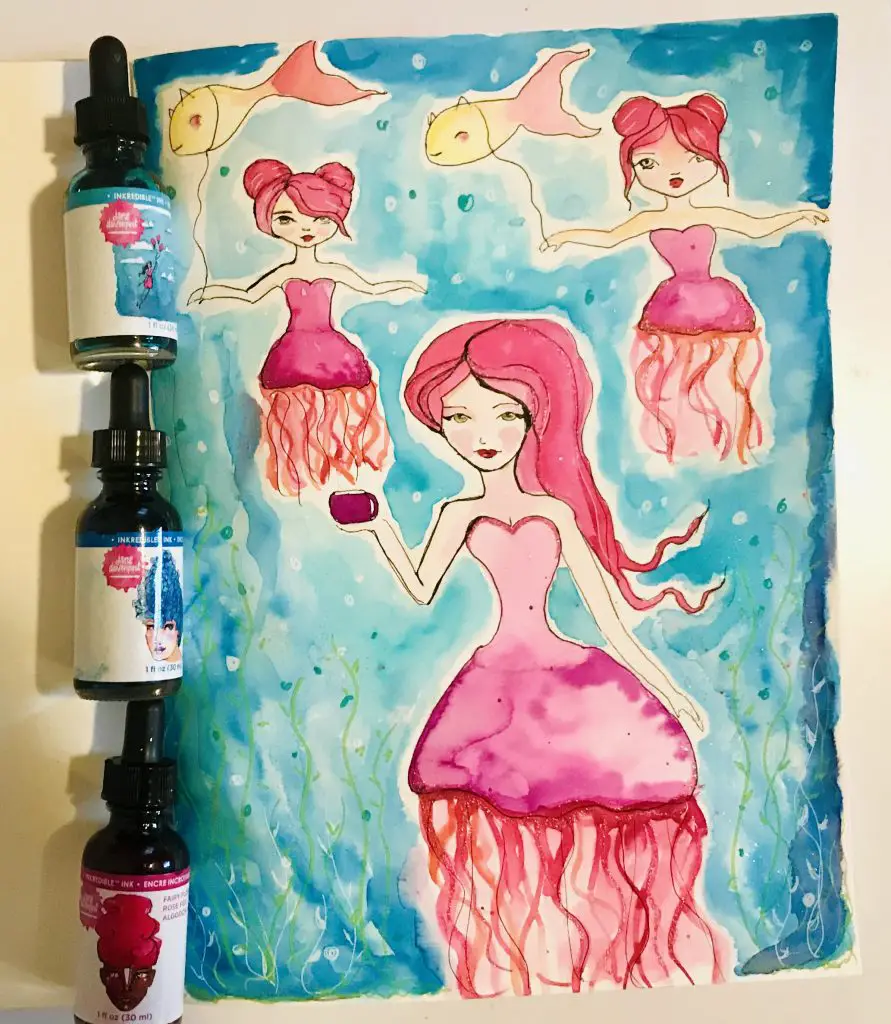 Day 8, Pearls of Wisdom
Day 9, Aquastrain Aquabatix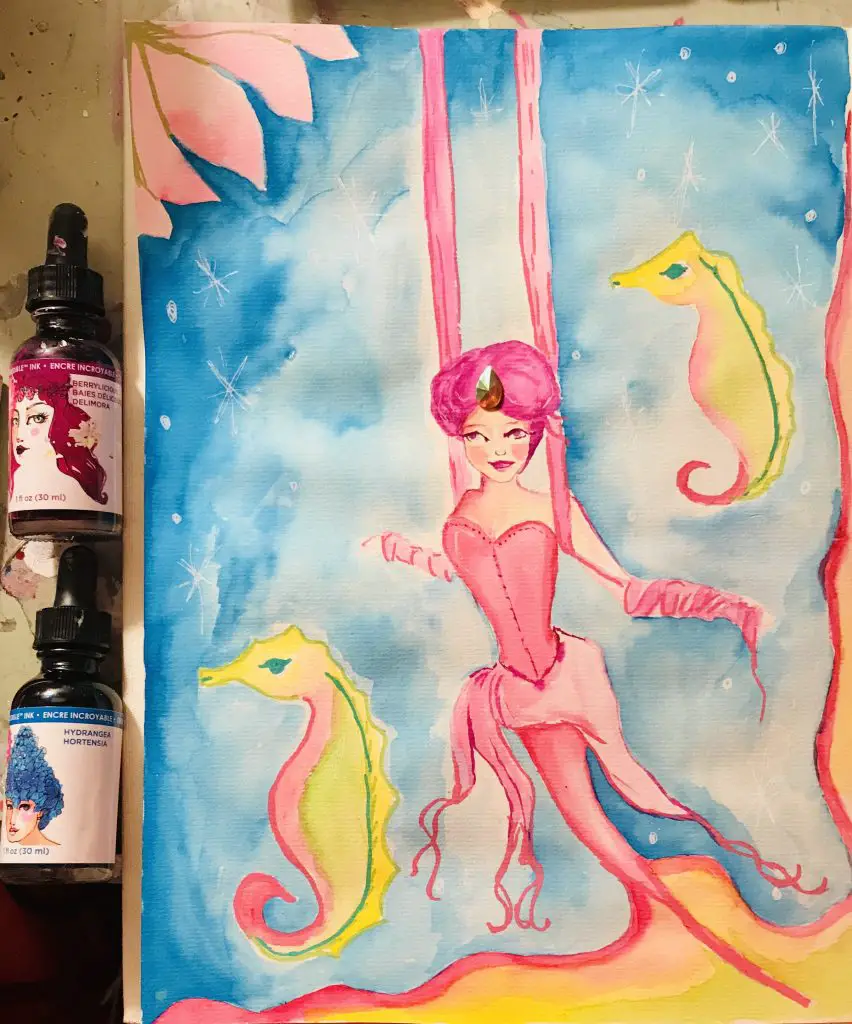 Day 10, Starlets of the Sea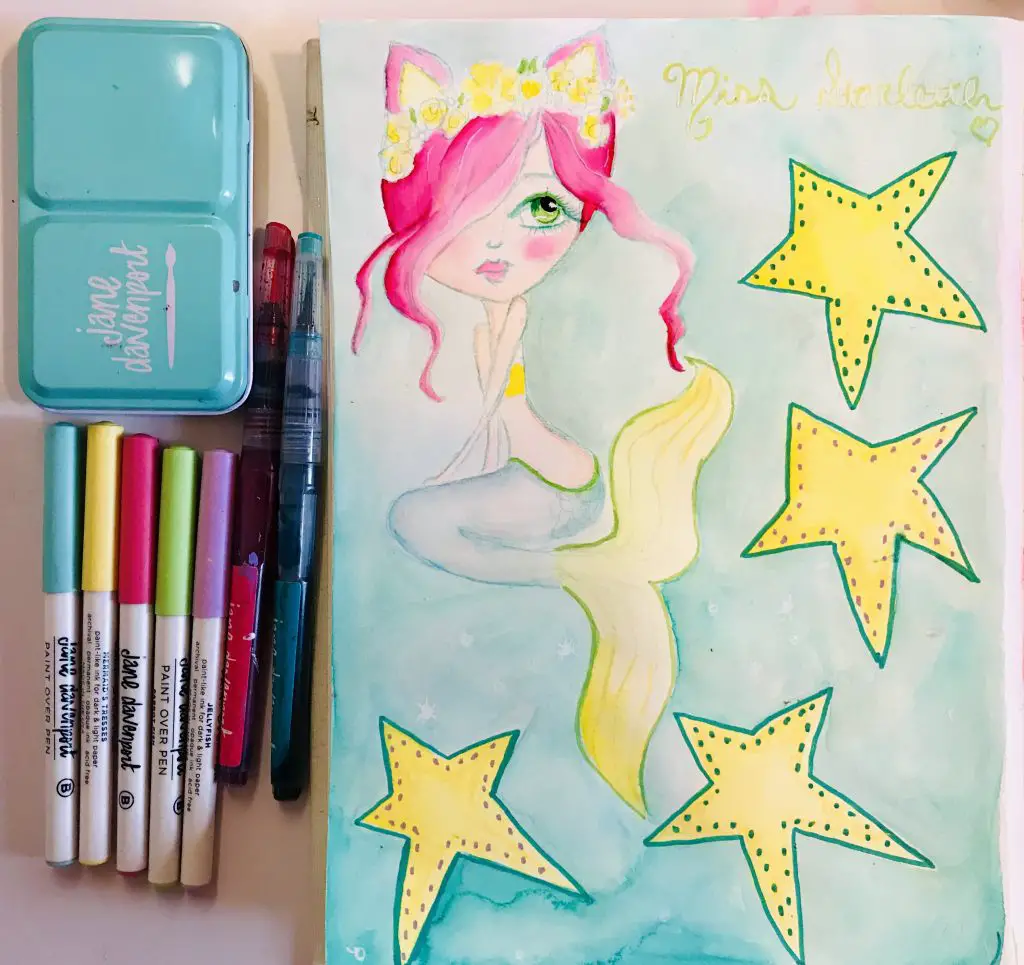 Day 11, Bathing Beauties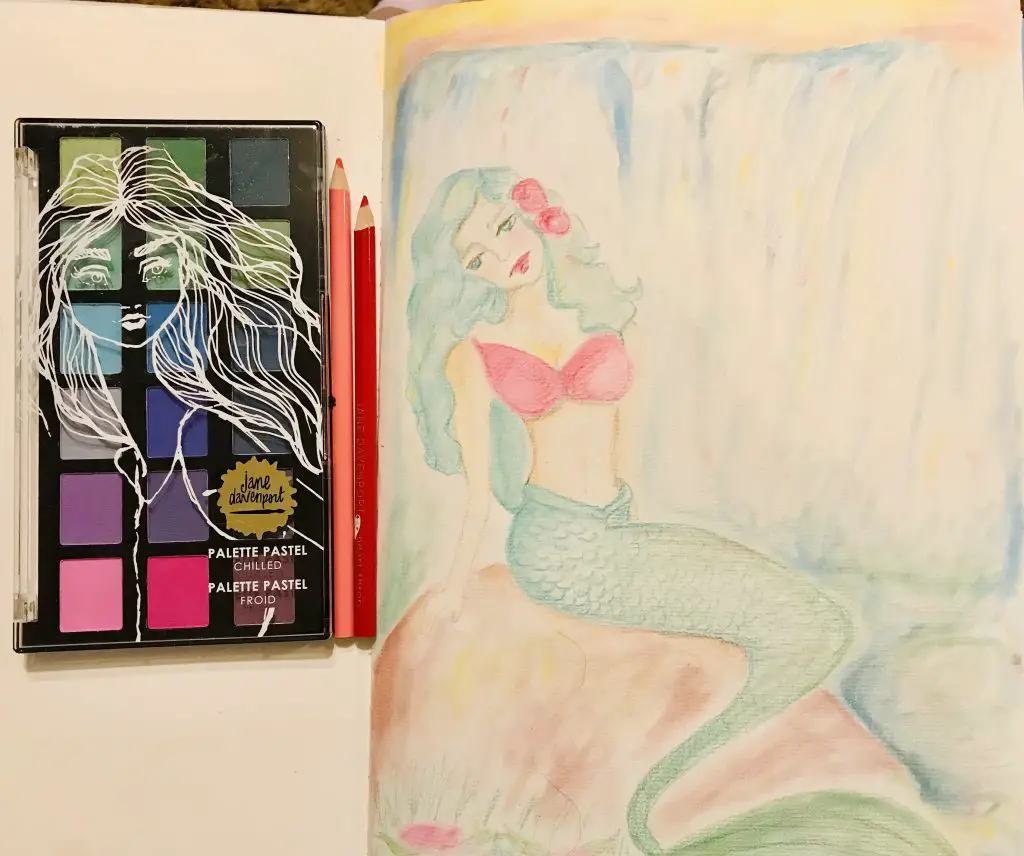 Day 12, Friends and Anenomes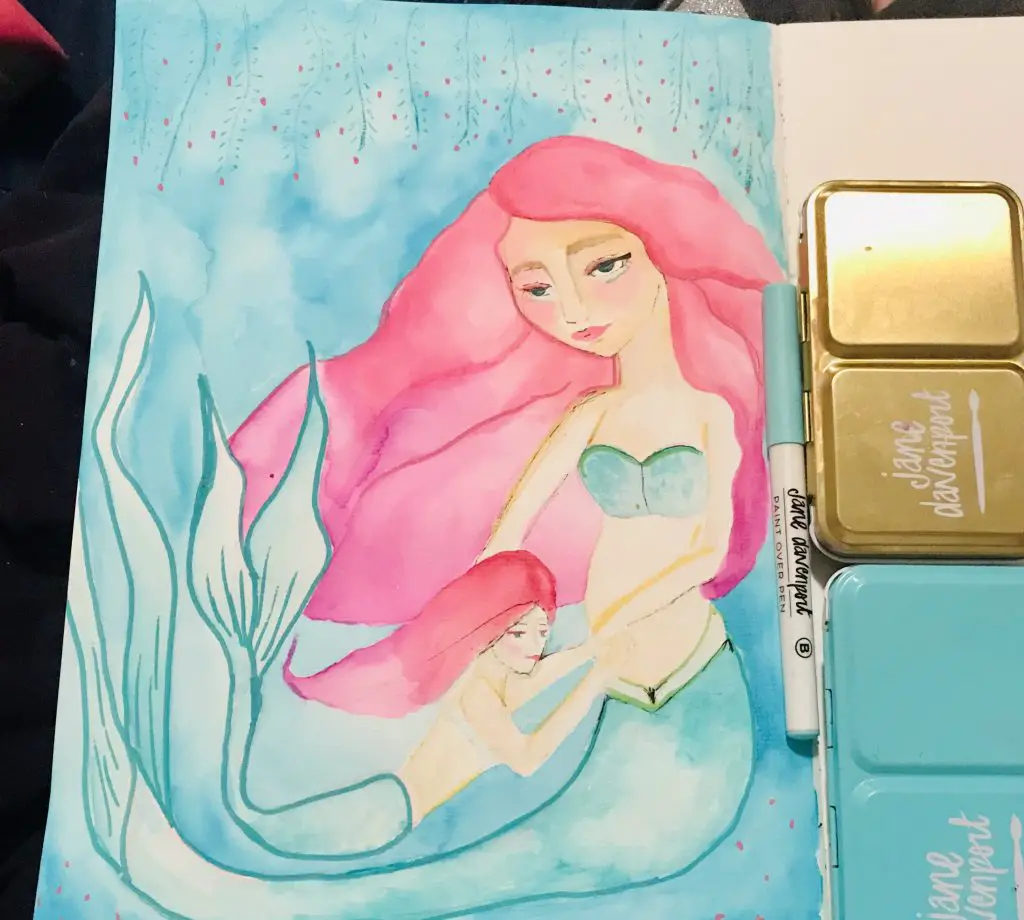 Day 13, Look at Minnow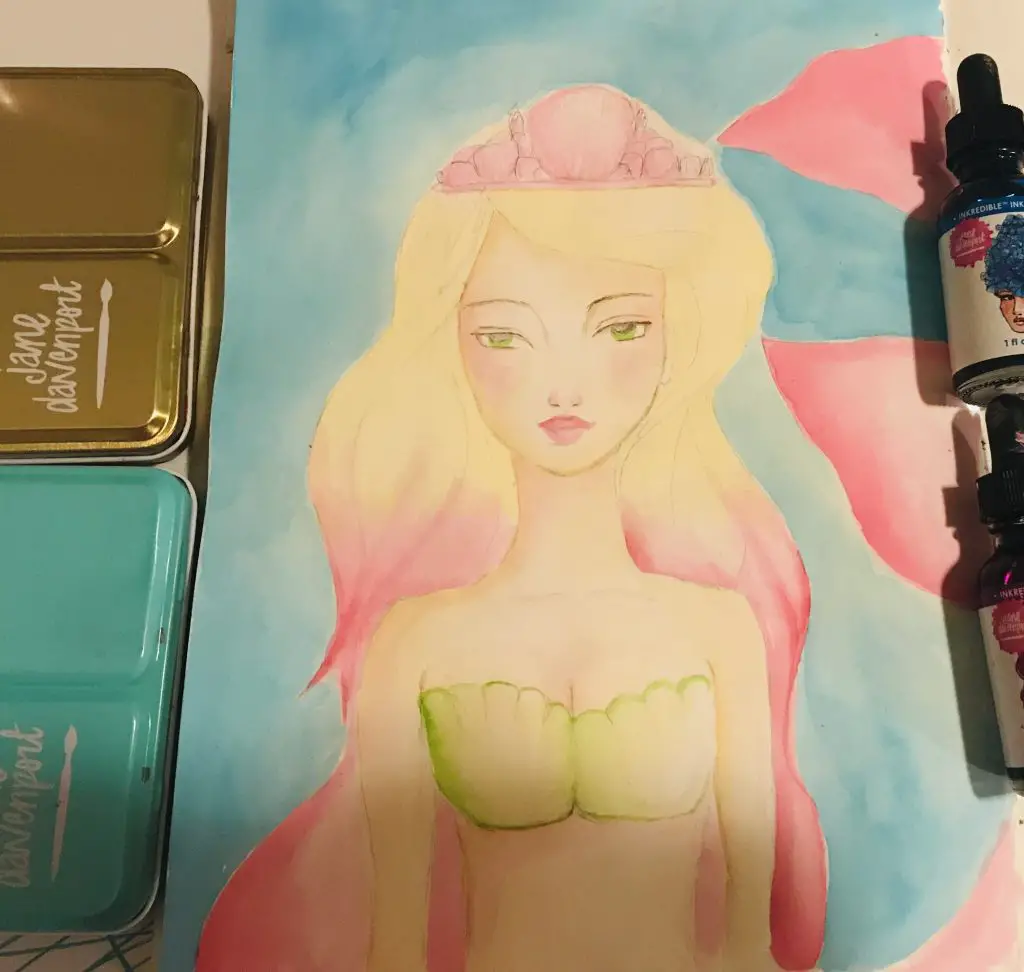 Day 14, General Porpoise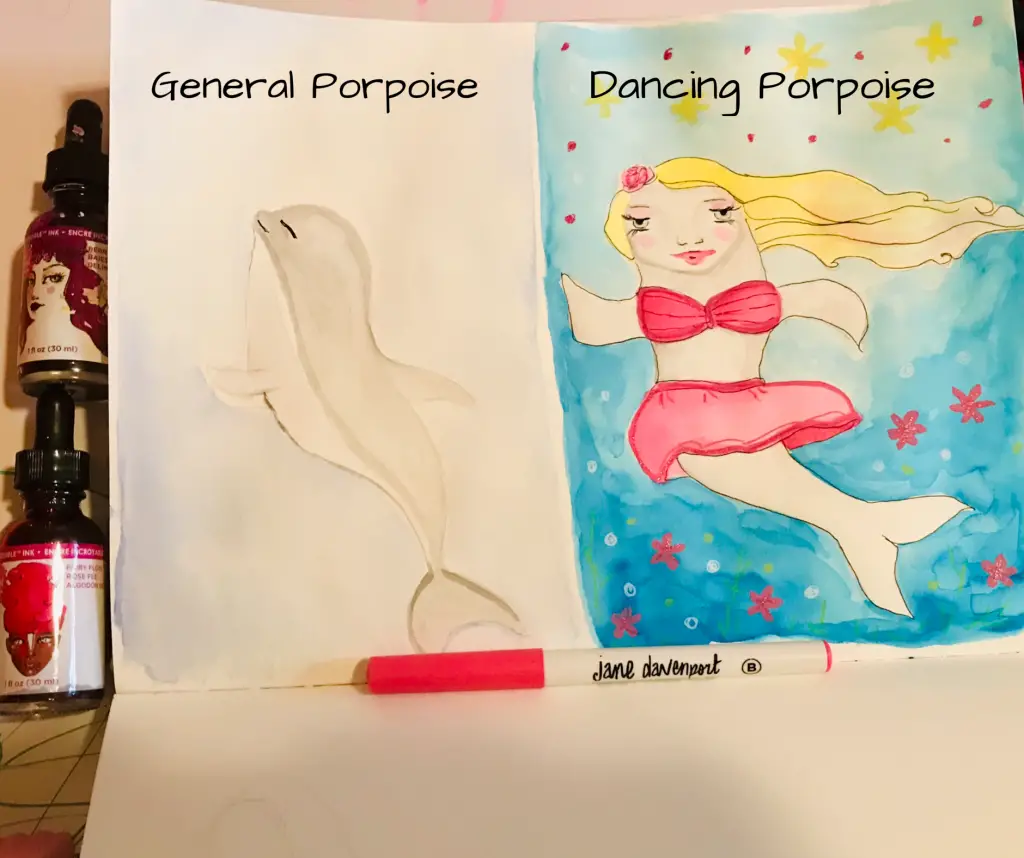 Day 15, Feeling a little Nauti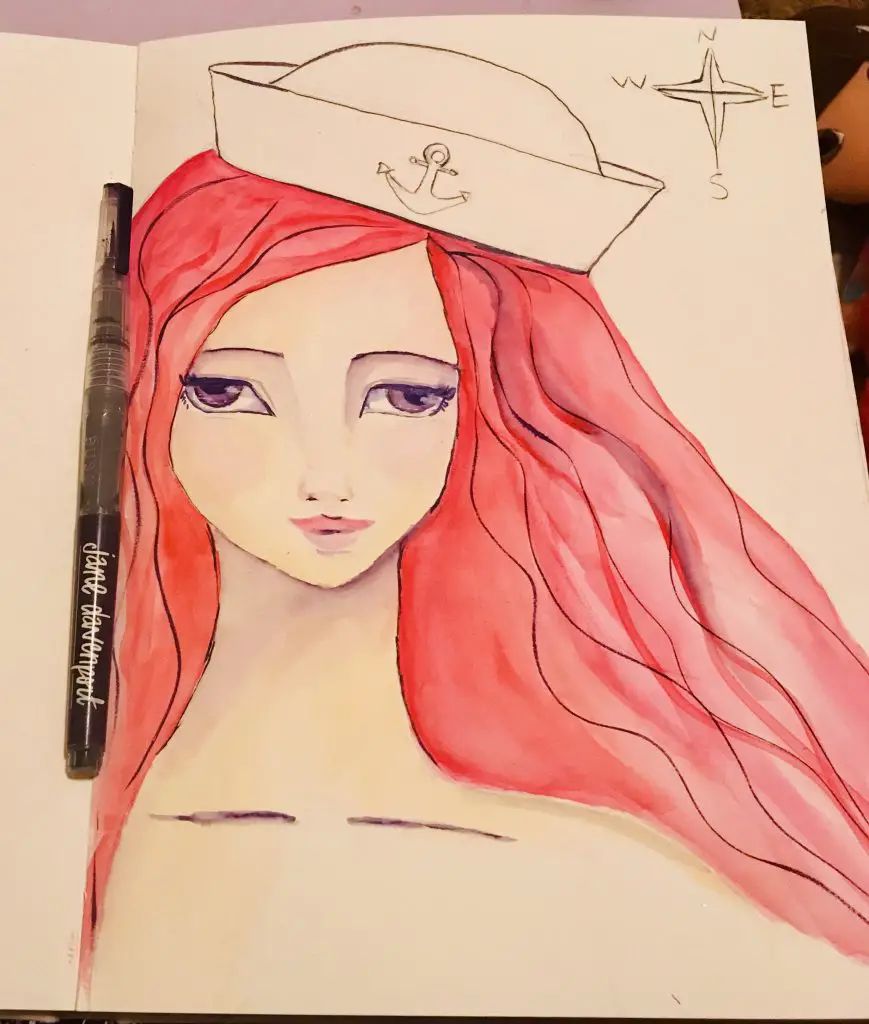 Day 16, Krakken me up