This post contains affiliate links. We may earn money or products contained in this post. Please click my disclosure policy to learn more.
My favorite Jane Davenport art supplies, so far
Have you heard of Jane Davenport art supplies? I sure hope so, they are super delicious and a color wonderland. Once you get your hands a a few you'll be a complete addict. I can't get enough. 
I'm going to talk about my favorite supplies, so far. I have yet to try all of them, though I just bought a bunch. So, expect another article soon.
her products are fabulous for art journaling. If you are curious about art journaling you can read me article How to Start an Art Journal. 
Why I love Jane Davenport's Art Supplies
I want to take a moment to tell you why I love Jane Davenport's art supplies. People are always reviewing products. Often these people can afford to buy art supplies without much worry. If they buy something they don't like, it's not really a big deal. They can just go and get something new.  Well, that want the case for me.
When I first found out about Jane Davenport I had, literally, just got set free from a terribly abusive relationship. I was an artist before I met him, I had just received an e-mail from a gallery asking to see more of my art. They never did.
During my six years of captivity I served him and his art while being denied the ability to create my art. Ladies, when your mom doesn't like a man you bring home, listen to her. It was really hard being art supplies for him and never me. I don't want to get to bogged down with the past. So, let's fast forward.
It was the first couple weeks of my budding freedom when I found Jane Davenport's book Whimsical Faces. Once I opened that book it was like a whole new world was opened. I was free to find my inner art. I found such inspiration that I could barley contain my joy.
I had left all my belongings to get free. I am raising my daughter on my own. Most of my money goes to her because I don't want her to have a minimal childhood, I want her to have a fulfilled, joyous one with nothing left out. The money I have for myself I have to be very careful with. I don't have to freedom to make unwise decisions.
When I bought my first Jane Davenport products I had never seen a YouTube review. All I knew was from her book. Once I got home, opened my new products it was like lighting from the heavens. They were amazing. The colors so brilliant, so versatile, so purely inspiring. I have never regretted one purchase. My art life was back and full of color.
My reviews come from a person who has to make every purchase count. I have training in art, and I'm a color addict.
Her products truly changed my life. She exudes creativity, and freedom, and fun. Her love of art and joy are truly contagious. Her products will light up your art life.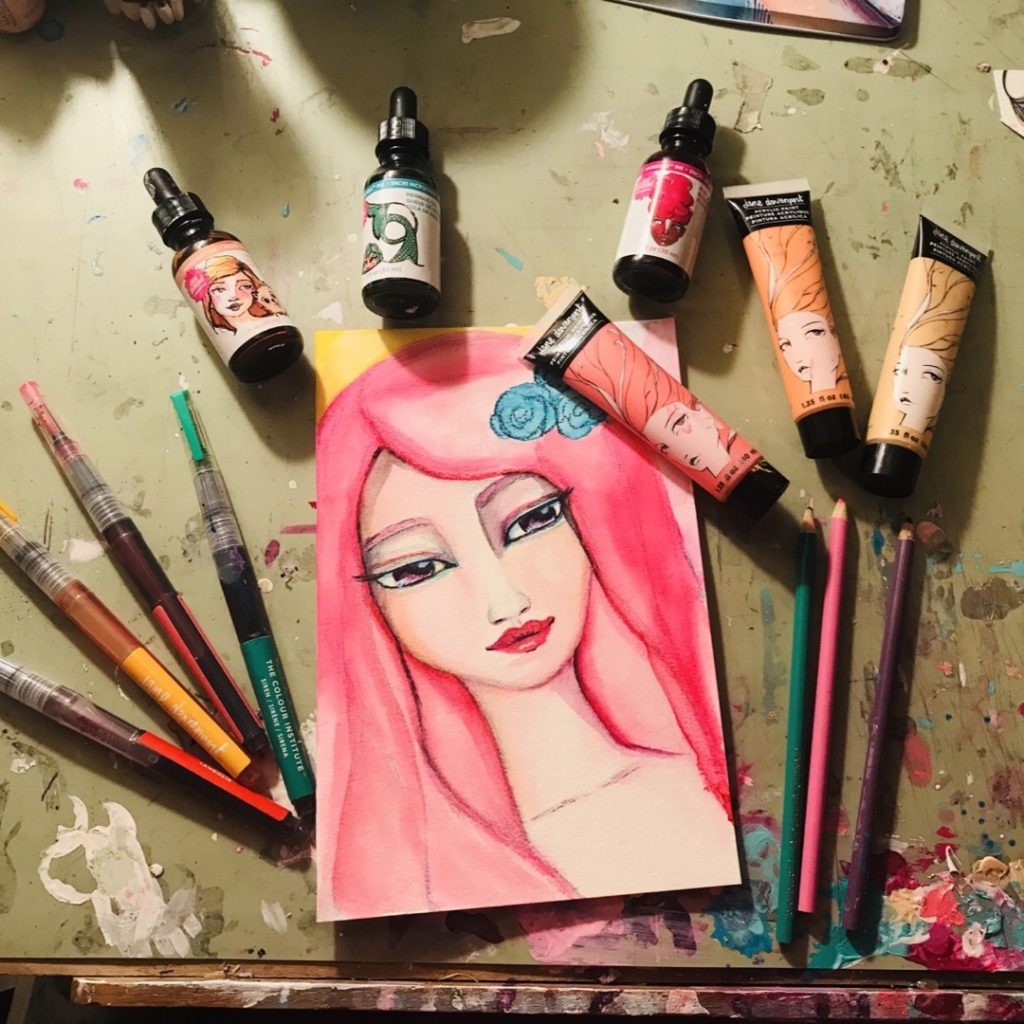 Color rules
What I truly love about Jane Davenport art supplies is the vivid color. It's bright, playful, whimsical. You find beautiful colors you don't often find with other art supplies. The colors just make me happy looking at them. They fit my style, and they're inspiring. 
When I was new to her supplies I read a few reviews that were not so nice. They scared me. Most of us don't have tons of money to buy art supplies, let alone supplies that are going to be less than par.
So, I hesitated. All the supplies I wanted sold out in the mean time.  Finally, I got my hands on some and now I want to address those bad reviews. Because, as someone who has sold a lot of art online, I know first hand some people give bad reviews for the sake of it, because they are angry people, because they always have to find something to complain about, and because they are jealous.
Lightfastness
So, one issue is the lightfastness of the colors. Inks for the most part are not lightfast. The fact that some of Jane Davenport art supplies are not lightfast should not stop you from using them. There are many artist quality supplies commonly used by professional artists that are not lightfast. Did you know copics are not lightfast? But toms of comic, manga, and illustration artists use them.
Some things may fade. But you know what? That's the beauty of technology. You can scan and save your work. Even if your art is lightfast, you can still lose it. I've lost most of my art work due to various calamities. We can't always hang on to everything. What we can do is enjoy what we have and do our best to archive our work.
Jane Davenport gives me the colors I want and a variety of supplies to work with.  
Let's look at some supplies
Mermaid Markers
Jane Davenport Mermaid Markers have the most beautiful rich, vibrant colors. These are seriously, intense colors. They are water soluble, and I often use them in a similar way to watercolors. 
They are beautiful inks in quality brushes. When the ink is gone you can either use them as water brushes, or, add some of her incredible inks. The colors are not the same, but they are awesome in their own right.ill talk about them next.
You can layer the colors to make them darker, I often apply some color, and then add some water and paint like I'm using watercolors.
Mermaid Markers are so much fun. They are so different than any other maker I have used. I love the ability to lay down a strip of color with the brush of the marker and then taking a paint brush and blending all the color into a beautiful painting.
The brushes that the colors come in are excellent. They are very similar to the Prima water brushes. They have a nice fine tip that can easily make clean lines.
They work well with her Magic Wand colored pencils. Don't think you can cover up these vibrant beauties. I tried painting over soma lines I didn't like and soon I could see the color peaking through.
Overall, they are a great buy. They beat out similar products on the market.
Pros:
Vibrant colors
Fine tip
Quality brush
Water Soluble

 

Magical
Cons: 
: Not lightfast
This is a great purchase. Don't let the lightfast scare you, as I mentioned earlier. These are too great to pass up. 
Incredible Inks
Oh my goodness! I adore Incredible Ink with all my heart. The colors are, of course, brilliant. I want to swim in them. They are sold individually, and there are 12 all together.
They are not lightfast, so if you want to sell them you'll need to print them versus selling the original. Jane Davenport actually has an entire workshop devoted to this topic. 
There are so many ways you can use these beauties.
You can create vibrant backgrounds by sting your paper, dropping the ink down, and spritzing until you get the desired effect. It's handy to have a heat gun when doing this.
You can paint with them. It's good to use a pallet so you can dilute. I little goes a long, long, way.
You can also mix some ink in either white paint or gesso to create colored paint. I do this often. And, they come scented! They smell so dreamy. At first I was like, what's that smell? And the I realized it was the inks. 
The bottle are so pretty, them come adorned with her artwork. They make me happy just sitting in my desk.
Overall, they are fun to paint with, versatile, and vibrant. They last a long, long time. You can get skin tones, hair, fantasy colors, whatever you want with these gems.
Acrylic Paint
Jane Davenport's acrylic paint flows like a dream. I love the matte finish they give, however, she does have metallics as well. 
These paints, again have amazing color. That's one of the highest selling point to me. I'm all about color. The are smooth. They are not heavy body. They are easy to work with.
They come in four sets,a den you can now buy them individually.
There is also a huge bonus! Each set comes with a stencil and a brush. It's a great price for high quality products. 
I love her light skin paint color. The create the smooth, creamy look that I love. All her colors are gorgeous and work well if you're creating whimsical art.
These are well worth the money and a nice addition to any Jane Davenport art supplies collection.
Power Pastels

I've never been able to get into oil pastels. I've purchased them so many times and always struggled. Then, I saw Jane's pretty tin with her pretty colored pastels. I thought I would give them a chance. Jane Davenport Power Pastels are truly fabulous.
I actually created entire drawings with them. Oil pastels always take some getting used to. They are very similar to crayons and blending them can be a little tricky. But, they are fun. They are fun to add some details to at the end of a mixed media piece. 
The colors are all fun and fanciful. These are the only oil pastels I don't regret buying. I use them for dramatic effect. I use them on their own. I love  playing with them.
You can keep them stored in the lovely tins they come in. I love these pastels from Jane Davenport art supplies.
Magic Wand Colored Pencils
I saved the best for last. Again, as with the oil pastels, I've always bought a ton of colored pencils, yet, never really got into them. I even bought the highly prized Prisma Colored Pencils. These are great, don't get me wrong, they just didn't do the magic that Jane Davenport's Magic Wand Colored Pencils did for me. These are my all time favorite Jane Davenport art supplies.
It was these pencils that truly brought out my love for colored pencils. They are super smooth and kiss the page with smooth, creamy, beautiful lines. The colors are as with all the rest, fun,  fabulous, and whimsical. 
I often use them with inks, watercolors, and Mermaid Markers. They draw over these with smooth lines. If you're purchasing her sets then all the colors work like a dream come true together. They blend easily. They have all the right colors to create skin colors. It's a perfect set.
These pencils come in a gorgeous tin, as well. If I had to choose between these or Prisma I'd choose the Magic Wands. It's something about the combination of color and they way they go in the paper that has me completely hooked.
Conclusion
Jane Davenport art supplies are all high quality and have the most whimsical colors one can imagine. The colors all have fun names which makes creating art even that much more fun.
One of the reviews was about the quality of her products. I started me art journal as an oil painter. I was very much an art supply snob, when it comes to oil paints I'm still a very big snob. Some of these inks may not be lightfast, but you can create wonderful works of art with amazing color. You just need to take some tips to protect it. You can frame your work, use a varnish, or photograph/scan it to save it.
Another issue is that some of the packing was damaged. This can happen with any product. Shippers are not kind, products go through so much rough handling once they leave production until they arrive at their final destination. Personally, I have never expirinced this issue. I do know though, that should any issue arise the American Crafts, the manufacturing company will easily fix this issue.
If you're a creative person, who loves color and playing with mixed media creations, you're going to love her products.