This post contains affiliate links. We may earn money or products contained in this post. Please click my disclosure policy to learn more.
I adore art books. I used to have stacks and stacks of art books. Many of them in art history, or on individual famous artists. However, my favorites are the tutorial books. The ones that not only give me inspiration, but also serve as guides on the road of art. Since I'm a mixed media fanatic, this list is primarily mixed media tutorial books, however, I also include two art books that are a must for any and all artists.
Mixed Media Books
These whimsical art, and mixed media art instruction books that give you tutorials that will greatly improve your knowledge and ability. Whimsical art books are for those artists who don't want to draw hyper realistic. They appreciate the fanciful, whimsical, and fun side of making art, yet still know the importance of having a foundation. Whether you are drawing a whimsical,or realistic face you still need guidelines. If you are learning who to make whimsical and mixed media art this list of art instruction books is for you.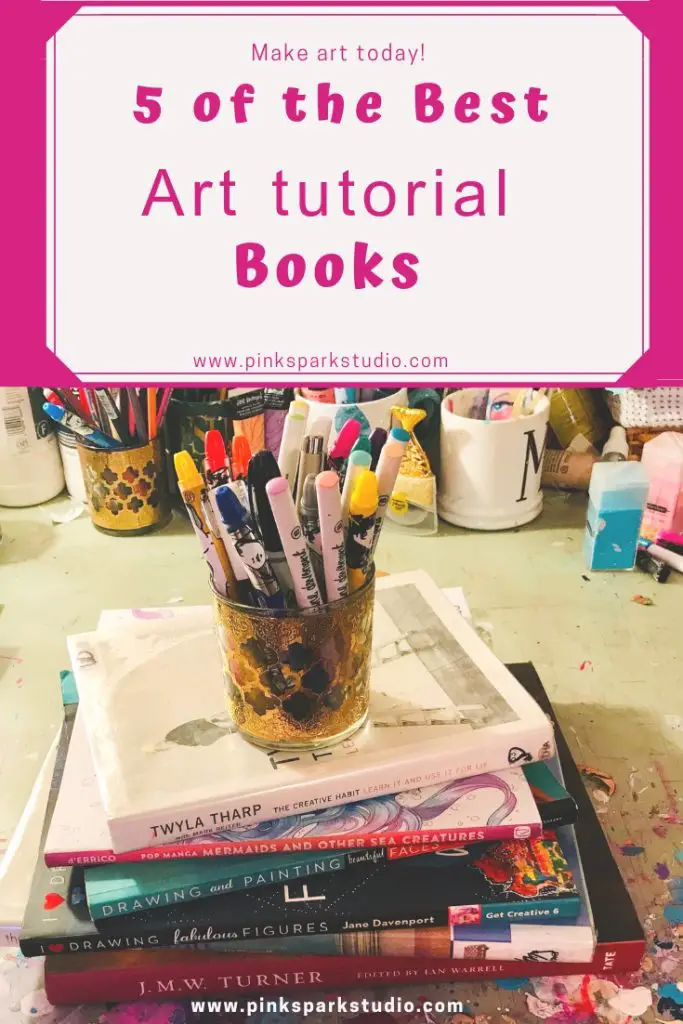 1.)Drawing and Painting Beautiful Faces: A Mixed Media Portrait Workshop
This book is pure inspiration. I cannot tell you how much I adore this art book!
You'll learn the foundations of drawing a whimsical face. You'll get tons of helpful tips and techniques along side gorgeous artwork. Jane is easy to read and follow along with, she provides fun and easy directions. You'll be guided step by step on how to paint and shade your faces. Jane Davenport using a wide variety of mixed media methods and products. You'll get a fabulous introduction into the world of mixed media art. Trust me, this book is so fun to look at you won't be able to put it down. You'll find so much inspiration every time you open it.
The book begins with a breakdown of her favorite supplies. You'll soon be headed to the art store to get your hands in all the colorful goodies. You'll soon be mode a complete art supply junkie.
Whether you are a beginner or already have art experience you will benefit from this lovely book. I love the faces Jane makes and the wonderfully creative methods of using mixed media to paint and bring them to life. This book will guide you on the path of creating brilliant, whimsical, mixed media faces in no time. You can read my review of My Favorite Jane Davenport Art Supplies, here.
Whimsical art book for drawing figures!
Jane does it again. This time she breaks down how to draw the figure. She has a unique method of using hearts, which makes my heart happy. You'll be guided who to make a variety of figures of varying sizes. She also gives some advice for faces in case you don't have her first book.
She gives even more tips and techniques to using mixed media and art supplies in the most creative methods.
You'll learn about drawing ladies on the move, clothes, and hair. I have experience with the form, and I still had a lot to gain from this gem. Jane has such a lovely and inspiring style that it's a joy to buy her books and delve into her world.
This book comes with also comes with heart templates and stickers! 
Mixed media art book with a ton of projects!
Karen Campbell is a true delight. I found her YouTube videos before I found her book. She has a wonderful style and is a true master at mixed media. You'll gain knowledge confidence in working with a variety of mediums as you work you're way through her projects.
She also has two prior books all about drawing faces.
I suggest you look her up on YouTube. Once you get a taste of her lessons you'll sure to want more. 
This book is filled with knowledge, easy to follow projects, and beautiful artwork. It's a high quality book that will provide hours if artistic fun and adventure.
Turn your imagination and art into a creative habit for success!
This book is for all creative people. It's authored by the famed dancer and choreographer Twyla Tharp.
Her biography reads:
"Twyla Tharp, one of America's greatest choreographers, began her career in 1965, and has created more than 130 dances for her company as well as for the Joffrey Ballet, The New York City Ballet, Paris Opera Ballet, London's Royal Ballet, and American Ballet Theatre. She has won two Emmy awards for television's Baryshnikov by Tharp, and a Tony Award for the Broadway musical Movin' Out. The recipient of a MacArthur Fellowship, she was inducted into the American Academy of Arts & Sciences in 1993 and was made an honorary member of the American Academy of Arts and Letters in 1997. She lives and works in New York City." 
This is a book that not only gives you real advice for your creative life and career, it will also take away all your excuses about not being creative. It will push you, inspire you, motivate you, and guide you into living and embracing and nourishing your creativity.
The art book every artists should read!
"ART when really understood is the province of every human being.
It is simply a question of doing things, anything well. It is not an outside, extra thing.
When the artist is alive in any person, whatever his kind of work may be, he becomes an inventive, searching, daring, self-expressing creature. He becomes interesting to other people. He disturbs, upsets, enlightens, and he opens ways for a better understanding. Where those who are not artisits are trying to close the book, he opens it, shows there are still more pages possible." (The Art Spirit, p. 15)
This is truly my all time favorite book for artists. I'm it doesn't have any pretty pictures or step by step guides. It does have, though, letters and lectures  from famed American artist Robert Henri.
Here, you'll glean knowledge you will not fin anywhere else. This book is primarily aimed at painters, whoever, anyone who wants to grow and make their art a priority should read this at least once. You'll gain simple, yet life changing ways of looking at art, composition, backgrounds. You'll be inspired to become a sketch hunter. To truly live life as an artist. I adore this book so much, when I lost my physical copy I had to buy a digital copy right away!
Honorable Mentions
Pop Manga Mermaids and other Sea Creatures: A Coloring Book
The must have coloring art book for the mermaid lover!
This is not a tutorial. It doesn't give any instructions. It's purely a coloring book. That is why I list it as an honorable mention. It's so full of amazing drawing that I had to list it. It's fun, fabulous, and everyone needs a boom of pretty pictures to look at every now and then. 
The artist Camilla d'errico is a pop surrealist. She does have other books with more details, and I recommend them as well. I lost this book for is pure imagination. Sometimes, it's fun just to sit and color and look at whimsical pictures that stir your imagination.
The pages are high quality, and will provide hours of artist fun.
Don't feel bad buying books!
Never feel bad indulging in books for yourself. You're worth the investment. Books never run out of batteries, they are there whenever you need them, and you can find something new in an art book every time you open it.