This post contains affiliate links. We may earn money or products contained in this post. Please click my disclosure policy to learn more.
How to make mermaid paper for your junk journal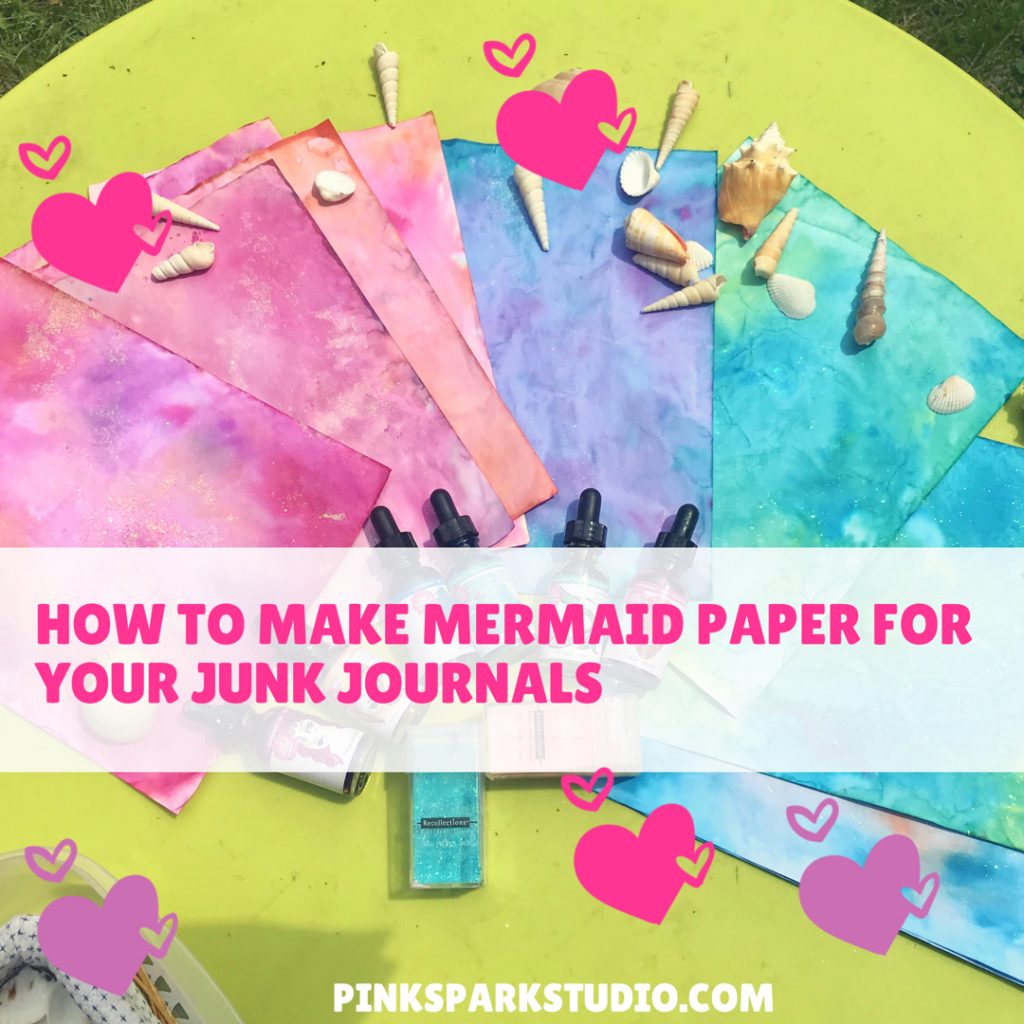 I'm always looking for new papers for my junk journals. It'd become an obsession. 
I love coffee and tea dyed paper, a lot, but sometimes I want something with more color, something more whimsical. So, I made some mermaid paper with Jane Davenport's inkcredible inks. These inks are super vibrant and come in 12 fabulous colors. All of Jane Davenport's inks really seem to mix with each other in a beautiful, harmonious way without turning muddy. This is part of the reason why I love using them for these projects. Pretty much any alcohol ink will work for this project. Dr. PH Martin's also has a really great set of India inks.
Here are the colors I use:
Other inks that are fabulous are Tim Holtz alcohol inks by Ranger. Here are some of my favorite color packs:
These mermaid dyed papers are fun and easy to make and are perfect for all your brightly colored junk journals. They add the perfect touch to bring imagination and color into your world.
Dying paper is a lot easier than it may seem. I can't stop dyeing paper and using it for a ton of projects. 
So, let's dye our junk journal paper. Below are some additional supplies besides the ink.
Supplies:
Paper
Stencils (optional)
Smile ❤️
Choosing Paper to dye
First thing I do if grab my supplies and get organized. I usually use just normal printer paper. If you use paper that is too heavy, such as watercolor or mixed media your not going to get the same effect. Printer paper is cheap and easy to find. It holds up extremely well to dying. 
You can also dye other ephemera you have lying around. I have some old planner paper that added. Lightweight paper works the best. However, never be afraid to experiment. You never know what you'll get.
Dying the entire page
This is how I dye most of my papers. I'm addicted to super vibrant, rich colors. I like the entire page to come out richly colored. I like to totally transform the paper into a new creature. This paper looks like something a mermaid would use because mermaids totally write and keep journals under the sea! 
Prepping oven
Set your oven temp to about 200 degrees. I keep it low, it doesn't take much heat. I do turn the oven up sometimes, and I do end up with the edges being darker than the rest. Some people do let their paper air dry, but I think baking it really set the color and gives the paper a good, solid texture for turning into a journal. 
Prepping your paper
Fill a rectangle container with some water.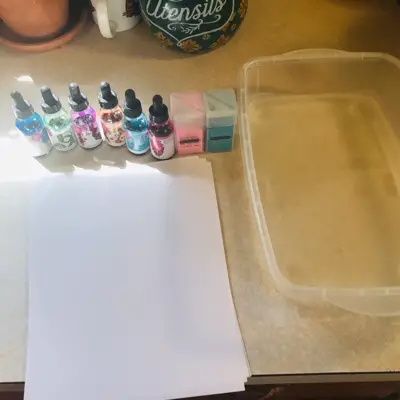 To start dip your paper in water letting the page become soaked. Lay it out on tin foil.
Adding dye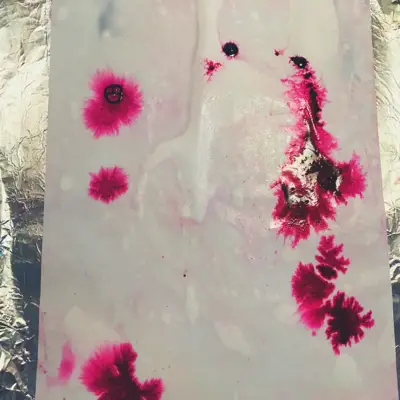 Take the dropper and add drops across the page. The ink will bleed out across the page. You can spritz the paper with a squirt bottle or even take your fingers and splash water across the paper.
I usually add two to three colors. I drop the dye across the page, add water and add more dye. You can really have fun playing with the way the colors blend.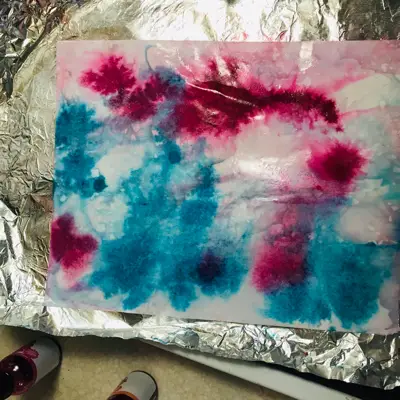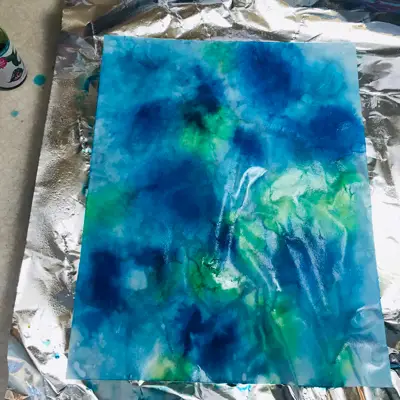 Once I have colors on the paper I take it and flip it over. I then flip it again letting the back side absorb the dye that was left from the front. Then I flip the side that has not had dye directly added to it o face me, again. I add more dye and more water. You don't necessarily have to add more dye, or that much. I, however, like my paper to be dark. I may go pretty crazy with the dye.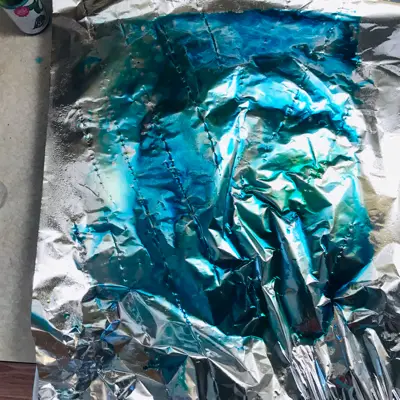 I sprinkle glitter on both sides. You don't need much.
Once I'm satisfied with the color and glitter I then pop the piece of foil in the oven and bake it. Baking it gives it a nice crisp feeling. I feel with as much water I use that when I don't bake it the paper always has a slightly dampish feeling, even when dried.
I keep on eye on the paper until it's dry and then remove it and put it to use.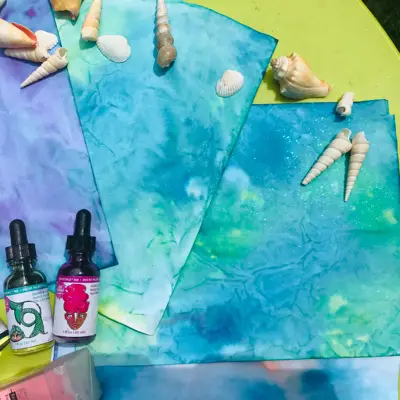 Dying paper with white space
This method will leave parts of the paper still white and will also give your colors a lighter more pastel color.
Fill container with water. 
Add glitter
Dip your paper and spritz, sprinkle, or dip on your inks.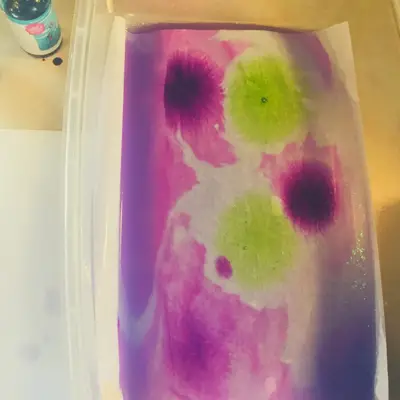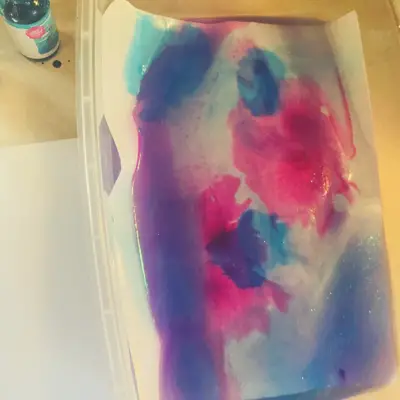 You can also add drops of ink to the water before you put the paper in. 
It's fun to experiment with different ways to add the ink to get the desired look. 
Another way I dye paper is when I have a paper in the water with ink, I take a second dry piece of paper and place it on top. I let the second piece get a bunch of the excess dye to dye it. I run it on the other side and do the same.
I take the piece In the water and flip it to get the backside nice and inked.
You can also dip a few pages, lay them out, spritz them with inks giving each a unique look and the place other pages on top, kinda making your own printing press.
To get even more patterns I lay the wet paper down, place a stencil on it and spritz it with ink and then dab it with some paper towel. Since it's wet your going to get a light staining. 
I use the mermaid scale stencil I got with Jane Davenport's acrylic paint set. 
For a fun mermaid look to the papers have fun with mixing colors. I love the deep blue mixed with the purple and green. Once dried the colors and glitter look truly whimsical and make any junk journal into a mythical beauty.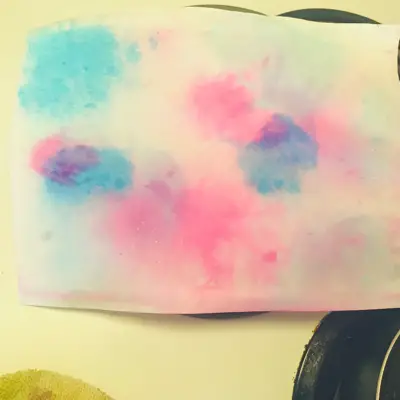 Ironing your paper
You can also iron your paper to make the, smooth if you don't like how wrinkled they get out of the oven. I don't usually bother with ironing my paper. I like the baked look.
Dying ephemera
You can also grab any ephemera or lace you have lying around and dye them just as you did the paper. 
You can bake your lace to dry or. 
I like dyeing my leftover scraps or old book pages and making Junk Journal embellishments or tags, you can read more about those here.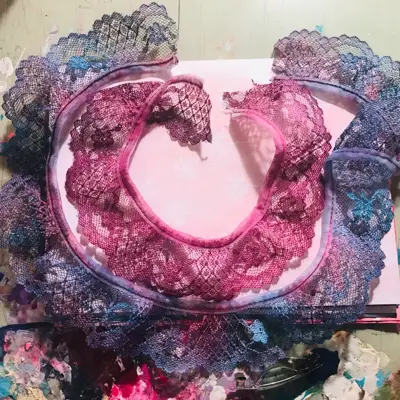 Question
if you have any questions make sure to leave a comment and head over to my My Facebook Group and ask me there! Be sure to sign up for my e-mail newsletter to receive freebies and updates! Hope to hear from you, now go make some fabulous art!