This post contains affiliate links. We may earn money or products contained in this post. Please click my disclosure policy to learn more.
Easy Ways to add words to your art journal
I'm not going to lie, this was a hard part for me when I first started. Sometimes I have beautiful handwriting, and other times it's garbage. I needed to find easy ways to add words to my art journal. Sometimes you have so much inside you need to get those words down on paper. Your art journal is for all forms of expression. Don't hold anything it. Let it all flow from you! Let is Flow. Sorry, I like puns. So, let's start this list and see ways you can add words to our art journal.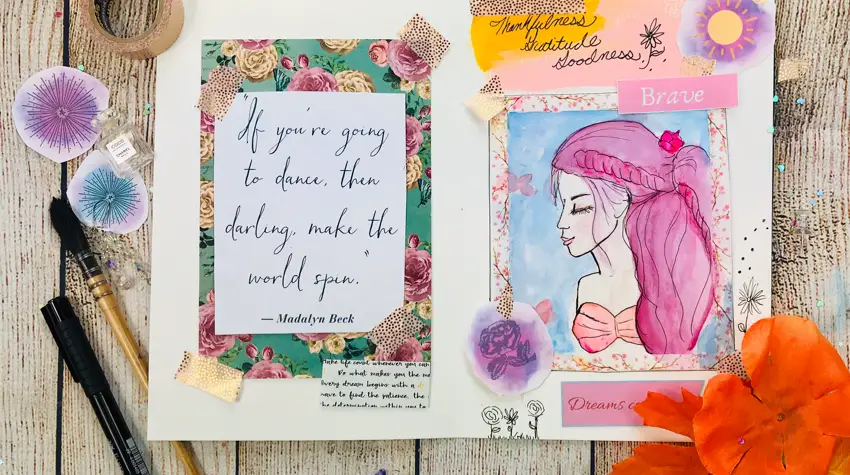 1.) Handwrite your words
It's your art journal. Handwriting, even if you don't like your handwriting, is deeply personal. It's a part of your personality. It's coming straight from your. 
Handwriting in your journal is also a great way of practicing your handwriting and improving it. Have you ever seen those ladies who write notes and their writing flows like a beautiful work of art? You want to know a secret? They practiced that handwriting. 
You should not let your fear of not liking your handwriting stop you from using it in your art journal. Embrace your writing, embrace your style that comes from it.
You can paint right over anything you write, it then becomes this secret layer, only for you. Only you know it's there.
You can also practice calligraphy handwriting. If you're new to hand lettering, such as I am, I highly recommended giving Skillshare a try.
Skillshare is an online learning community with thousands of classes in design, business, technology and more. Students anywhere in the world pay as little as $8.25 a month to access classes taught by real-world practitioners.
For busy people, Skillshare classes are designed to be bite-sized with short video lessons to fit your schedule. You can learn at your own pace and on-the-go with their free mobile apps on both Apple and Android phones.
You can get your first month free by clicking on this link or the class link below.
I'm pretty addicted to Skillshare. They have thousands of classes from art to business to technology. You never know what your going to find and learn. Plus, it's free to try! You can go wrong with free. 
Materials I use to write in my journals are:
You can read more about these supplies here in my Art Journal Supplies article.
2.) Collage your words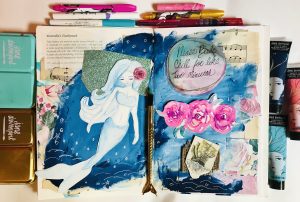 You can write and experiment with writing and painting your words on a separate of paper and cut out what you like and collage it onto your art journal spread. 
I love experimenting what color and shapes. I often have interesting painted paper laying around. This paper works great for writing and cutting up to create something new for art journals.
To attach the words in I use either:
Matte Medium. 

Matte Medium is so wonderful, it dries clear and you can still paint and dry in top.

 

Mod Podge. I adore Mod Podge. I use it regularly in my art projects. I know I've heard some people say they have issues with it being tacky after dry, but this has never happened to me

 

Elemer's Glue Sticks. This works for everything. I have it in a glue stick, but I've also used the the old fashioned school tube when I've been in a pinch. The stick dries clear.
3.) Create letters from magazines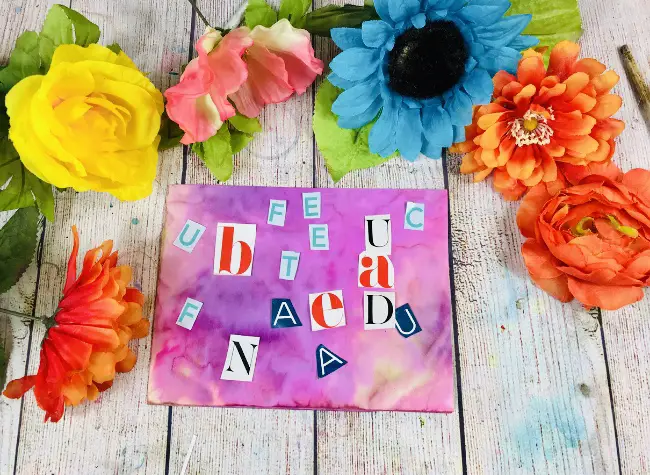 This can look fabulous and creepy, and it's super easy. All you have to do is collect the letters from magazines and then spell out the words you want.
This is a pretty simple and fun way to sad words to your art journal spreads.you can get colorful, mix fonts. You can have your words make circles or waves. 
4.) cut whole words from books or magazine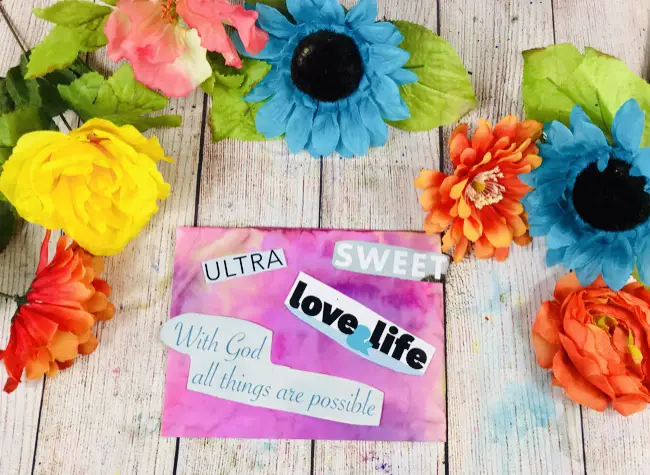 You can go in a word hunt through all your magazines and any old books you don't mind cutting into. 
I love the look of cut book page words in an art journal spread. It has a certain magical look to it.
You can attach the words with the same materials listed above.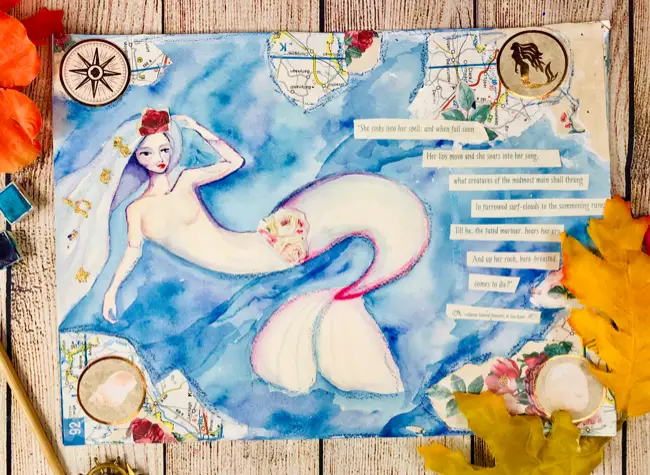 5.) Stamps
Alphebet Stamps are a super easy way to add letters and words to your art journal pages. Stamps come in a variety of fonts and you can even get entire words. 
You can also find ink in various colors so you can customize the the look of your words
6.) Stencils

Alphabet Stencils also come in a wide variety of fonts and sizes. You can get the alphabet or words. 
The fun thing about stencils is that you can use ink, paint, modeling paste, anything you want to on them. You can so much control over the look, color and feel of your words.
7.) Tracing
If you want to add words to your page with a certain marker or paint, however, your not quite ready to freehand it, and you also don't have a stencil that'll work, then tracing may be the answer for you. 
You can print the words in the script you want and trace the words onto your page Orono nigh page and collage it onto your art journal pages.
8.) Print your words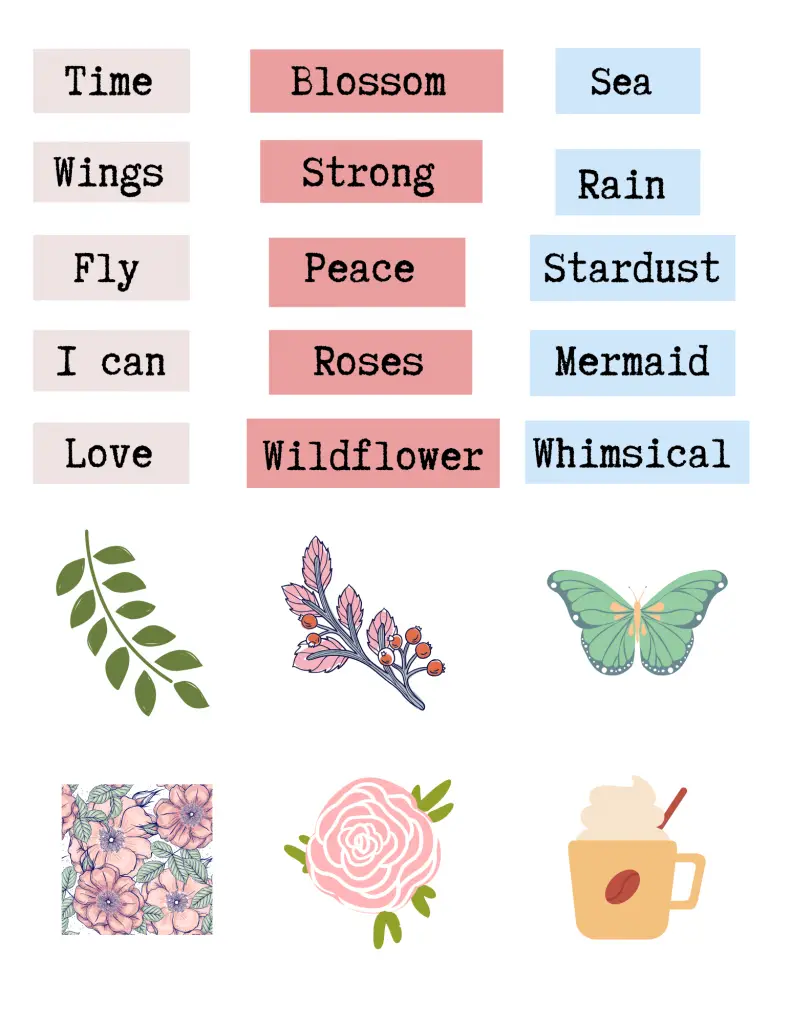 If you have a printer or have access to one from a friend or library then this can be a great option. There are many sites that let you create documents for free. You can even download different fonts directly to your computer.
I use Canva to create images. You can use it to write documents with a huge variety of fonts. It's free to download to your phone or tablet.
You can also use Word or Pages, any program that lets you choose a font and print it out.
This method is pretty easy and you can use any saying you can think of. It gives a lot of freedom.
I'd love to love to help answer an questions and see your art work! Feel free to join my Private Facebook Group