This post contains affiliate links. We may earn money or products contained in this post. Please click my disclosure policy to learn more.
Journal With Me
I have another post dedicated to mixed media art journaling you can read here. Mixed media art journaling is a wonderful world full of supplies and creativity. It's developed a certain style in my opinion. Many of the art journal tutorials use a lot of paint, stencils and collage. It's messy and totally a blast. However, I noticed another style of art journaling and it too involves using different art supplies and collage, however it's done in journals usually used for bullet journaling. It's basically bullet journaling, art journaling, and I little bit of a diary. This article explores ways to start a bullet art journal that can be deeply personal, easy, and can verge in minimalism. 
What is a bullet journal?
Bullet journaling has really exploded into the journal scene. It's a fun fabulous way of creating your own calendars and tracking anything you can imagine. You can track your moods, books you read, days you exercise, and you make your own little illustrations to to track them. 
Bullet journaling usually is done in a journal that is dotted with bullet points like a grid. However, you can also use grid paper or plain paper.
The purpose of bullet journaling is usually to exercise creative control over your planner and to exert a mindful purpose to your everyday routine. 
Staying mindful and living with purposeful intention will help you make the most out of every day. It's a way of living life in a more deliberate way. 
If you struggle with bloating or moodiness using a bullet journal to track the foods you eat and when you feel the best vs worst can help you make lifestyle decisions to become a better you.
It can also be used to track the things in your life that bring you joy such as what books you are reading and the rating you'd give them. Or, may be you're a film lover. 
If you're a student you can track all your assignments and activities, track those special memories that happen throughout the semester. 
Creating monthly and weekly calendar spreads are the most universal use of a bullet journal. You can track your monthly goals and your daily checklists. I adore making lists. I make lists of al the the lists I want to make 
Some things you can track
Book tracker
Film tracker
Weight tracker
Mood tracker
Meal planner
Fertility tracker
Project tracker
Diary
Art tracker
School work
Whatever you can think pf you can track in your journal. The beautiful thing about a bullet journal is that you don't have to spend hours combing for a planner that has the right set up or calendars. With a bullet journal you design it.
A Bullet Journal is Empowering
The act of sitting down with your journal and writing out your calendar and what you want to track is empowering. You're actively taking charge of your life and what you are going to do with your time. You'll soon become aware of what really matters, where you waste time and where you want to spend ore time doing.
You also don't have to be super planned out.  A bullet journal can act a an art journal. You can sit down with your spread and illustrate your meals, outfits, playlists. You can use collage or hand draw it. 
You can follow me on Pinterest I have some boards dedicated to Bucket Journals and Bullet Journal Art. Sometimes seeing what other people are doing can give you the inspiration you need. 
Lastly, I seen some people be very specific on what they console to be bullet journaling. This article is not about that side nor setting up hard core rules. I just don't have time for all that. It's my journal and I want the freedom of making it how I see fit. So, keep that mind. 
How to begin your Bullet journal
Choose your journal
You can bullet journal in any type of notebook. It doesn't have to be anything special. However, you may want to choose one similar to the ones that are shown in instagram and Pinterest photos. It may help you find the right vibe or inspiration. 
My favorite journal is the MD Midori A5 journal.
These are from Japan, they have the perfect size that fits my need. They're not too big or too small. The pages are not bright white and not super cream colored. They are the perfect combination of off white and cream. I truly love this paper. I find my ones glide across the paper like a dream. I can also use my watercolors on them fairly well for not being watercolor paper. It wrinkles slightly when wet, however, once dry the wrinkles pretty much come completely out. 
Md Midori comes in various sizes as well. You can get the paper in grid, ruled, or plan. You can get notebooks or smaller pamphlets  that come in sets or three. You can also get covers for your journals so you can protect them, especially if they will be in your purse or bag. 
Another popular journal is Moleskine. They have various levels of notebooks one cheaper and then some more expensive. The Kraft notebooks come in sets of three and are slightly smaller than the MD Midori A5. I find they are nice, but not quite the same quality as Midori.
When choose a journal keep in mind all the things you wan t o track. You want to make sure you choose one that has the right amount of pages. If you choose one that is not big enough don't worry. Just start another one to finish the year. 
Choosing your supplies
This category is an ongoing one. Journaling supplies are super addictive. Especially if you start watching journal videos on youtube. It's easy to feel you never have enough or the right supplies. I totally fell into the trap. It can almost become so overwhelming that it intimidates you from starting. That's why I limit myself to a more simplistic almost minimalist approach and embrace my favorite supplies. That was I know I'm getting the most of my supplies and when I do add a new supply I don't feel bad and I know I will use it.
I have an article on my favorite Japanese journal supplies you can read here. You can also read my article eon my essential journal supplies. I use these both for my planner and my daily art journal. 
Pens
Japanese Kokeshi Gen Pens
My must haves are a set of really good pens and these adorable Gel Pens are perfect. Since bullet journalling requires writing having pens set aside for this task helps make your journaling a special, fun, project to do. I love these cute Japanese kokeshi doll pens. They look cute and write beautifully. 
Markers
Tombow Dual Brush Markers
 Markers are quick and fun and the right markers can be highly versatile. I have to have my Tombow Dual brush markers. Once, the colors are super vibrant and the amount of colors to choose from is incredible. They can also function as watercolor, and that is why I adore them so much.
It's pretty easy to use them as watercolors. You just make a mark, grab a brush with some water and you can spread the color as you please. 
These markers have two sites, one brush and one hard point. If you are a hand-letter lover you will adore these. 
I have yet to master the art of hand-lettering. However, there is a site called Skillshare. It's a streaming service with thousands of classes. It has tons and tons of art classes, and also writing, computer skills, marketing, and so many others. If you follow this link you can get a free two-month trial to test t out. You can take any and as many classes as you wish. I've test out several of these services and Skillshare is by far my favorite. As soon as I get some spare time I will be taking classes on Skillshare for hand-lettering. It's such a beautiful art form I dearly wish to learn it. 
Zebra Midliners
These Zebra Midliners are a cross between highlighters and markers are really a dream come true. My favorite aspect about them is that they are not harsh looking as with many highlighters. They are reasonably priced. They really add the right amount of color.
If you just want something pretty and easy to use to add color to your journals than I highly recommend  these beauties. 
Washi Tape
Washi tape can be used as decorations with out the need of anything else. They also add that special touch when you want to include a photo or a piece of ephemera to your layout. 
Wish tape is so versatile and it can usually be removed and rearranged very easily.
I love this pastel set by Mt Making tape. It's sublet and delicate.
I also recently fell in love with this adorable set by Molshine, another favorite brand.
Watercolors
Kuretake Gansai Tambi Watercolors
Watercolors are my most favorite medium to use. My go to set is Kuretake Gansai Tambi. You can read in depth why I love these paints here.
They are easy to use, don't require much mixing, they go on the oar like a dream and they are easy to life in case you make a mistake.  
Setting up your Bullet Journal
Create an index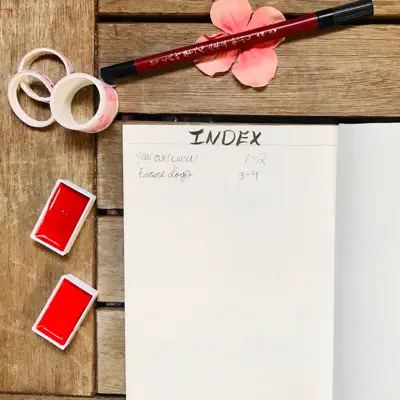 Organizing your bullet journal can make your life a lot easier. One method to taking charge of your journal is to set up an index. 
Setting up an index can help you quickly find the right spot in your journal and keep your journalling activities organized., 
To index your journal. It's not as hard as it may seem. You keep the index as you go that way you know where everything is. 
The first step is to number your pages. The first step in organizing your journal! Hooray!
Make sure you leave enough pages, general around 3-4, so you can keep adding as the year goes. 
Key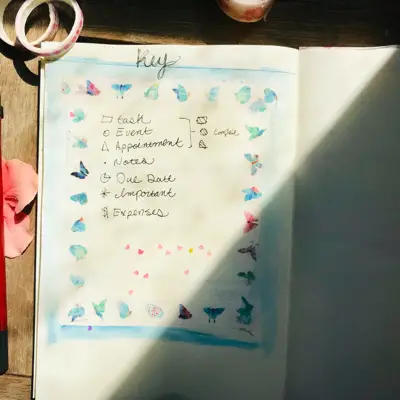 Here in the key you can list all the things you're going to document and connect them to symbols that resent the tasks. 
This truly is a great way to organize things so you can glance down at a page a instantly recognize the symbols and know what there. 
You can even take things a step further by color coding your lists. You can break things down into personal, family, work, school, each getting its own color. 
Yearly View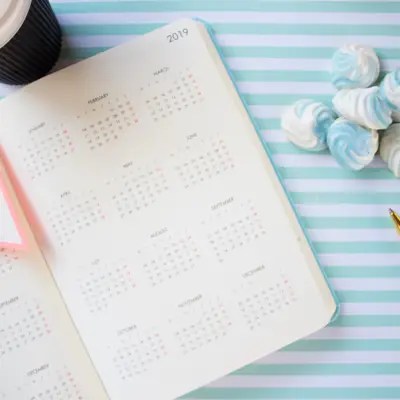 It doesn't matter when in the year you start your bullet journal. So, if it's August and you're just now starting to plan, don't sweat it. 
Most people like to make a year calendar as a general overview. You can also add your yearly goals.
I like to be able to see the year at a glance.
Future Logs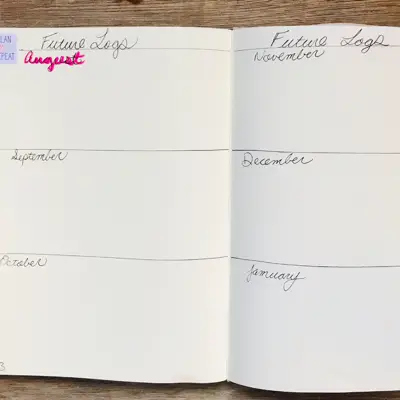 Here, you can map out the big goals for the year. First, section off the months you're tracking in the journal and the write down any big events or goals. It's more of an overview. This is not the place to go into too much detail. However, I firmly believe in writing down your goals. The more you write down your goals and visions the more likely you are to achieve them.
Monthly View
Here you can write out your monthly calendar. There are several ways to do this. You can write out a calendar in the tradition sense. Or you can write it out with the numbers going down the edge of the paper each day getting its own line.  You can also choose themes for your month to give it more personality or to fit the goals you have planned. 
Weekly and Daily logs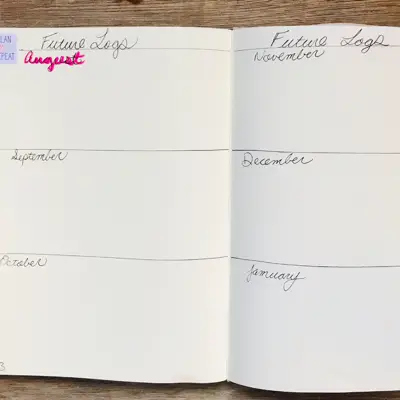 Here is where you can plan your weekly and daily events. There are so many clever and adorable ways of drawing out your week onto your planner. You can always keep it simple as well. There is a beauty in simplicity. 
This is where you'll want to write your do-to lists and jot down appointments and deadlines. 
Special Spreads and Trackers
Once you have your month planned out you can, or even before, it's your journal, you can start deciding what you want to track.
You can make a simple grid, or make a special design to track these things. It all depends on what you're tracking and your personality.
You can also start making lists. Here are some ideas for lists you may want to keep:
Shopping lists
Grocery list
Budget list
Wish list
Goal list
Cleaning list
Gratitude list
Prayer List
Accomplishment List
These are to get your brain started with ideas. You will come up with more personalized ones as you go. 
You can also keep your notes and dairy ledger here. I make a lot of daily art entries. They are small spreads, but doing it in a bullet journal helps me track my daily art and also keep it light. I resist the urge to go overboard, and instead focus on using a few simple supplies. I also Mao out future projects I want to complete
The key to successful bullet journaling
The key is staying consistent. I've heard it takes 21 days to create a habit. With me I think it takes more. However, set goal to actively use your bullet journal for 21 days. Track your goals, make your lists and watch your progress grow. 
This is one reason why I say make sure your journal is easy to carry with you and your supplies not be overwhelming. If you are fussing with an awkward journal and a ton of supplies it can feel like you need more time to bullet journal than you actually do. 
So, lets look at everything together.
Step I
Choose your journal and a few supplies
Step two
Write your index
Step 3
Write your year at a glance
Step 4
Future logs
Step 5
Month
Step 6 
Weekly Daily log
Step 7
Tracker, lists dairy, other journal entries. 
A few Bullet Journal Hacks
You can use Washi tape to make taps so you can easily find a certain month, week, or list.
Sticker add quick and fun details to your spreads.
Keep white out, stickers or Washi tape on hand to cover up irritating mistakes. 
Break up your daily spreads into morning, afternoon, and evening for even more space and organization.
I'd love to see your bullet journal spreads and answer any questions. Be sure to join my Facebook Group and sign up for my newsletter so we can stay in touch!